Features
Frenzal Rhomb rank all of their own albums
on
Thursday, June 29, 2023 - 11:39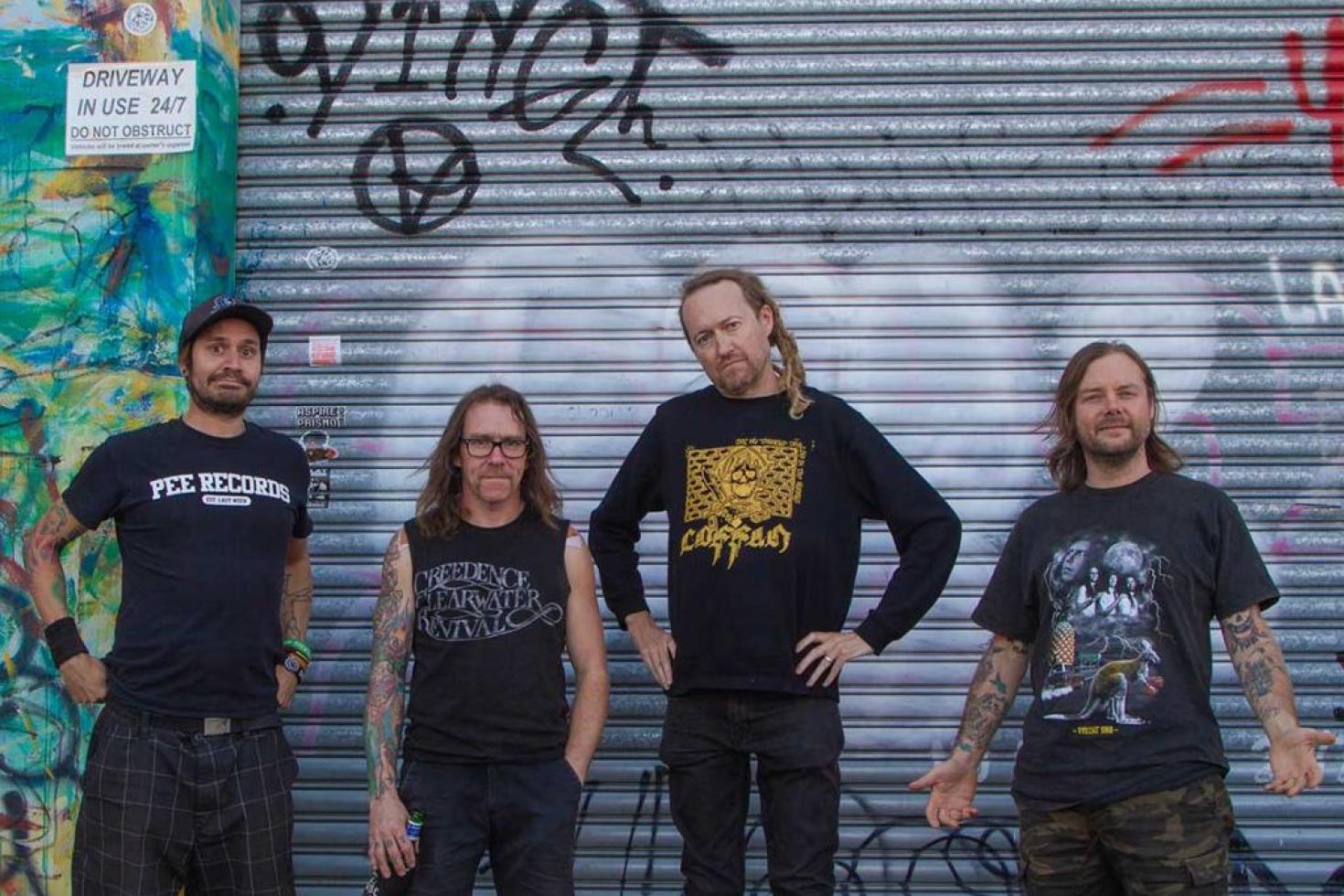 Australian punk powerhouse Frenzal Rhomb recently released 'The Cup Of Pestilence,' their first new album in six years. Written in the band members' houses, mostly during the pandemic, demoed at The Pet Food Factory, and recorded, mixed and mastered at The Blasting Room in Fort Collins, Colorado by Bill Stevenson and Jason Livermore, the album packs a whopping 19 songs that are vintage Frenzal Rhomb.
'The Cup Of Pestilence' is yet another solid addition to the band's already impressive discography which now comprises 10 full-lengths. So where to start if you are new to Frenzal Rhomb? We asked vocalist Jay Whalley and he was kind enough to rank all of the band's albums for us.
10. Shut Your Mouth (2000)
Jay: Universally regarded as our very worst album. Except for about 8 morons who think it's pretty good and are also wrong. We seemingly forgot how to write songs. And lyrics. Recorded partly in Chicago by some guy no one liked.
9. Coughing Up A Storm (1995)
Jay: Actually some great songs on this I reckon, especially some of Ben's like Genius, Hate The Way You Hate and Kaan Kunt.. I cringe at the production though and the way I sing on it sounds like I'm trying out for a high school Rock Eisteddfod
8. Meet The Family (1997)
Jay: Some good songs on this one and the welcoming of Lindsay to the fold really elevated us to a new level. Mr Charisma, Ship of Beers, Mum Changed the Locks and There's Your Dad all became live staples. We got the guy that worked with Propagandhi and recorded in the Alberts/AC/DC studio in Sydney. Turns out those bands could have been recorded by their neighbours' dog and it still would have sounded incredible. We managed to spend a lot of money using the very best people and equipment and still sound a bit shit.
7.  Forever Malcolm Young (2006)
Jay: Rockin album but not much direction.. we forgot about the spreadsheet method of choosing songs and as a result there's way too many. I like all the single idea micro songs on this one though! There were about 80 demos for this album which anyone is welcome to listen to if you can find the hard drive at the Kogarah tip.
6. Not So Tough Now (1996)
Jay: Our second album! Most of the lyrics were written in or outside the studio hours before singing them, which is probably why some of them barely qualify as lyrics. Ripping guitars from Ben on this and people seemed to like the Punch In The Face song.
5. Hi Vis High Tea (2017)
Jay: Fantastic Blasting Room production on this one.. maybe a bit too good? Some good stuff on here, Cuntact, Ray Ahn, Pig Worm, The Black Prince.. Lindsay used those Evertune guitars on this that never go out of tune and always sound perfect. Pretty sure they're part of a greater movement attempting to destroy rock n roll . He's not allowed to use them anymore.
4. A Man's Not A Camel (1999)
Jay: We welcome incredible drummer Gordy Forman to the band and all of a sudden we can play as fast we want! Unfortunately, with a couple of exceptions, I ended up ended up writing a bunch of mid tempo bullshit. Recorded by Eddie Ashworth at Total Access in LA which is where cock rock went to die. Heaps of people like this record but to be honest, except for the hits she's a pretty tough listen. You Are Not My Friend, Never had so much fun, I Miss My Lung are the big ticket items here..Pretty sure i almost rap at some point on this.. Dark days.
3. Sans Souci (2003)
Jay: Widely regarded as a return to form after the Shut Your Mouth disaster, we were given a new burst of energy in the form of new bass player Tom Crease. Lots of fun stupidity on this record; Bucket Bong, Ballchef, Russell Crowe's Band.. pretty consistent over all and a return to Eddie Ashworth at Total Access Redondo beach. Got a vaguely threatening letter from Russel Crowe's legal team. Sick times.
2. Smoko At The Pet Food Factory (2011)
Jay: First record at the Blasting Room, this was a big step up production wise for us.. I always had a suspicion we could potentially sound quite good and this record is proof. Strong songs too I reckon and has a nice lyrical balance between heartfelt and stupid. I wrote a lot of these songs on acoustic guitar which is why they translate so well to annoying people at backyard parties. Gordy's drumming is insane on this record.
1. The Cup Of Pestilence (2023)
Jay: I know every band thinks their latest record is the best thing they've ever done and they're usually wrong. I may well think differently and deeply regret this in a couple of months but at the moment I'm pretty sure I'm right. Another burst of excitement with the addition of Micheal 'Dal' Dallinger on bass guitar and backing vocals. Everyone brought their A game back to the Blasting room and smashed out 20 or so songs in a couple of weeks. Very fun record to make. I think the songs are pretty consistent start to finish with plenty of three part harmonies supported by some real thick headed moronic riffs. Gordy, Lindsay and Dal slay hard on this record and as usual I'm doing my very best. Bloody good times.