Features
Good Riddance's Russ Rankin ranks all of the band's albums
on
Friday, August 25, 2023 - 12:04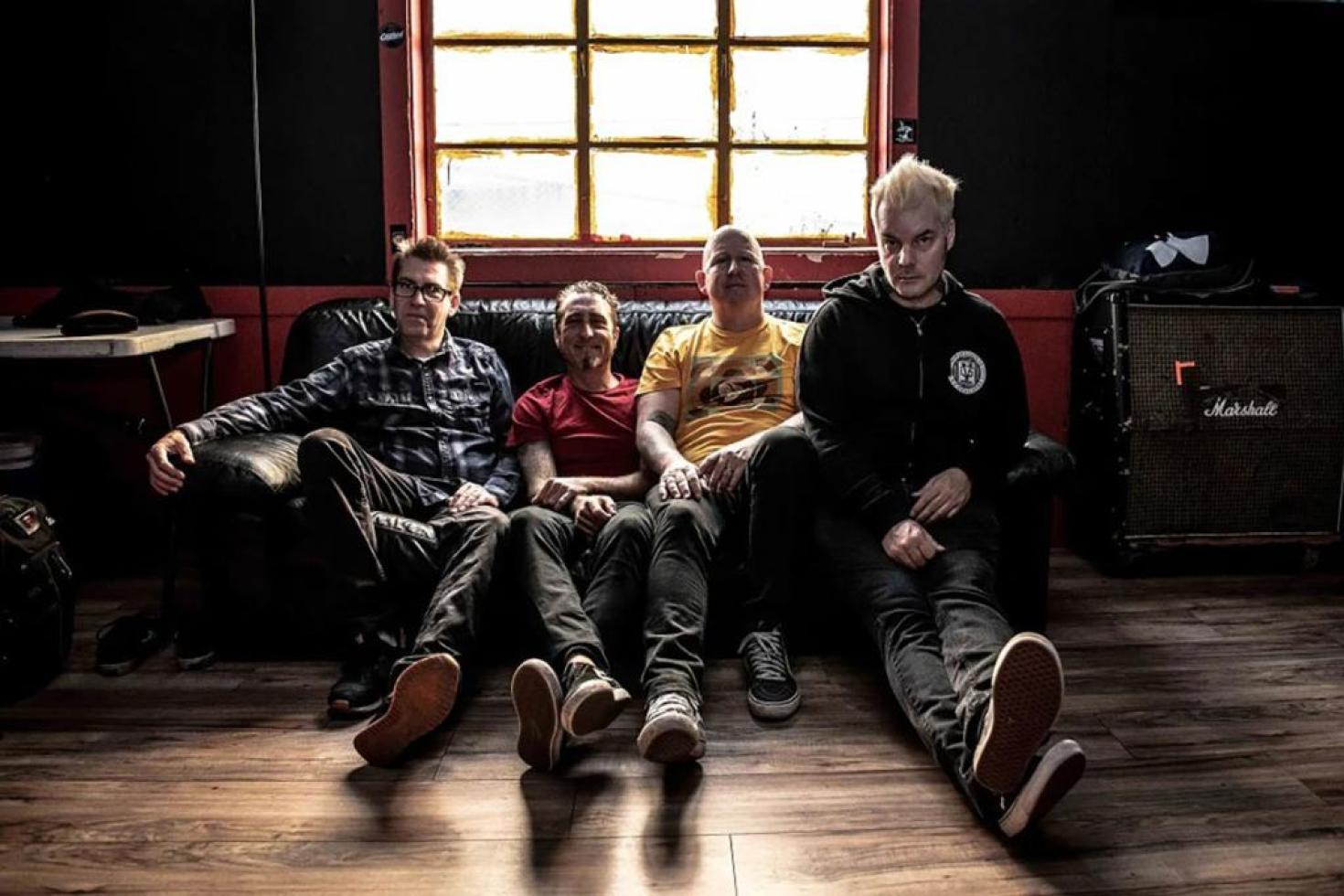 For close to 30 years, Good Riddance has been writing the kind of incendiary yet tuneful punk anthems that rally against injustice in all forms, from the social to the political to the personal and have had fans singing along while raising their fists in the air. In total, they have released 9 full-lengths so far, all of which have come out on Fat Wreck Chords, making them one of the label's mainstays.
Nine full-lengths and one excellent EP is a lot of music to dig into if you are new to a band, so we asked vocalist Russ Rankin to help out in that department. Read on to find out how the Good Riddance frontman ranks all of the band's albums.
10. Operation Phoenix (Fat Wreck Chords, 1999)
Very polarizing album among fans of our band. For many, it was the album that turned them off of us, due to its darkness, harder approach, and lack of melody. For others, it was the album they had been waiting for us to make.
"Shadows of Defeat" and "Letters Home" are still standards in our set, and people sing along to them and seem to enjoy them. I was personally not in a good place during the writing and recording process, so I try not to reminisce too much about it.
9. Bound By Ties Of Blood And Affection (Fat Wreck Chords, 2003)
I don't really have much to say on this one. Wasn't in a good place personally, and the writing process was a little chaotic if I remember correctly.
We still play "Dylan" a lot in our set, and I think that the song "There's No 'I' In Team" is one of the strongest songs lyrically that I've ever written.
8. For God And Country (Fat Wreck Chords, 1994)
Our first full length album. I didn't know what I was doing vocally, and had to come to terms with my massive shortcomings as a singer. It was our first time working with a producer, and a budget. I wish we could re-record it, knowing what we know now.  "Mother Superior" remains a standout and fan favorite from this one.
7. Ballads From The Revolution (Fat Wreck Chords, 1998)
I don't remember much about this one. By this time, we were on an exhaustive touring schedule, and barely had time to stop and breathe, let alone write an album.
I still really love the song "Fertile Fields," and it was fun to throw a KISS cover in.
6. A Comprehensive Guide To Moderne Rebellion (Fat Wreck Chords, 1996)
It was my first time really trying to write complete songs, and I feel like we had all learned a lot about songwriting in the year and a half or so since we recorded our first album. We rehearsed every day throughout the winter, and came up with so much material that we decided to release a bunch of split 7" records with other bands we were friends with.
Listening back to this album now, I wish we could remix it, but I still like a lot of these songs. It remains our best selling album to date, and was many people's introduction to our band.
5. My Republic (Fat Wreck Chords, 2006)
My best memories of this album are of discovering GarageBand, and suddenly having the ability to record complete demos of songs, with guitar leads, backing vocals, etc., and sending these to the other guys. By the time we got in the studio, we had almost all the parts worked out, and the recording process was really quick and efficient.
4. Peace In Our Time (Fat Wreck Chords, 2015)
This was our first album after we decided to start playing together again in 2012, and it was a really fun experience to get back in the studio.
In the preceding five years, both Luke and I had written material which was suited to Good Riddance, and so we began the process ahead of the game with a handful of songs which were more or less ready to go.

"Disputatio," and "Half Measures" are still staples of our live set.
3. Phenomenon Of Craving EP (Fat Wreck Chords, 2000)
It was 2000, and we really wanted to release something in time for our full summer on the Warped Tour. We were also in a weird period between drummers. We had found a new drummer who was prepared to start fall, so we had committed to an interim drummer (Dave Raun), whose band had fortuitously taken that year (2000) off. Dave played on this EP, and we ended up coming up with some strong songs, even shooting a video for "One For The Braves."
2. Thoughts And Prayers (Fat Wreck Chords, 2019)
This was the first time I had been tasked with 100% of the songwriting, and it was a pretty big challenge. I think it's a strong album, and an accurate representation of what our ideal sound is, or should be.
Time constraints, and everybody's hectic schedules, limited our ability to rehearse for this recording as much as we would have liked to, so I think there is a sentiment that we could have done an even better job if we'd had more time. That said, I think everybody played really well on this one, and I'm super proud of it.
1. Symptoms Of A Leveling Spirit (Fat Wreck Chords, 2001)
This was by far my most confident work as a songwriter, and I felt like I was finally finding my voice creatively. The band was also reaching new heights, and it was an exciting time all around for us.

This period of time was also incredibly happy for me personally, and I have great memories of it.