Features
Diesel Boy's Dave Lake ranks all of the band's releases
on
Thursday, July 27, 2023 - 13:20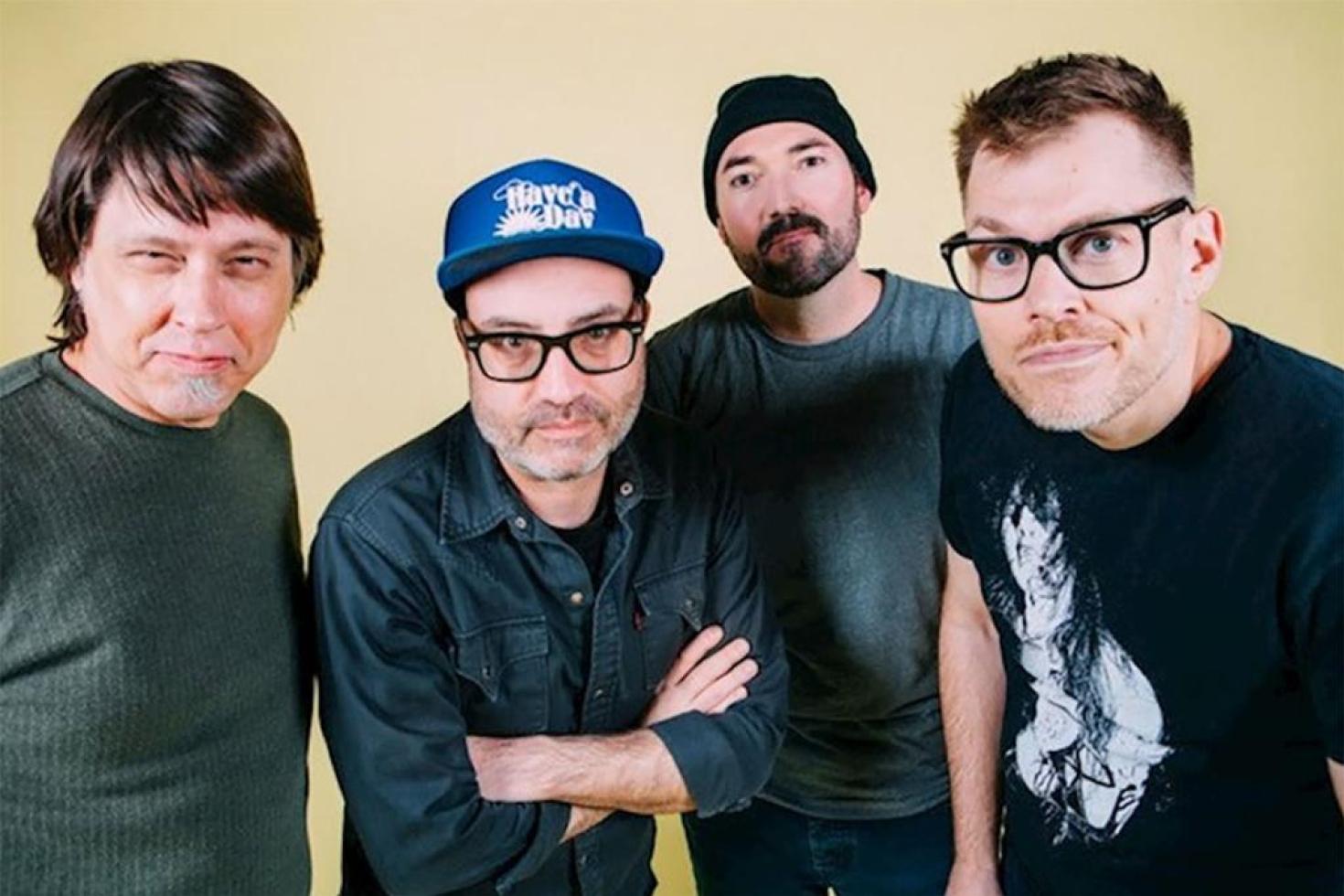 Diesel Boy is back! Ahead of the band's first new full-length since 2001's 'Rode Hard And Put Away Wet', we caught up with frontman Dave Lake and asked him to rank all of the band's releases.
Diesel Boy got its start in 1993 on the campus of Sonoma State University in California's wine country, where several members went to school. By 1996, they had generated enough of a buzz locally to become the first band signed to Fat Wreck Chords' imprint Honest Don's, releasing four albums for the label and logging tens of thousands of miles in their Ford Econoline van alongside a who's who of the era's notable punk acts.
Burned out after heavy touring following the release of 'Rode Hard And Put Away Wet', the band decided to catch their collective breath and returned to civilian life in the early 2000s, trading punk clubs and van life for marriages and mortgages. Life remained busy, but with a different set of responsibilities.
Fast forward two decades, and Diesel Boy's members have settled comfortably into middle age. But over the pandemic, the band realized how much they missed playing together, missed connecting with their fans, who still tallied over a million streams on Spotify each year alone. Not wanting to just be a legacy act, the band decided to focus on making a new record as the vehicle for their return. Returning members Diesel Dave (vocals and guitar) and Greg Hensley (bass) along with Chad Philipps (guitar) and Christopher Thomas (drums) holed up in Christopher's basement and began assembling the dozen songs that make up their fifth album, "Gets Old," out July 28 on SBÄM Records (pre-order).
To support the album, Diesel Boy will hit Europe this summer, playing the Brakrock, Punk Rock Holiday, and Tells Bells festivals, as well as several headlining shows. Full dates below.
Dave: Let me start by saying that this is impossible to do without controversy, though I guess that's baked in. Us Diesel Boys had a lively group text about our individual rankings and none of us could agree on a proper order. Christopher and Greg both had "Gets Old" and "Rode Hard" atop their lists, while Jack's faves were "Sofa King Cool" and "Venus Envy." This is merely my order.
Strap On Seven Inch EP (Fat Wreck Chords, 1996)
Dave: This one put us on the map and was our first release for Fat. The four songs were all taken from a demo we'd made called "Strap On Demo," which we'd given to Fat Mike in hopes that he'd sign us. This version of "Titty Twister" is the one that ended up on the "Fat Music for Fat People" sampler, which became about as close to a hit as you can have in punk rock. Three of the four songs were re-recorded for "Cock Rock," leaving "Tragedy" as the lone orphan on this release. The recording quality is meh, but it's got a raw, scrappy spirit, and it's a nice document of our early days. The cover also mirrors the cover of our cassette demo and we were a little shocked that Fat let us recreate it.
Venus Envy (Honest Don's, 1998)
Dave: I don't remember if we simply ran out of time or what, but I really dislike the cover art. Nothing against Botticelli's Birth of Venus. It fits with the title but it's very uninspired. As for the music, there are definitely some bangers on this one. The song "Cock Rock" became a model for a lot of songs that followed, in which we'd tackle a topic and then drop in as many pop culture references pertaining to it as we could. In this case, hair metal. This is the album where we started to figure out our sound and what kind of band we wanted to be. There are some darker moments ("Fiona's Apple") and some metal-influenced songs ("Schmooziphisus the Great"), a trend we followed on future LPs.
Cock Rock (Honest Don's, 1996)
Dave: Our debut album, the first release for Honest Don's, and the fan favorite by a country mile. We made the album in a week and it shows. It was our first time making a real record and working with a real producer, Ryan Greene, who was a blast to record with, and who went on to produce all of our Fat Wreck LPs. We learned so much making this album and we are forever indebted to Ryan for teaching us how to do harmonies, how to function in the studio, and how to be a professional band.
Perhaps this one resonates so strongly with so many because the songs are so simple and straightforward. None of it was written with the self-awareness that comes after you sign a record deal and develop a following. We were just goofing around and having fun and playing local shows and this record captures that. It's definitely our most free-spirited and freewheeling recording, but from a sonic and songwriting perspective, we were still finding our way.
Double Letter Score EP (Cold Front, 2001)
Dave: This release was done at the urging of our buddy Brett who ran Cold Front Records, who really wanted to release something from us. The problem was, we didn't have much to offer him. We ended up recording one new song ("Bad Art"), two covers we had been playing on tour, and a version of "Titty Twister" in Spanish. The end result feels a bit half-baked, but Christopher called it "charming," and I can agree. Greg gave it high marks too. It has some fun moments, especially "Sammy Hagar Weekend," an under-appreciated gem from the band Thelonious Monster. The label is no longer around and its catalog is not available on the streaming services, so these songs are not easy to hear.
Sofa King Cool (Honest Don's, 1999)
Dave: This one is solid almost all the way through and we were starting to really hit our stride. There's only one real clunker on this one to me but I will not name names. I think it sounds great and we were able to spread our wings a bit—hiring a string section for "Shining Star" and getting Marty from Bracket to sing on "All About the Abes." There's a lively cover of "Punk Rock Girl," a cool mid-tempo closer ("Dear John"), as well as a few that became staples of our live show, like "She's My Queen" and "Melanie Banks Where Can You Be?" We'd been touring like crazy when we wrote and recorded it, and this one sounds like a fully formed record to me, like a band that knows what it's doing. Sidenote: A few years ago, I bought the original painting for the cover from the artist who did it (Brian Clarke), so I get to see the slacker dude from the cover in my hallway every morning.
Rode Hard and Put Away Wet (Honest Don's, 2001)
Dave: This record didn't get its due, which is a shame, because I think it's the best of our OG era. It sounds great, the performances are good, and I think the songs are really solid. Fat Mike would always come down to the studio before we started recording and I'd quickly play him the album on acoustic guitar. On all of our other records, he'd make little tweaks here and there, arrangement suggestions, vocal melody adjustments. After I played through all of these, he said, "I could change them, but it won't make them better, just different." That was high praise from a songwriter I admired. Unfortunately, we stopped playing not long after this album was released so it didn't get a proper tour cycle and it didn't sell very well.
Gets Old (SBAM, 2023)
Dave: It's tricky to rank this one properly since it hasn't had the luxury of time to contextualize it amongst our catalog. Nearly everything about this record is a rebirth. There was a twenty-year gap in our recording output and half the band members are new. The songs were also written across a wide swath of time, some years before being recorded, and others just months beforehand.
We spent over a year rehearsing this record, coalescing as a band, and finessing the songs into a cohesive batch that we hoped would provide a solid foundation for our relaunch. We hired Matt Bayles to produce it, thinking that sonically he could provide something different from our other records. Since he'd worked with a lot of bands heavier than us, like Mastodon and Isis, he seemed like the perfect candidate to capture both sides of our musical personality—the melodic and the muscular.
We may have gotten older, but I think we delivered a Diesel Boy album that fans will enjoy while also allowing us to not be pigeonholed by a defined sound. Not that any of our records are especially heavy thematically, but this one has a lighter air about it. After such a long time away, we are thrilled and very grateful to still have the opportunity to do this, and I think much of that joy comes through on the album.
Diesel Boy tour dates:
04.08.23 Duffel, B – Brakrock
05.08.23 Neunkirchen, D – Rock Your Holidays w/ Urethane & more
06.08.23 Düsseldorf, D – Pitcher w/ Versus The World
07.08.23 Berlin, D – SO36 w/ Good Riddance
08.08.23 München, D – Unter Deck w/ Shöck
09.08.23 Wien, A – Rhiz w/ Versus The World
10.08.23 Tolmin, SLO – Punkrock Holiday
11.08.23 Villmar, D – Tells Bells Festival
12.08.23 Stuttgart, D – Goldmarks w/ Urethane