Features
on
Thursday, February 16, 2017 - 18:01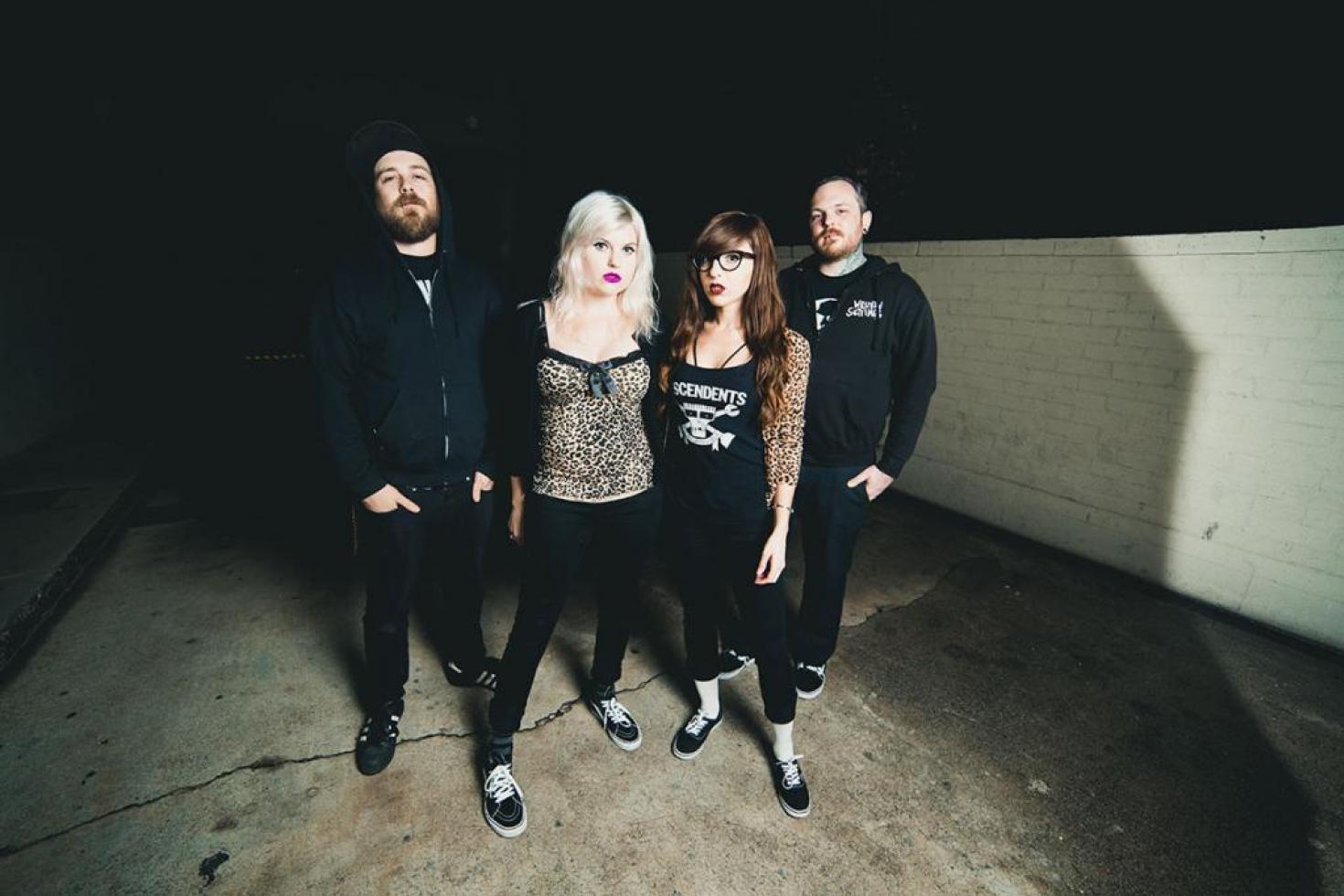 The Bombpops have been making a name for themselves in the Los Angeles and San Diego punk scenes for nearly ten years now. Throughout those years, they released a 7" and two EPs. But it took them up until now to release their first full-length. "Fear Of Missing Out" is out now via Fat Wreck Chords and it was well worth the wait. Scratch that, that's not really true. No album is worth waiting for almost ten years. But it is really good. We caught up with vocalists/guitarists Jen Razavi and Poli Van Dam to talk about the new album, working with Chris Fogal and even had Chris crashing the party at one point.
PRT: You started The Bombpops in 2007, released two EPs and a 7". But we had to wait until now for your first full-length. What took you so long?
Jen: Poli and I started writing songs back in 2007 together. We got our first lineup together to play her high school Battle of the Bands in 2008. From there, we took a long time finding the right rhythm section. We recorded material in 2009, 2010 and 2011 including one unreleased full length and the two EPs on Red Scare. Then in 2012 we got lucky with landing Neil and Josh in our band and we also took a break when Poli became pregnant and had her son. After her son was born, we started playing shows again and just kind of took our time with stuff up until 2015. Then we self released an EP, did some touring and hit the studio in 2016.
PRT: You have been through a serious amount of line-up changes. Like Spinal Tap numbers. Are you something of a dictator when it comes to the band?
Jen: Ha no. It's not like that. If you think about it, being in a band is crazy. 4 people have to want the same exact thing, have to have the same goals, dedicate massive amounts of time to achieving them, and then try to get along and have fun in the process. You also have to take into account everyone's feelings, their ups and downs and then try to get along and truly enjoy the whole process. If you're not enjoying it, then what's the point? It just took us a lot of time and tries to find the right people to complete our band. There were members that we wish stayed at the time, but they didn't want to tour or they had other bands. The Bombpops was always Poli and I, and we just kept trudging on until we found Neil and Josh. Looking back, it was worth the time and the effort it took to get to where we are now with this lineup.
PRT: No worries that maybe you waited too long with a full-length? People's attention spans aren't what they used to be.
Poli: I don't think it's a big deal. You're right about people's attention spans but over the years we have remained active, put out music and toured our butts off. Plus we have come a long way as song writers and performers and it took a few tries to find a rhythm section we really clicked with. I hope that shows on the album.
PRT: The album is called "Fear Of Missing Out", a popular term now. Is that a real thing with you?
Poli: FOMO is definitely a condition all of us in the band have struggled with over the years. We are constantly trying to find a cure. But on the real, I love being home with my family as much as I can and I've learned to live with a hint of FOMO.
PRT: I read you had people telling Poli she shouldn't go on tour because she is a mom now. I don't think anyone would ever say that to a guy when he becomes a dad. How do you handle comments like that?
Poli: It was rough at the start because the only way to prove to people that I could do it was to do it, and I had to take the time off to grow a baby and establish my family life.  I take those comments as fuel to my fire. Its extremely difficult leaving Adler when we tour, just like any Father or Mother with ANY job. With that being said, I'm fine with people being interested in that aspect of my life because I am proud of my child and what I've accomplished.
PRT: You recorded the album with Chris Fogal of The Gamits fame. Is it a plus to work with a producer who plays in a band as well?
Poli: It's totally a plus, even more so when you're big fans of the band. We love the Gamits and we wanted to work with a producer that understood us and what we wanted out of this record. We met Chris in Paris of 2015 when we played with The Gamits, and it felt like we'd known the dude all our lives. For all those reasons it just made perfect sense to do this full length with him.
PRT: Speaking of Chris…
Chris: Hey guys! It's me Chris Fogal of Gamits fame. I'm crashing your interview! You know we loved having you guys here in Denver and we even loved having you as house guests! Are there any specific memories you could share of your stay here (besides the magic hot tub)? Was it all worth it? When can we do it again? Summer EP?
Jen: WHAT UP! We can't wait to do it again soon. Summer EP sounds like a great idea!  Looking back on those two weeks will always be some of our best memories. Clearly, magic hot tub night will never be forgotten. We worked hard as hell those two weeks, but we also managed to party hard too. Chris' wife, Melissa (AKA The Lady Fogal) hooked us all up with our own private box to at a freakin' Iron Maiden concert! Our buddy Michael Marti, also from The Gamits, flew out from Switzerland to be our guitar "tone consultant" on the record. Having him around is always a good time. But really some of the best memories were Chris waking us up each morning at the house with the new Weezer, Pup and Nerf Herder albums on rotation while making breakfast for us. What other engineer/producer does that?!
PRT: I read that some of the tracks on the album were already written a couple of years. Is there a way to trace your evolution as a band throughout "Fear Of Missing Out"?
Jen: Yeah, there is a song on there that we wrote back in 2009. Then there are a few songs on there that we wrote back in 2013/14 and then some that we wrote just a month or so before going in the studio. I think the record shows our roots and also our evolution as a band. If you didn't know that about the songs though, I don't think it would really be traceable.
PRT: Are there any songs that go back a while as well, but which you decided not to include because they no longer feel representative of where you are now as a band?
Jen: We were a little bit hesitant to put one of ones from 2009 on the album. We even told Fat Mike we wanted to cut it. But he loved that one and insisted it go on the record. It's the 4th track, "Sweet for Sorrow".
PRT: The lyrics of "Be Sweet" were written by Brandon Carlisle. Was it harder to write music to go with it than with other songs?
Jen: It was definitely a bit of a puzzle. We didn't want to leave out any of the lyrics. I remembered which part was supposed to be the chorus, but it was deciding which lyrics to leave for the verses so that the song told the story correctly. The end tagline of the song was the line that was the trickiest to find a place for.
PRT: What's up next for The Bombpops once the album is out? Any plans to come over to Europe?
Jen: Plenty of touring! We have some shows in California and then a US and Canada tour with Red City Radio and Russian girlfriends. We'll definitely be making our way back to Europe this year too, so stay tuned!