Features
Under the influence with Counterpunch's Eric Hausser
on
Monday, June 20, 2022 - 11:31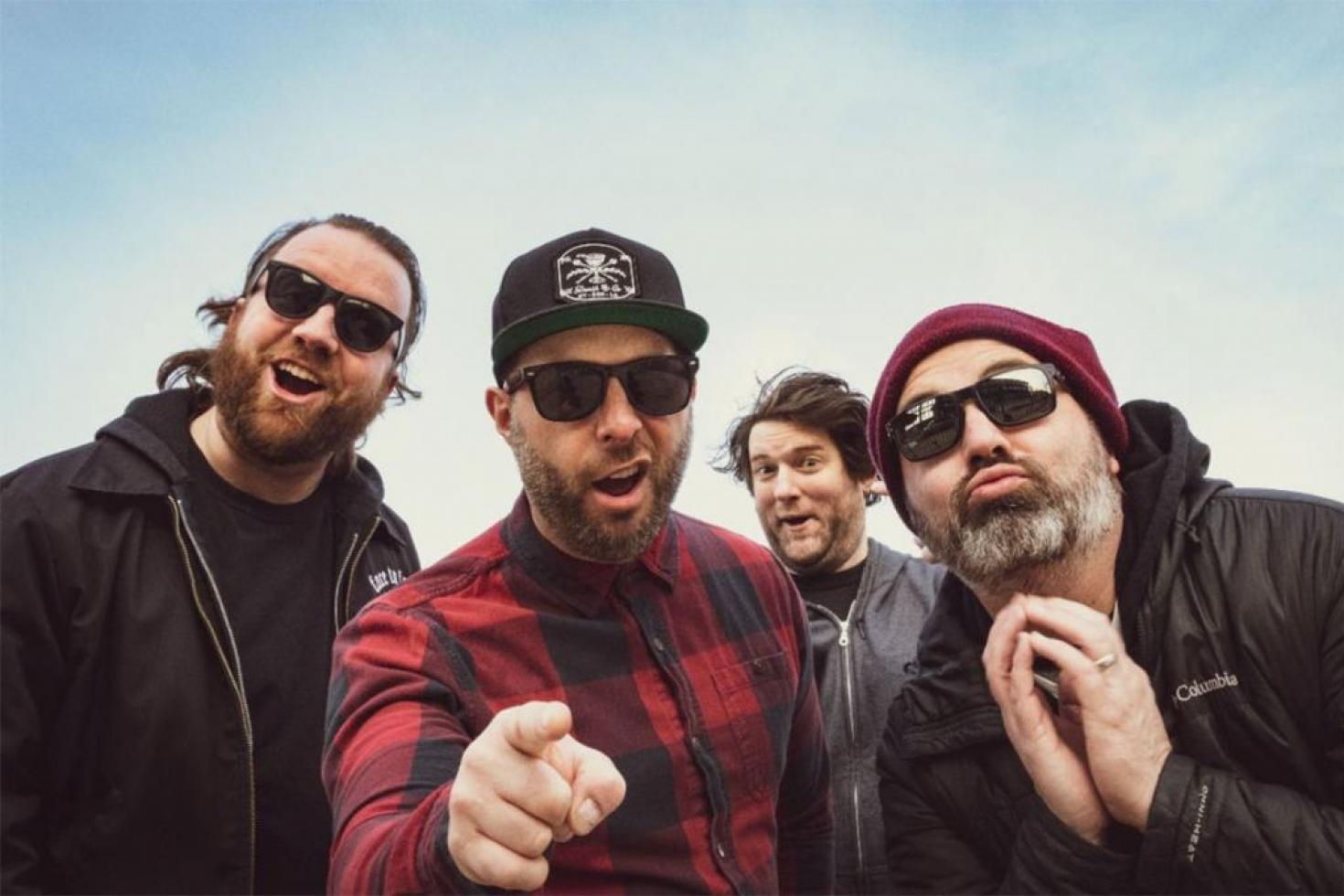 Chicago punks Counterpunch are back!. Following up on 2014's 'Bruises,' the band just unleashed their new album 'Rewire,' out now via Thousand Islands Records (North America) and SBÄM Records (EU). With their new songs, Counterpunch show they haven't lost he ability to combine shredding with a strong sense of melody while also offering a commentary on the society around them. We caught up with Eric Hausser who walked us through some of his biggest influences. From Van Halen to Monty Python and the Holy Grail and even down to the magic that is a Lion candy bar, we've got it all covered.
Van Halen - 1984
As a youngster growing up in the 80's, it was hard to avoid the sunset strip big hair and big guitar solo tinged hard rock.  It made it a little easier for me because both of my older brothers had cassette and CD collections I could steal from and make mixtapes from before they realized I pillaged their bedroom.  None of them hit me harder Van Halen.  The beginning of Hot For Teacher still gets me pumped every time I hear it.  My parents enrolled me in piano lessons pretty early on, and seeing Eddie Van Halen shred made me want to pick up a guitar and start to learn that instead.  Thankfully I was able to convince them to let me pursue that and play a lot less piano.  To this day, 'Jump' is a song that I will never forget how to play on the keys.  RIP Eddie, you legend.
Lion Bar
Why Nestle?!  Why is this monstrosity of a candy bar a European only thing?!  I first encountered the Lion bar while visiting my brother in Germany when I was a baby faced 14 year old.  My mind was blown.  It's everyone of my favorite chocolate bars combined into one bar to rule them all.  It truly is a magical invention.  It's like they shoved a Kit Kat in the middle of a Milky Way, and coated it with a Crunch bar.  Whoever the evil genius was who invented it needs a medal of honor.  This would be the kind of concoction that would happen if you set me loose in the factory with a significant amount of weed.  I'm sure there are plenty of people reading this right now saying, "I know you can find this in the US," and you I say, bullocks!!  It's always stale, even when you can find it.  If you haven't tried one before reading this, go locate one, and you're welcome.
Operation Ivy
After all the good hair metal and hard rock bands started to fizzle out along with that whole genre, there was so many terrible records that came out.  It really soured me on a lot of what I was listening to back then, and I was searching for something.  I had known of Fishbone, The Specials, and Madness but never really got into them for whatever reason.  It wasn't until I stumbled upon Operation Ivy at my local record store (that I used to ride my bike to) that something clicked.  The rawness, the bass lines, the message.  It all kind of came together for me and it was all downhill from there.  I was hooked.  I've been a punk and ska kid ever since.  This band sent me down the rabbit hole and led me to bands like DRI, Bad Brains, Skankin' Pickle, Less Than Jake, Slapstick, Blue Meanies,  and a whole slew of other bands.    
Colecovision/Atari 2600
Obviously video games are/were a huge part of growing up when I did.  All my friends had Nintendos, and I was stuck with what I thought at the time was an inferior system.  My parents couldn't understand why I needed a new one, when there was nothing wrong with the one we had, so needless to say I spent a lot of time at my friend's places hanging out and playing Nintendo.  Even when I had a Playstation 2, I would power up the old system.  There was a night my friend Jeff came over with some 'special' brownies, and I decided to eat a huge corner piece.  Our plan was to meet the rest of our friends over at a bowling alley, but that didn't happen because I was tripping from that wonderful little brownie.  The only thing that calmed me down from freaking out about it (being in my parent's basement and tripping at 6pm is not a good situation to be in) was a game called Beamrider on Colecovision.  I destroyed that game that night; pretty sure it would have been a world record if Twitch were a thing back then.  Outside of Beamrider saving my life that night, I have a serious affinity for classic/retro games that I wouldn't have if my parents allowed me to get that next newer/better system.  I still have that original system, and still buy games for it when I find something I don't have.  It's pretty rare that I come across them, but I do from time to time.
Monty Python and the Holy Grail
The whole catalogue of Monty Python movies could be on this list if we had enough time to talk about them, but this is the one I feel like I've seen the most.  My best friend Keith and I used to watch this movie over and over and over again after his parents made us stop making noise in their basement.  He was the first person I ever really played music with growing up.  His dad is an amazing drummer, and the apple definitely doesn't fall far from the tree.  The after school regimen was this:  settle in the basement, crank up, play until we get yelled at, put Monty Python on and chill until I got kicked out and had to go home.  The dry British humor combined with just some downright silly scenarios were a perfect match for me.  The love I have for the Monty Python world bled over into a what my sense of humor has become today.     
Punk-O-Rama
Volume 1 of this series introduced me to so many bands I hadn't heard of before.  This is what really cemented punk rock in my brain and in my soul.  Finding out that Rancid arose out of the ashes of Operation Ivy.  Discovering Bad Religion, Pennywise, NOFX, RKL, Down By Law, The Offspring, Ten Foot Pole, SNFU and countess more.  You have to understand that before it was easy to access music I had to rely on zines, shows, and weekly releases showcased at the local record store to find new bands.  It wasn't as simple as checking out someone else's playlist or a quick google search.  Having all of these enormous bands on one CD was a complete eye opener for me.  
The Fireside Bowl
This place was the stuff of legends.  It was Chicago's Gilman Street.  I spent almost every weekend as soon as one of us had a drivers license hanging out at the Fireside Bowl taking in some of the greatest shows I've ever seen.  The bands that would come through and grace that stage was incredible.  It was a second home for a lot of us, and the sense of community that was created there hasn't been matched in the Chicago music scene.  There weren't a lot of places you could catch an all ages show that had a bar open as well. Out in the suburbs, we had the Arlington Knights of Columbus, but the Fireside was the undefeated champion of all.  And if you ever used the mens bathroom there, I'm pretty sure you're immune to anything else the planet can throw at you.  
Warped Tour
Skateboarding, BMX, punk rock, sunshine, and friends. The perfect combination.  The first couple of Warped Tours were like if every single one of my friends from the skatepark and music scene came together and threw a badass party.  It was a yearly summer right of passage that we all looked forward to, and it never disappointed.  Being able to get up close and personal to some of skateboarding's legends with a backdrop of some of my favorite bands was an experience that I will never forget.  I'm sure demos were easier to come by on the west coast, but in Chicago there were only a handful of skateparks so this was one of the only ways for me to see skaters in person that I only had seen on DVDs and skate vids.  My only regret is not being able to play Warped with Counterpunch.
Spinal Tap
What can I say about this movie that hasn't already been said.  It's a classic.  The one liners out of Spinal Tap still find their way out of my mouth on the stage.  This was like a natural progression from Monty Python, and I've loved all of Christopher Guest's mockumentaries ever since.  I actually do have an amp that goes to 11, and I used it bunch on the new Counterpunch record.  Plain and simple, this movie rocks, only seconded by Wayne's World in the space of music based comedy movies in my humble opinion.