Features
Pulley's Scott Radinsky ranks all of the band's albums
on
Friday, July 7, 2023 - 11:09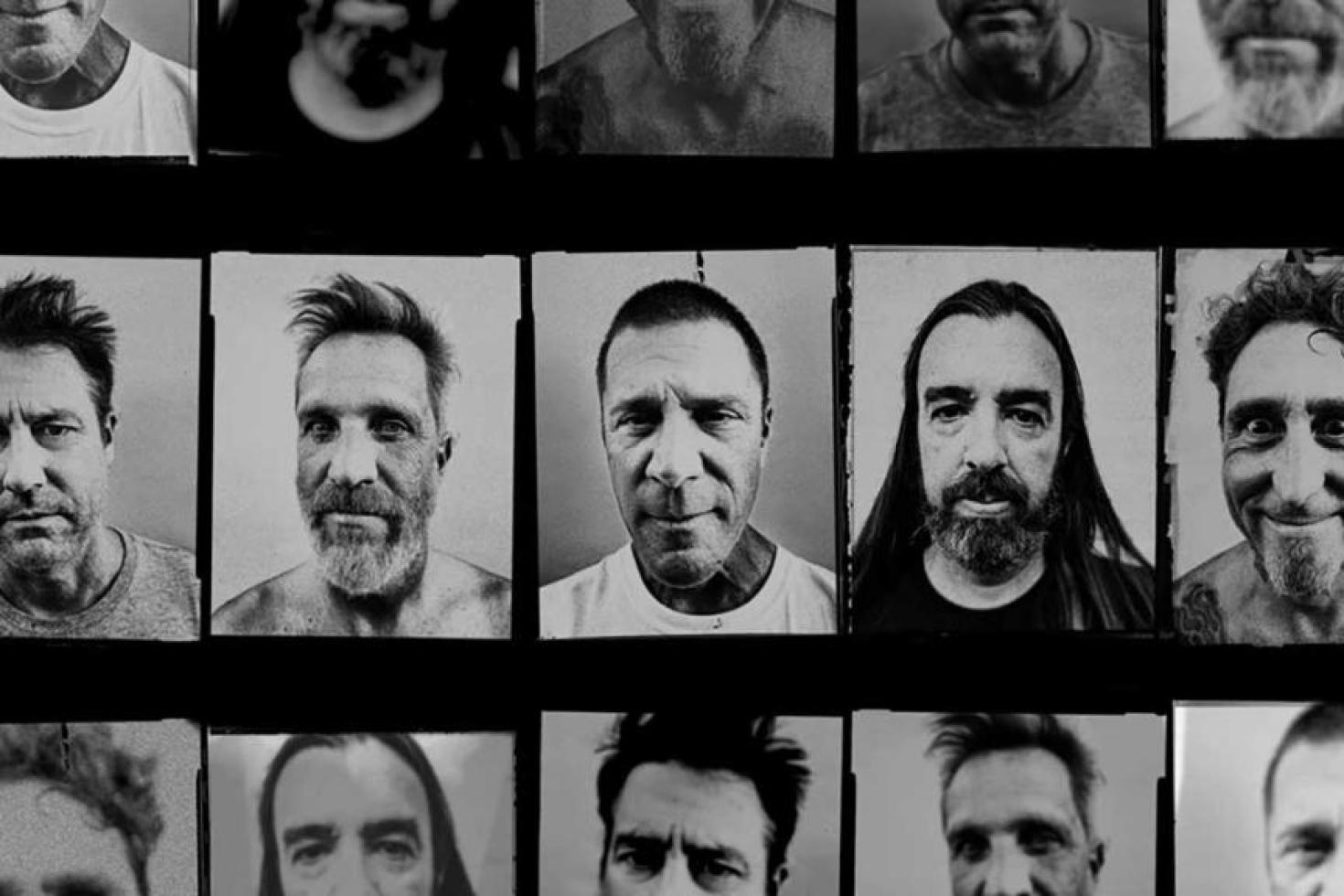 Shortly after forming in Simi Valley, California back in 1995, Pulley signed to Epitaph Records. It would be their home for the next ten years and over the course of 5 full-length records, the band did more than their part to help put the influential label on the map. Although in recent years, there has been some time in between Pulley albums, the band has never stopped releaseing solid music, their latest offering being last year's 'The Golden Life,' out now on SBÄM Records.
Ahead of Pulley's European tour (full dates below), we caught up with vocalist Scott Radinsky and asked him to rank all of the band's releases.
60 Cycle Hum (Epitaph, 1997)
'60 Cycle Hum' was recorded only 10 months after our debut record and saying it was rushed would be a stretch, but there is some filler to me.
The production job made it a little hard to hear things clearly as well. Then again, some people have said they like that. Personally, I like a few songs off this recording and we could still be playing them live if we wanted to at this point, but I think we wrote better songs in the years to come. So no songs off of '60 Cycle Hum' have made an appearance in a live show in quite some years.
No Change In The Weather ( Cyber Tracks, 2016)
Our first and only record on the Cyber Tracks label. After a long lull in recording a full-length, this came out about 12 years after the last one. We did spend quite some time writing, but there didn't seem to be much magic in the songs at the time of recording.
Lyrically, there was some good content and musically, there are some good hooks that made for a couple of good songs. Again not saying it was rushed, but we probably were eager to get analbum out after so much time off with no new music. There are always records that aren't as strong as others and even though I feel this is a good record, I don't think it holds up to some of the other releases.
Time-Insensitive Material (self-released, 2008)
'Time-Insensitive Material' was our first record on our own after releasing 5 albums on Epitaph records. We initially wanted to release this along with our dvd as a package, but when the label didn't have any interest we saw the writing on the wall and moved on to Whens Lunch Records.
There are 5 songs on this release packing a punch, with a variety of influences shown. Couple of mid-tempo songs along with the ripper that is 'Rattling Rust' finishing it up. Clear production and well-written songs, but not enough material for a full-length. So five songs is what you get.
The Long and The Short Of It  (Whens Lunch Records, 2011)
Just 3 songs on our first and only 7" release to date. We had a lot of fun writing these songs and adding a cover by one of our favorite 80's bands, the Big Boys. It's another fast-paced couple of songs with my favorite being the cover song  "Which Way To Go," which we also released as a video. The artwork was done by our longtime friend and former drummer from a previous band, Brian Walsby. A good batch of songs that turned out good.
Together again for the first time (Epitaph, 2001)
'Together Again For The First Time' was the first record with our friend Tony Palermo on drums. All around great record, songs, production, artwork etc…. It is still a record that sounds good today with catchy songs that we still play live regularly with 'Hooray For Me' being one of the classic Pulley sounding songs along with 'Ocean Song', 'Runaway' and 'Empty'.
Due to day jobs, a lot of this record was written and recorded in different places with us sending song ideas back and forth through the Mail before internet was available to make things easier.
A lot of hard work along with Tony's ability to write creative drum parts and execute them, helped the rest of us to follow that foundation and come up with a finished product that we are still proud of today.
Matters (Epitaph, 2004)
'Matters' was our first record with producer Matt Hyde, who we would go on to record a few more releases with. What a crash course in songwriting and understanding how to make a song sound good! We spent a lot of time rehearsing and doing pre-production for this release, something we had never really done up to that point for whatever reason.
I think there are well thought out lyrics and music that was pushed out of us by Matt on a daily basis leading up to the studio. Matt's production is great and he was able to capture what we were looking for at the time, allowing us to still be ourselves but taking our sound to the next level. It certainly helped shape us into better musicians and songwriters when it was finished. Proud of this one for sure.
 @#!* (Epitaph, 1999)
Another experience in the studio that will be remembered for a long time. We recorded up in San Francisco with Ryan Greene with all of us bringing sleeping bags and living together in the studio for almost a month. We were invested in this one for sure. We tried to work on the songs before entering the studio, but our drummer at the time wasn't into rehearsing and didn't have anything written before going in to record.
He also had to play the drum tracks solo without any guitars, because the music would throw him off. There are a lot of tempo changes due to playing without a click, which made it difficult to record music over but we managed. In the end, it turned out to be one of the better releasess partly due to the timing in the scene at the time and definitely a strong batch of songs. This is one record I would love to have the chance to record again, but maybe that would take away from the moment?  Nonetheless still super proud of this release today.
The Golden Life (SBÄM Records, 2022)
Our latest release and probably our most well-written record. As songwriters we have learned how to come up with a formula that works and to not stray too far from our sound but instead evolve within those boundaries. 'The Golden Life' was recorded with producer Chris Collier who we have known for several years since sharing a rehearsal space with one of the bands he played drums in. I personally think this is our best-sounding record sonically and musically. Everyone played really well on this album and the time spent writing and rehearsing made it easy to record once we got in the studio.
The artwork was once again done by Mark Desalvo who has painted several of our records keeping the Pulley theme alive. Hopefully we can continue to build off this one and keep our music going strong in the future with more releases like this.
Esteem Driven Engine (Epitaph, 1996)
Our debut record! At the time of recording, we had only been a band for a couple of months, but everything came together so organically with all of us and the timing of the scene, that this release was perfect. Some people will be embarrassed by their early work, but I look at it this like it the benchmark. Five guys who didn't really know each other that well collectively, but who hit the ground running with childlike enthusiasm and creativity. 
I am not sure we ever had as much fun recording a record after that, but we always tried. The energy and excitement is always different when it's the first release but the songs came out really well. I like to judge a song by what we play live and this record has songs that are still hits when we play them live.
A good record and good times. This was what Pulley set out to be, a band who plays for fun with no stress.
Upcoming Euro tour dates:
July 27 • NL • Den Bosch at WorldSkateCenter Den Bosch
July 28 • DE • Goldenstedt at Afdreiht un Buten - Festival am Hartensbergsee
July 29 • DE • Hamburg at Hafenklang *
July 30 • DE • Berlin at cassiopeia Berlin *
July 31 • DE • Leipzig Conne Island *
August 2 • UK • London at New Cross Inn
August 3 • UK • Blackpool Rebellion Punk Music Festival
August 4 • BE • Duffel at Brakrock
August 5 • DE • Stuttgart at Juha West *
August 6 • CH • Zürich Dynamo Zürich (offiziell) *
August 8 • DE • Burghausen at Juz *
August 9 • DE • Zwiesel at Jugendcafe *
August 11 • SI • Tolmin at Punk Rock Holiday
August 12-14 • IT • Rimini Bay Fest
* w/ The Rumperts