Features
Clowns: 10 Australian albums you should love as much as they do
on
Thursday, April 25, 2019 - 18:33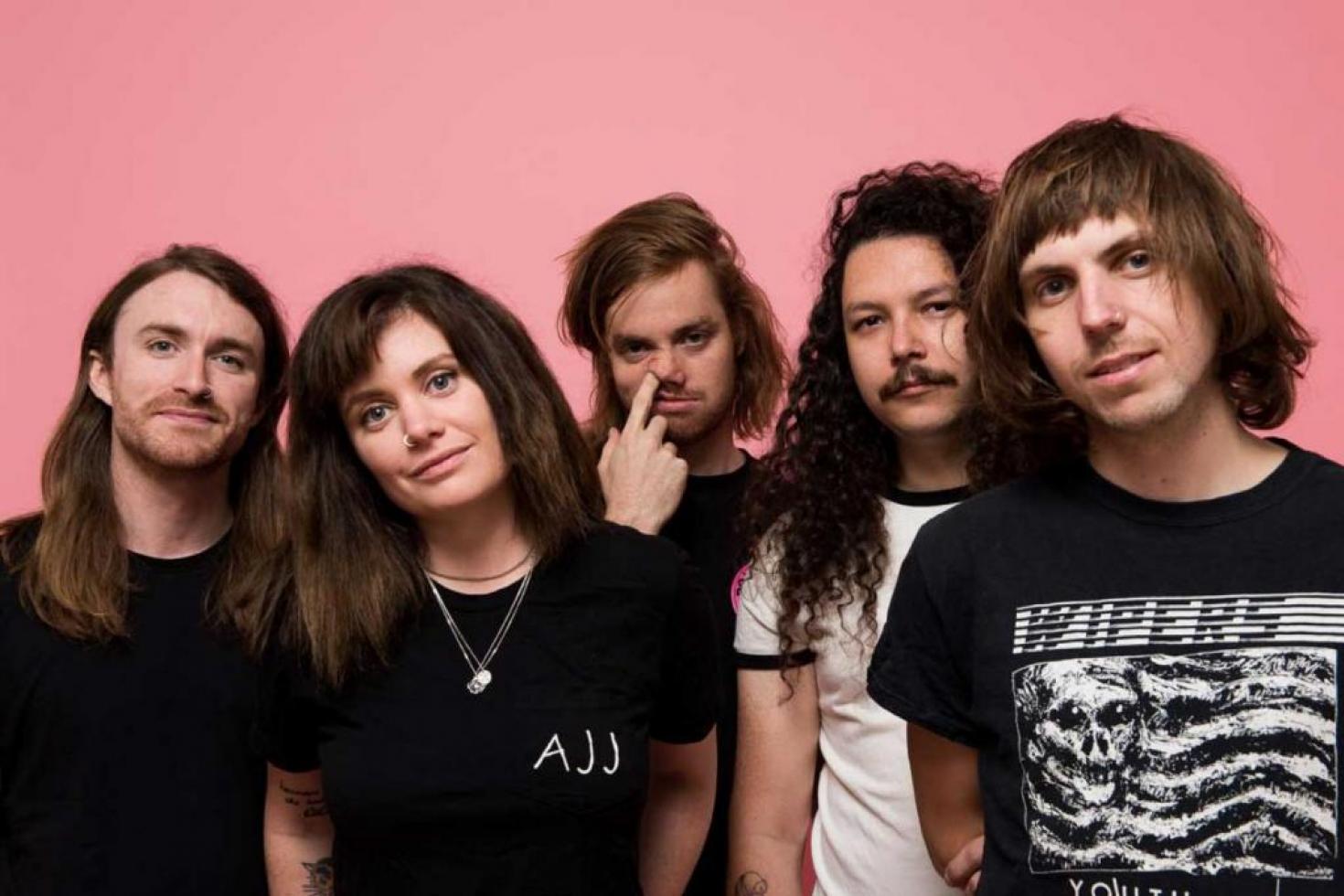 - by Tom Dumarey
Australia's Clowns recently surprised us with their excellent new album 'Nature / Nurture,' which also happened to be their most adventurous and diverse offering to date. But which albums by Australian bands do they like themselves? We caught up with the band who were kind enough to share their top 10 Aussie albums that you should love as much as they do.
Stevie Williams (vocals)
Frenzal Rhomb – Sans Souci (2003)
In my opinion this is the most quintessential Australian punk record, at least of the 90's and 00's era of punk rock. Growing up in Australia and liking punk rock meant liking Frenzal. They weren't just a punk band, they were our answer to punk at the time. Jay and Lindsay even went on to enjoy a media career as radio hosts and columnists which made Frenzal a household name, and this record really solidified their position as a timeless Australian act. It's the perfect blend of musicianship, humour and politically minded punk rock and the songs from start to finish are absolute gems.
Pagan –Black Wash (2018)
One of my favourite local Melbournian acts, that is starting to gain acclaim overseas too. Pagan are a heavy band that are refreshingly unique, blending styles like Black Metal, Disco, Punk Rock and Experimental seamlessly within this record. They are tasteful, aesthetically on the money and manufacture a heavy music experience that is a party, full of excitement and ceded in feminism and moral value, which is why I love it so!
Hanny J (bass/vocals)
Fun Things - Self-titled E.P (1980)
Fun Things were a Brisbane punk band who started in 1978 and were regarded as second wave Australian punk as they came onto the scene just after more well known Australian punk bands of the 70's like The Saints. Fun Things are like a bratty Radio Birdman mixed with a snotty New York Dolls. This E.P was released around 1980 including total bangers like 'Savage' and 'When The Birdman Fly' and was the only album Fun Things ever recorded.
The Victims - All Loud On The Western Front (1989)
The Victims were a short-lived power pop / punk band from Perth playing from 1977 - 1979. All Loud On The Western Front was a compilation of the group's best songs and was released in 1989 well after the band broke up. Ripping through hits like "flipped Out Over You" and "Perth Is A Culture Shock" this album is 8 tracks of raw and obnoxious fun.
Jake Laderman (drums)
Private Function - Rock In Roll (2017)
Private Function are the self-proclaimed "Green Day for people who go to The Tote", but don't let that throw you. Private Function are a recently formed shining gem of the already flourishing Australian punk community. Rock In Roll is the band's sophomore release, it's a seven track, 16 minute hellride of live tracked, lo-fi fun and sure packs a punch! In true Private Function style, these tracks are silly and drenched in satire, but hold such power with aggressive fast-paced playing, manic vocal delivery and clever hooky melodies. With stand out tracks like 'I Wish Australia Had It's Guns Again' and 'Ductape', it's almost impossible to listen to this record without a smile on your face.
White Walls - Afterthoughts In Limbo (2015)
White Walls' music is loud, deep and very tone-heavy, but still maintains melody and sinks it's post-punk hooks deep in. Afterthoughts In Limbo is the Melbourne trio's second full length album. It's a dark sonic journey across a double LP, which dynamically floats between extreme fuzzed-out pop songs such as 'Light Bulbs' to deeply emotive drone journeys such as 'Way Out'._This record is a long one spanning over an hour, but seamlessly flows between it's 16 works, each a different chapter in what feels like a monumental voyage. Best heard through powerful speakers or quality headphones.
Will Robinson (guitarist)
The Scandal - Never Hold to Shore (2006)
The Scandal's 'Never Hold to Shore' is an album that anyone from Tasmania's punk/hardcore scene will regard as our best export, but also one of our best hidden gems. Released in 2006, this album is full of progressive socio-political commentary akin to Propaghandi, with a mix of the unashamedly Australian accent, that is reminiscent of bands such as The Nation Blue. From 20 second fast hardcore songs such 'Verticle Bones', to 5 minute long epic punk songs such as '2547 Minutes' (even with an avante-garde jazz solo within!), The Scandal were not afraid to experiment and step outside the punk mold, and this what made them fantastic. A must listen for anyone into Australian progressive punk and hardcore.
YLVA - Meta (2017)
YLVA is a post-metal band that is comprised from many members from current, and old renowned Melbourne bands. Arguably, YLVA is the heaviest band in Australia right now, and I would say that is 100% true when witnessing live. Like a mix between bands such as Sumac and Cult of Luna, a lot of META feels incredibly eerie, and apart from the onslaught of downtuned distorted riffs the album is full of ambience-filled room to breathe, having you eagerly awaiting the next crushing moment in the album. The song 'Metadata' feels like you have just been hit by a truck, however, the 13 minute long epic 'The Fall' feels like the soundtrack to the world ending, with half the song drum-less with all guitars blaring in a transfixing drone whilst the singer Mike Deslandes screams over the top. Definitely a must watch live, and in my opinion the best heavy band in our country.
Jarrod Goon (guitarist)
The Marcus Hook Roll Band - Tales of Old Grand Daddy (1973)
The Marcus Hook Roll Band were a short lived studio project created by Australian songwriting royalty Harry Vanda and George Young, after the collapse of their band The Easybeats. In the recording sessions of Tales of Old Grand Daddy, Young brought his two brothers Malcolm and Angus into the studio to help with guitars, on what would be their very first studio recording output. I only heard this record for the first time just over a year ago, and I was blown away to hear proto-AC/DC riffs, notably the 'TNT' riff in 'Quick Reaction'. It has been on constant rotation since. The catchy hooks combined with tongue-in-cheek lyrics and genius song structures combine to form a critically underrated and overlooked Australian gem, which I highly recommend to anyone who wants to dive deeper into early Australian rock and/or roll. These songs will forever hold a special place in my heart.
Cold Chisel - East (1980)
Cold Chisel are a band that never really made it outside of Australia, yet you would struggle to find ANYONE inside Australia who doesn't know 'em. East is Chisel's most commercially successful release, featuring hits like 'Choirgirl' and 'My Baby', the latter of which is a regular singalong in the Clowns tour van. Ian Moss's screaming guitar licks compliment Jimmy Barnes' piercing vocals - which combined with the rawness and dynamics ranging from hard rock tracks to sombre ballads - make a great example of classic Australian 'pub rock'. Take me to a karaoke bar, hand me a microphone and an unhealthy amount of beer, and I will happily butcher their hit 'Cheap Wine' at first opportunity!