Features
Antarctigo Vespucci: 10 albums you should love as much as they do
on
Wednesday, October 24, 2018 - 13:07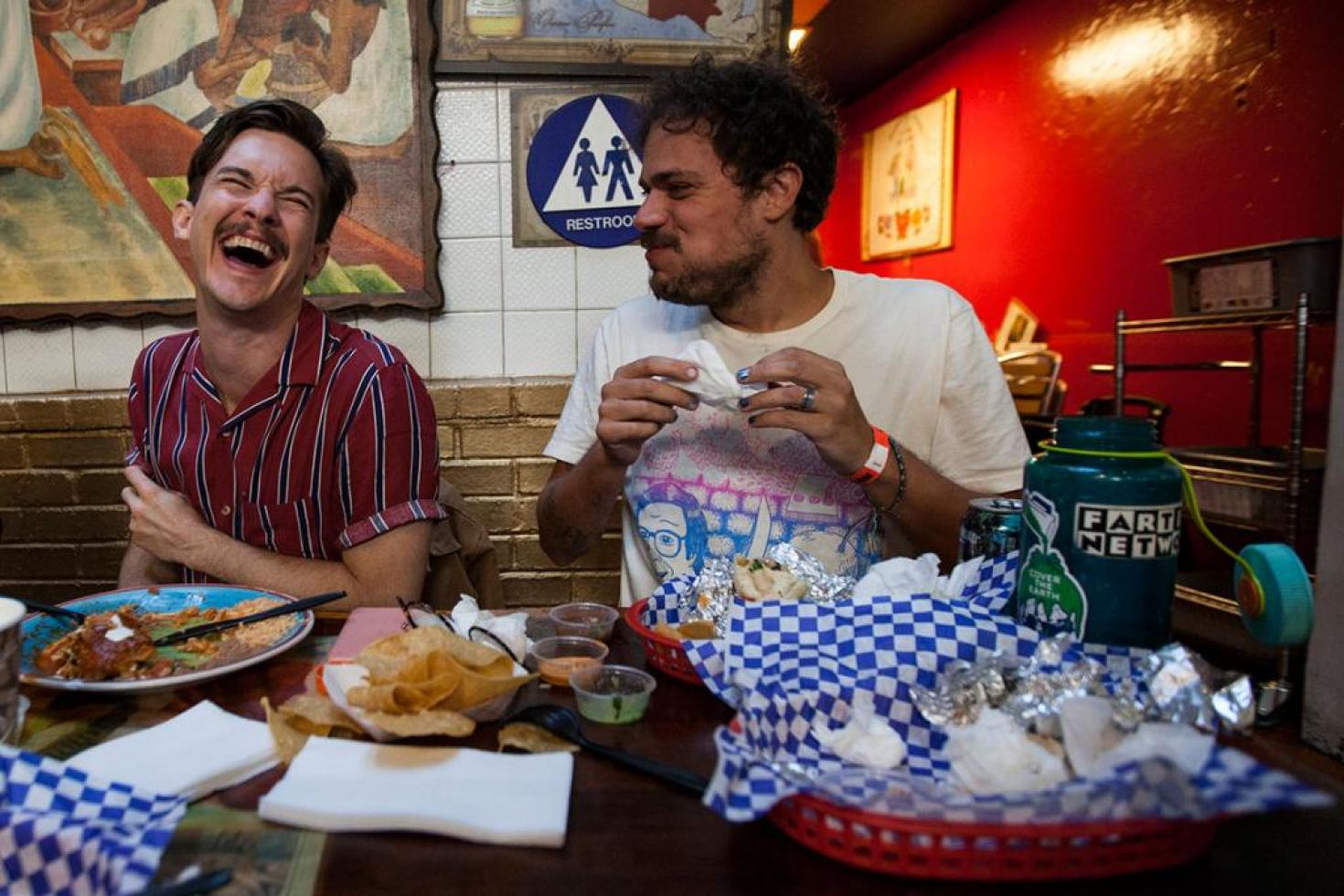 - by Tom Dumarey
Just two more days until 'Love In The Time Of E-Mail', Antarctigo Vespucci's new album will be out via Polyvinyl Records. Named after a non-existent explorer, Antarctigo Vespucci is the moniker under which Chris Farren and Jeff Rosenstock bond over power-pop tunes. They are both doing stellar jobs when it comes to their solo careers, but when they get together that 1 plus 1 suddenly equals 3. Everything just sounds bigger and catchier. We caught up with Chris and Jeff and asked them to come up with a list of 10 albums that influenced them in one way or another. Check it out… just like their new album, the list is kind of awesome. (photo credit: Andy De Santis)
Belle & Sebastian - If You're Feeling Sinister
Chris: "If You're Feeling Sinister" was the first record we listened to when Jeff & I got together to start work on "Love In The Time of E-Mail".  I've always been drawn to the simplicity and straightforwardness of these songs. The entire album is really reserved, but the songs all seem to soar regardless. I think that influence really comes through in our song "Do It Over".
The Rentals - Return of the Rentals
Jeff: The first three records on this list pushed us to take a lot of sonic chances that would have been tough to take in our previous bands that had, at the very least, a bedrock of an established sound that colored what we did. Antarctigo was exciting right out the gate because we could do whatever we wanted, try to make the song sound like whatever we liked. Something about this record that has always stuck with me is the layer of fuzz that is wrapped around every song like a blanket, yet still giving the space for great melodies to shine through in a way that neither are competing with each other. Chris writes such good melodies and catchy songs so we can put tons of fuzz on it and his songs are still strong enough to blast right through the wall instead of getting swallowed.
Alvvays - Alvvays
Jeff: If the Rentals are my fuzz heroes, Alvvays are my wooze heroes. This record uses lo-fi tones, reverb, delays, woozy guitars and synths to give these nine perfect songs a setting that you just want to get lost in. I've spent many a rainy day and many many a faded night giving this LP repeated listens. Bonus points for really sad lyrics as well!
Superchunk - I Hate Music
Chris: For the longest time, Superchunk was just one of those bands I kept missing. I had heard their name, been recommended them, but never really listened. No clue what series of events led "I Hate Music" to being the first of their albums I finally checked out, but as soon as I did I was obsessed. Chocked full of "being-in-a-band" references, this record could have easily come across as trite or "too inside", but the songs are so damn catchy anyone could find a reference point. Also the guitars on this album are so good and sound so HUGE!!
Radiohead - Hail To The Thief
Chris: Probably the closest thing to a "rock record" Radiohead will ever make again, 'Hail To The Thief' goes the heck off with a driving forward momentum from beginning to the end. Even the slower songs have a building tension that often resolves in some great cacophonous explosion of synths and guitars. And all of the bass lines are so SICK.
Hard Girls - A Thousand Surfaces
Chris: I think this was the very first record Jeff & I ever really bonded over. I remember the first night we were together to work on our first release, Jeff had just gotten the masters of this record and put them on. Every section of every song on this record has something incredible going on. Like a Guided By Voices album on steroids. Incredible melodies, riffs, lyrics and a band that just sounds so freaking  good playing together.
Chumped - Teenage Retirement
Jeff: Chumped always felt like our buddy band, and whenever we would get together to make a record we'd always end up hanging out with Drew or Anika a bunch. This record blew me away when I heard it. The songs are so strong, the guitars sound really mean and they'll just rip into some fast punk shit every now and then. Chris and I both love us some fast pop-punk that lacks the unnecessary performance corrections of modern punk, and it's always fun when your friends make a record that hits all the sweet spots.
Rilo Kiley - More Adventurous
Jeff: Rilo Kiley are a lot like Belle and Sebastian for me, even if they don't sound the same. Both of them bring such strong songs to their records that they can experiment with genres and styles without feeling disconnected because the songs glue it together. There's a fearlessness to Rilo Kiley that isn't present in a lot of pop music. The lyrics are so fucked up at times too, but the production behind it is so smart that you get swept up in the beauty. For me, smart production means adding shakers and keyboards when you're looking for hints of depth, not sound replacing and quantizing every snare drum and auto tuning all the vocals so it sounds "perfect."
Beach Boys - Pet Sounds
Jeff: Obviously. My all time fave. With Antarctigo I look at this record as a masters course in dense arrangements. There's so much shit going on but it never feels cluttered, and when you pile as much stuff on as we do, it's good to remember how to find space for it all. Also the vocal harmonies are obviously huge for us. It seems almost too obvious to put this record on this list but, we like it and that's just the truth OK?!!!
Against Me! - Searching For A Former Clarity
Chris: "Searching" felt like the first time AM!'s vibe went a little more introspective. My perception of them before this record was more of a fist-pumping beer-drinking party-punk band, but to me this record put them on a whole new echelon of artistry. The slower, more reserved songs on this album give Laura's lyrics room to be heard, and there's space for them to sink in. IT FREAKIN ROCKS.