Album Reviews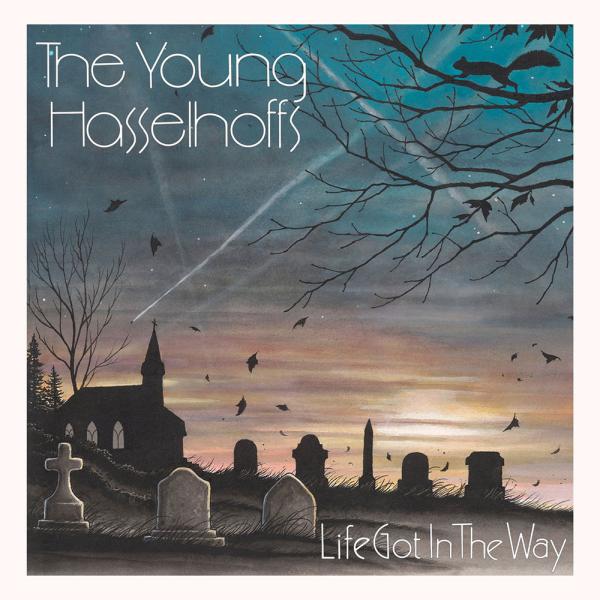 on
Friday, November 25, 2022 - 22:02
Out now on Mom's Basement Records and Rum Bar Records, 'Life Got In The Way' is The Young Hasselhoffs' new album, their first in god knows how many years. The band did release 'The Obsolete Man' in 2011, but legend goes that hardly anyone managed to snag up a copy of that one back when it came out before the actual Hoff hassled them about their band name. Luckily, this grave injustice was rectified by Mom's Basement Records, who gave the album the re-release it deserves last year.
It was drummer Young Phil (disclaimer: not actually so young anymore) who managed to talk the others into making an actual new record. While vocalist/guitarist Matt Stansbury started writing demos from Colorado, Phil and bassist Jason Baywatch were busy relearning their instruments back in Omaha, Nebraska before recording the new album with producer Andrew Berlin at the Blasting Room in August of last year.
The result? 13 New songs that see the band dealing with the troubles of adult life rather than teen angst, all of them a beautiful testament to the band's knack for writing pop punk tunes that have as much in common with the Beach Boys and the Ramones as they do with your favorite singer-songwritter pulling at your heartstrings. This is still the same band that released 'Win A Date With' back in 1998, but this time around we are being treated to the refined version of The Young Hasselhoffs. And it really is a treat. They pull you in with the acoustic opening ditty that is 'Little Poems', win you over with the title track and from there on it's nothing but hits. Sometimes acoustic ('Sweet Matilda', 'Surround You'), but mostly power chord-enhanced ('Ms. Penny Mitchell', 'Babydoll' and 'Eugene McCray: Ex-Guitar Hero'), Stansbury hits hard every single time with big melodies and even bigger feelings. 'Quiet' is a breezy gem of a song with guest vocals by Barbara Stansbury and album centerpiece 'Pull Me Out Of The Scene,' which starts off as a heartfelt acoustic song before bursting wide open in the second half, is pure pop punk bliss. And that's just the first half of the album. You still have 'Turnaround' (Beach Boys go pop punk), 'Barbara Part 2' and 'When I'm Gone' to look forward to.  
Back when they released 'WIn A Date With', The Young Hasselhoffs were barely out of high school. Now in their 40s, it is an absolute pleasure to see them still having a great time making music together and proving that it is possible for a pop punk band to grow up gracefully.
Life Got In The Way track list:
Little Poems    
Life Got In The Way    
Ms. Penny Mitchell    
Babydoll    
Wish You Well    
Quiet    
Pull Me Out Of The Scene    
Turnaround    
Barbara Part 2    
Sweet Matilda    
Eugene McCray: Ex-Guitar Hero    
When I'm Gone    
Surround You