Album Reviews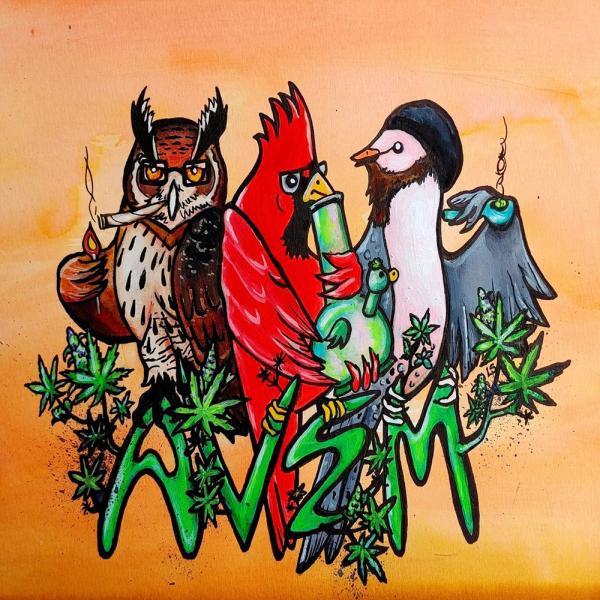 on
Sunday, November 20, 2022 - 17:28
Hidden away in the forests and wetlands of southern Ontario, you can sometimes spot AVEM. This Canadian trio first made its way on my radar through their split with Cobra and the Daggers, but 'Three Birds Stoned' is my first full-length encounter with this bunch. When they aren't out birding, AVEM sings songs about birds as well as human lived experiences told through the perspective of birds.
Yes, this sounds like a gimmick band, but there's no denying that this album is chock-full of slick, highly melodic punk rock songs. About birds. They take cues from the likes of Screeching Weasel and Teenage Bottlerocket, so you should have a pretty good idea of what to expect going into this one. But even though they aren't reinventing the genre, AVEM has taken the Ramonescore formula and flew with it.
Album highlights come in the form of AVEM's sel-titled battle cry, 'Mother Nature Really Sucks', 'No, Homo!', 'Just Like Me' and the doo wop stylings of 'Nigel', but honestly… there is hardly any filler to be found throughout the album's whopping total of 19 tracks full of buzzing guitars, sweet melodies and catchy choruses.
Do yourself a solid and give 'Three Birds Stoned' a spin!
Three Birds Stoned track list:
AVEM    
Rat Race    
Let's Go Watching    
Mother Nature Really Sucks    
Keep You Safe    
Red Winged Blackbird    
No, Homo!
Pre Suburban Paradise
Happy Hummingbird    
Just Like Me    
It's Such A Mess (I Don't Know How You Live Like This)    
Snowy Owl    
Nigel    
Really Gotta Go    
Calling Card    
Martian Wren    
Rotten Egg    
Blue Jay
Sing Every Day