Album Reviews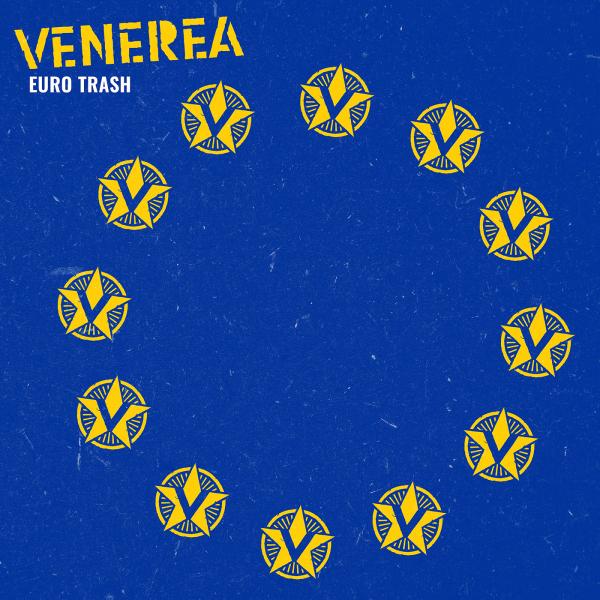 on
Wednesday, November 23, 2022 - 10:38
Swedish skate punks Venerea recently released 'Euro Trash,' their first new album since 2016's 'Last Call For Adderall'.
Produced by Atlas Losing Grip's Gustav Brunn, 'Euro Trash' sees the band burning through 16 songs in just over half an hour. Next to delivering tunes chock full of the furious riffs and drums at breakneck speeds they are known for, they also tackle a wide variety of topics ranging from the humorous to the political. They burst right out of the gate with opener 'Chanson d'Amour', double down on 'A Case Of Corona' and then get vocal support from Millencolin, Adhesive and No Fun At All on the nostalgic 'Summer Of 94'.
Basically, if you liked what Venerea have done in the past, it is pretty likely you'll like what they dish out on their latest album. This far in their career, Venerea aren't going to reinvent themselves. But with 'Euro Trash',  they did add a great albeit unsurprising new title to their already impressive discography.
Euro Trash track list:
Chanson D'Amour    
A Case Of Corona    
Summer Of 94    
The Nobodies    
Blind Faith    
My Kind Of Stupid    
Burning Every Bridge    
Sirens Call    
Show Must Go Wrong    
DNA Vs DIY    
Some Girls Don't Like Misfits    
Diet Plan B    
The Overly Friendly Giant    
My Imaginary Foe    
Subterranea    
Loose End