Album Reviews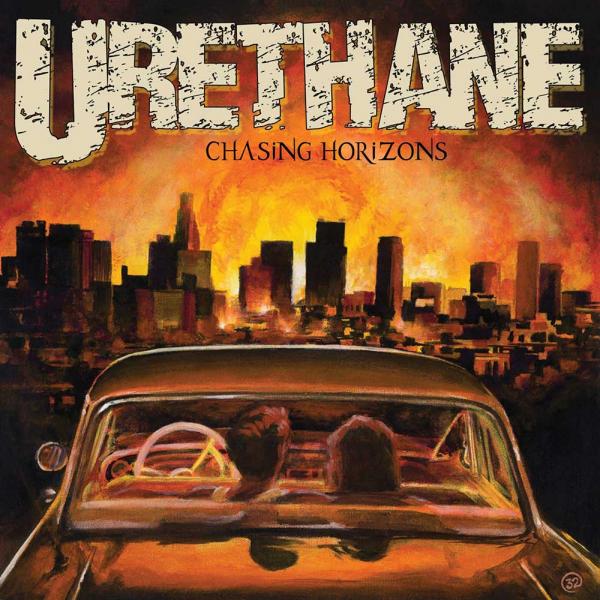 on
Saturday, October 16, 2021 - 10:32
Formed during last year's pandemic, Urethane is a new band featuring vocalist/guitarist Tim Fennelly (War Fever), guitarist - and skateboarding legend - Steve Caballero (The Faction, Odd Man Out, Soda), bassist Chad Ruiz (Skipjack), and drummer Dylan Wade (The Bombpops). They recently released their debut album 'Chasing Horizons', which boasts a dozen songs worth of '90s influenced punk rock that wouldn't have looked out of place on either the Epitaph or Fat Wreck roster from back in the day.
Yes, the songs that make up 'Chasing Horizon' - produced, engineered, and mixed by Cameron Webb (Motörhead, Megadeth, NOFX) - are something of a throwback. As you make your way through the dozen songs, you'll be reminded of everyone from Pulley, No Use For A Name, Pennywise and Alkaline Trio to name but a few. Not the most novel stuff that has ever been attempted, but that doesn't take away from the fact that they are doing a solid job. This album is pretty much non-stop slick guitar leads, strong melodies and plenty of energy. And in case you are wondering, yes that is Pennywise's Jim Lindberg on 'Inheritance' and H2O's Toby Morse on 'Avalanches'.
Raised on a steady diet of punk rock, pop-punk and even melodic hardcore, these guys prove that you don't need to concoct a new sound that has never been tried before to come up with a fun album that is guaranteed to lift your spirit.
Chasing Horizons track list:
Wyoming
Hold A Place In Time
Gravity
Inheritance
Carousel
Cut The Rope
What You Get
Love Letter Bombs
Avalanches
High Sign
Deadline
What Becomes Of Us