Album Reviews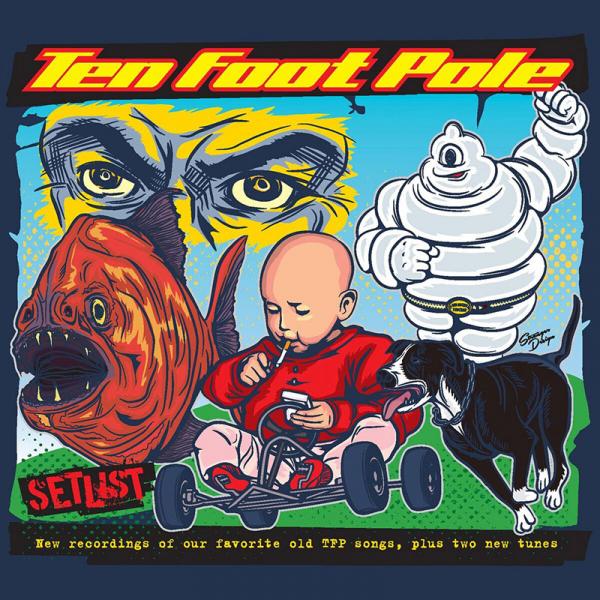 on
Tuesday, May 23, 2017 - 22:30
- by Nate Hennon
Let me tell you a story. It was the late 90's, and my mom was hesitantly dropping her 14-year-old son off at his first punk rock show. Once inside the venue, my friend Chris and I enthusiastically joined the crowd who was amped for the next band to start. This band was Ten Foot Pole, a band we never heard of before this night, but we were instantly hooked after their set. So hooked that Chris bought their new CD, "Unleashed," and got it signed by the singer while we waited for another hesitant mother to pick us up.
This show was nearly 20 years ago, and the last time I heard anything new from Ten Foot Pole. This is not to say that they are a bad band, but they just got lost in my early music discovery phase. Which brings me to Ten Foot Pole's latest album, "Setlist."
"Setlist" is an updated version of a "Greatest Hits" album. Instead of just re-packaging 11 songs from their past, Ten Foot Pole recorded everything to match today's technology and experience.
Because Ten Foot Pole changed their singer after their first two albums, it was a little jarring to hear a different voice for these early songs. Even though this is what live audiences have experienced for the last 12 years, I was taken back (in a good way). Furthermore, Ten Foot Pole included two new songs, their first since 2004's "Subliminable Messages."
If you are looking for a 90's punk rock album but not the 90's punk rock recording or if you once heard of Ten Foot Pole, but never got to fair into their discography, then you should give "Setlist" a chance. If you do not fit into either one of these segments, why did you read this review? Go outside or something.
Track listing:
Scars
My Wall
John
I Don't Want To Go
Kicked Out Of Kindergarten
The Getaway
What You Want
Never Look Back
Nova Scotia
Closer to Grey
Plastic
ADD
Old Man (Acoustic)