Album Reviews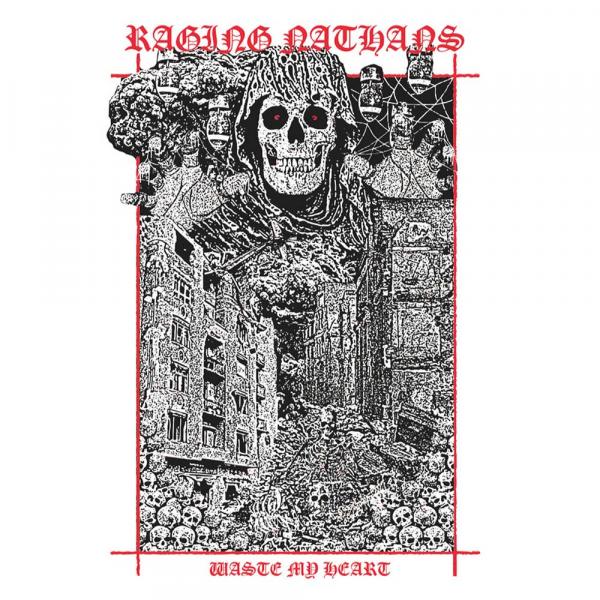 on
Wednesday, July 21, 2021 - 13:05
Barely a year after the release of 'Oppositional Defiance' and splits with Dead Bars, The Reaganomics and Starter Jackets, Dayton, OH's Raging Nathans are already at it again with 'Waste My Heart'.  If that makes you worry that they are going for quantity over quality, then rest assured. The band's new full-length is every bit as strong as 'Oppositional Defiance'. Which already saw this four-piece taking a big step forward in terms of songwriting compared to 2018's 'Cheap Fame'. Which already was a badass album to start with.
The only difference on 'Waste My Heart' is that it marks a bit of a shift in sound with the Raging Nathans embracing their melodic side more than ever before. Add a solid production job by Luke McNeil (The Copyrights) and mastering by Stephen Egerton, and you are looking at one slick but not too slick album that sounds amazing in all the right places and somehow manages to combine the best elements of Midwest pop-punk and older EpiFat sounds.
The one-two opening punch that is the title track and 'Freedom' kicks things off in the best of ways. Still plenty of crunch and energy, but with even stronger melodies and catchier choruses than before. Further on, The Raging Nathans prove themselves worthy heirs to the Copyrights throne with 'New Direction', show restraint in 'Remember' and end up with an even stronger song because of it while 'I Could Never Fall In Love With You' marks their poppiest song to date. Oh, and I haven't even mentioned 'Tempus Fuck It,'which sounds like a punk rock cover of an 80's hit single that was never released. Not sure that makes any sense. What does make sense is how they hand out an ass-whooping with the borderline hardcore cut that is 'Shadow Of Youth,' the album's most aggressive and in-your-face song and 'Beginning Of The End,' a worthy closer that rings out a diverse and pretty much flawless album.
Still haven't had enough Raging Nathans? Well, then make sure to keep an eye on their Facebook page where they will be releasing a new song every two weeks for the foreseeable future. Why? Probably because pressing plants around the world can't keep up with this band's output.
Waste My Heart tracklist:
Waste My Heart    
Freedom    
I Could Never Fall In Love With You    
Wide Awake    
Out Of Touch
Remember    
Cemetery Drive    
Overworked    
Tempus Fuck It    
New Direction    
Shadow Of Youth    
Beginning Of The End