Album Reviews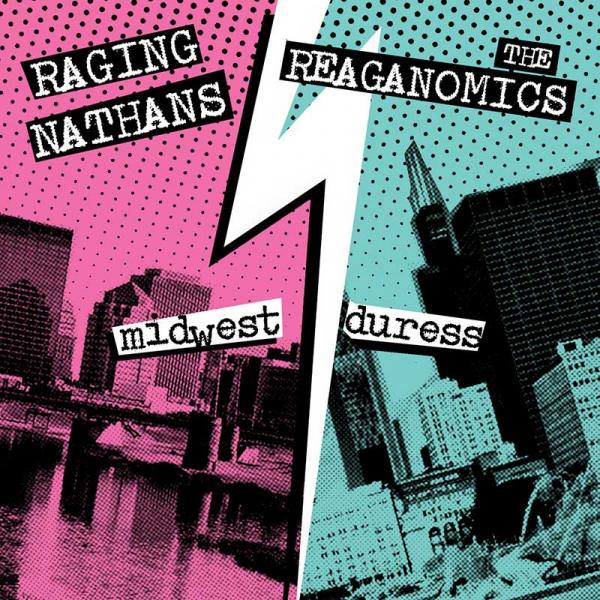 on
Sunday, January 10, 2021 - 17:26
'Midwest Duress' sees Dayton, OH and Joliet, IL's finest join forces. The Raging Nathans and The Reaganomics each contributed three new songs to this split, out now on Rad Girlfriend Records and Red Scare Industries.
First up, The Raging Nathans. Following the release of their new album 'Oppositional Defiance', splits with Dead Bars and Starter Jackets as well as a live EP, they sure have been living up to the 'raging' part of their name in 2020. And listening to cuts like 'Can't Relate' and 'Worry About Yourself,' it doesn't sound like they are running on empty just yet. Melodic yet gritty punk songs is what they do best and it's exactly what they serve up here along with a short 41-second fun-filled blast called 'Fuck You'.
The Reaganomics' release schedule isn't quite as crowded as that of the Nathans, but between this split and last year's 'The Aging Punk' - their first album in nine years - this is the busiest they have been in... well, ever. What to expect? Fast-paced pop-punk with wildly buzzing guitars, bummer lyrics and solid harmonies. And while both 'OK Day' and 'Song In A' are solid tunes, they save the best for last with the cheerily 'Tear Off Your Face'.
Between these six songs by two great bands, that's a lot of awesomeness for one split.
Track listing:
The Raging Nathans - Can't Relate    
The Raging Nathans - Worry About Yourself    
The Raging Nathans - Fuck You    
The Reaganomics - OK Day    
The Reaganomics - Song in A     
The Reaganomics - Tear Off Your Face