Album Reviews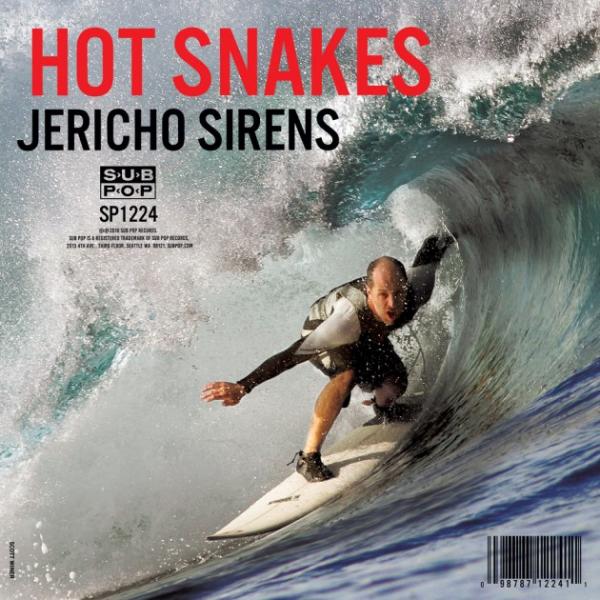 on
Saturday, March 17, 2018 - 11:34
Fourteen years after releasing 'Audit In Progress', Hot Snakes are back with 'Jericho Sirens,' an absolute rollercoaster of an album that blows all of your expectations clean out of the water. The San Diego powerhouse, featuring Drive Like Jehu's Rick Froberg and John Reis along with bassist Gar Wood and drummers Jason Kourkounis and Mario Rubalcaba, sound better than ever before and still possess an almost uncanny knack for combining frenetic energy and urgency with plenty of rock 'n roll swagger and unexpected blasts of melody.
The thing about Hot Snakes is not just that they have one of the tightest rhythm sections around, or that Froberg is a compelling, insightful lyricist or that Froberg and Reis have come up with what is pretty much a unique guitar sound. It's all of the above combined into an unstoppable force that will make you all giddy one second and wanting to punch a hole in the nearest wall the next.
As soon as opening track 'I Need A Doctor' lets loose with one of those riffs that has Reis written all over them and Froberg singing about needing a doctor, you now this is going to be good. 'Candid Cameras' manages to be unsettling and punishing while 'Why Don't It Sink In' is a short, claustrophobic hardcore blast that will leave you gasping for air. And then in they come with sweet salvation in the form of 'Six Wave Hold-Down' and the title track, which is simply one of the best songs I have heard in a long time.
And that's just the first half of the album. 'Having Another?' is a blast of energy bouncing all over the place, 'Psychoactive' is relentless and the band's triptych about death ('Death Camp Fantasy', 'Death Doula' and 'Death Of A Sportsman') is rewarding to say the least.
Nothing against 'Automatic Midnight', 'Suicide Invoice' or 'Audit In Progress'. They were already friggin' amazing. But 'Jericho Sirens' is Hot Snakes at the top of their game and - dare I say - probably one of the better albums we will hear this year.
Track listing:
I Need a Doctor
Candid Cameras
Why Don't It Sink In?
Six Wave Hold-Down
Jericho Sirens
Death Camp Fantasy
Having Another?
Death Doula
Psychoactive
Death of a Sportsman