Album Reviews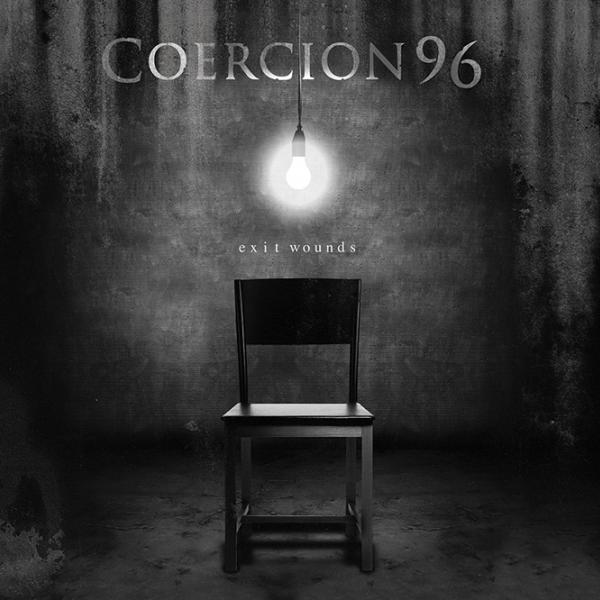 on
Monday, July 25, 2016 - 20:23
- by Chris Crane
Coercion 96 ' new EP "Exit Wounds" brings four dark and heavy songs to life after 20 years in limbo. A side-project-supergroup whose "other bands" are the Lonely Kings, Good Riddance, Fury 66 and Papa Roach, their sound has echoes of their other work, while firmly owning a unique identity. There's a metal-ish edge to this without being too metal. The 96 in the name is very appropriate, as it's pretty obvious that these songs were written in the 90's. I can't make any direct comparisons to any heavier rock bands of that era, as I've purged most of that from memory.
"Crime Scene" opens with a drum intro, joined soon after by chunky guitars, and then vocals briefly reminiscent of Lars Frederiksen (though this similarity ends after the first few lines of the intro). The next track, "Grass Is Greener" takes a hard left toward a more pop-punk kind of feel, with a lighter, more optimistic  tone, and melodic, sing-songy vocals, at least until the bridge, where the darkness consistent with the rest of the EP comes out.  This song almost feels misplaced here, but still manages to fit ok. "Live and learn" gets things back on track, before slowing down and darkening up with "Unleashed" which sounds to be influenced at least in part by TOOL.
If you have any nostalgia for harder, borderline metal punk from the 90's , this will satisfy. Guitars are heavily overdriven, without losing their edge. Drums sound a little too clean and too prominent. Bass is doing its job, and vocals are strong. The songs are too long, by about a minute each for my taste. For its style, it's a pretty solid release, but I don't think the style itself holds up. I'd be more interested to hear something new from these guys than to get more of their 90's stuff.