Album Reviews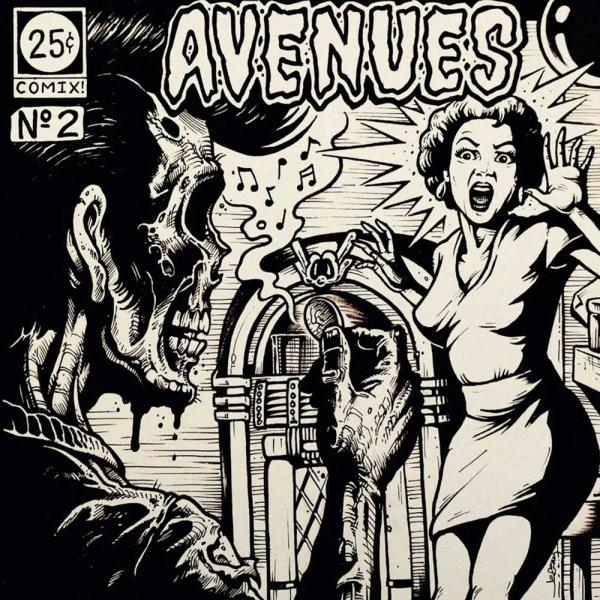 on
Friday, November 19, 2021 - 13:17
While I can imagine that recording your debut full-length can already be challenging enough in a lot of ways, Milwaukee, Wisconsin's Avenues had an even more difficult time than most having to deal with health issues, studios closing and a pandemic. But that's all water under the bridge now, because 4 long years after they started tracking drums at Atlas Studios in Chicago, 'We're All Doomed' is finally out on Wiretap Records and SBÄM Records.
If you have heard previously released singles 'Devious' and 'Lights Out', you have a pretty good idea of what to expect. Throughout 11 songs, Avenues come at you with a blistering mix of classic 90's melodic skate punk and Lookout!-styled pop punk.
The kick things off with the scorching 'Blood on the Moon,' which sounds like a cross between the Lillingtons and the Copyrights. Not a bad place to start, and it only gets better from there on. With tons of palm mutes, nitro-fueled energy, slightly snotty vocals, plenty of backup ooh's and aah's and even more slick choruses, these guys burn through some excellent punk rock songs on their debut album. The Copyrights influence is one that pops up regularly, but I was just as well reminded of everyone from Teen Idols to No Use For A Name. We may all be doomed, but at least now we have a kickass soundtrack to the apocalypse.
We're All Doomed track list:
Blood On The Moon
Supersonic
Into The Catacombs
Transistor Radio
I let It Go
Starfighter
Lights Out
We're All Doomed
Straight Jacket
Drag You Down
Devious