Album Reviews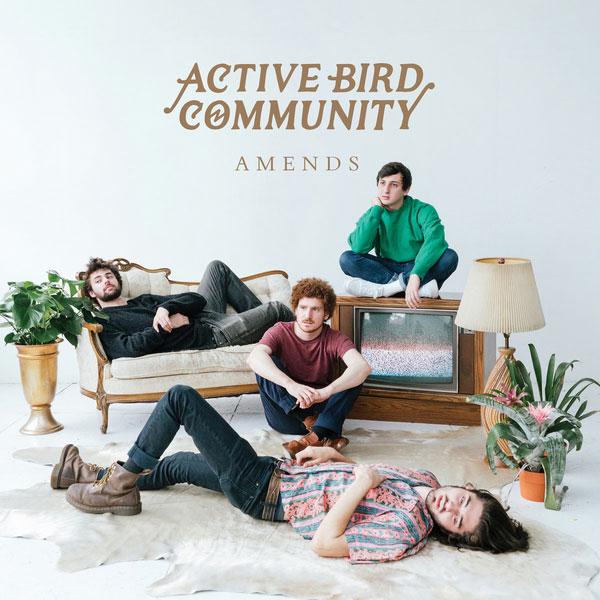 on
Saturday, October 20, 2018 - 10:02
- by Tom Dumarey
Active Bird Community started in the suburbs of NYC when its members were still in middle school. Guitarists Tom D'Agustino and Andrew Wolfson and bassist Zach Slater stuck together while attending different colleges, before rounding out the band's line-up with the addition of drummer Quinn McGovern. Since then they have relocated to Brooklyn, self-released three albums and a bunch of EPs. Which brings us to the release of 'Amends,' their first album for Barsuk.
Just like a lot of the other bands on that label's roster, Active Bird Community crank out guitar-driven songs that are heavy on melody. They kinda catch you off guard on opener 'Amends', which kicks off with D'Agustino strumming a guitar and singing all by his lonesome self for close to a minute. But then the rest of the band joins in and you are hurled straight back to the 90ies.
From there on, Active Bird Community dish out the punchy 'Sweaty lake', bring The Wonder Years to mind with 'Unwind With Me', settle for a FIDLAR vibe on 'Virginia' and aim for a bit of soul on the trombone-enhanced 'Baby It's You' before settling on a melancholy vibe in 'Blame', a 'Karma Police' inspired number that comes complete with dramatic strings. The songs are a bit all over the place and while everything sounds pleasant enough, it doesn't really amount to a lot more than rather generic, albeit radio-friendly tunes.
Track listing:
Amends    
Holier    
Sweaty Lake    
Unwind With Me    
Baby It's You    
Virginia    
Blame    
Downstairs    
Metrics    
Silver Screen    
Lighthouse