Features
The Scandals' guide to Bayonne/Jersey City
on
Wednesday, April 26, 2017 - 10:02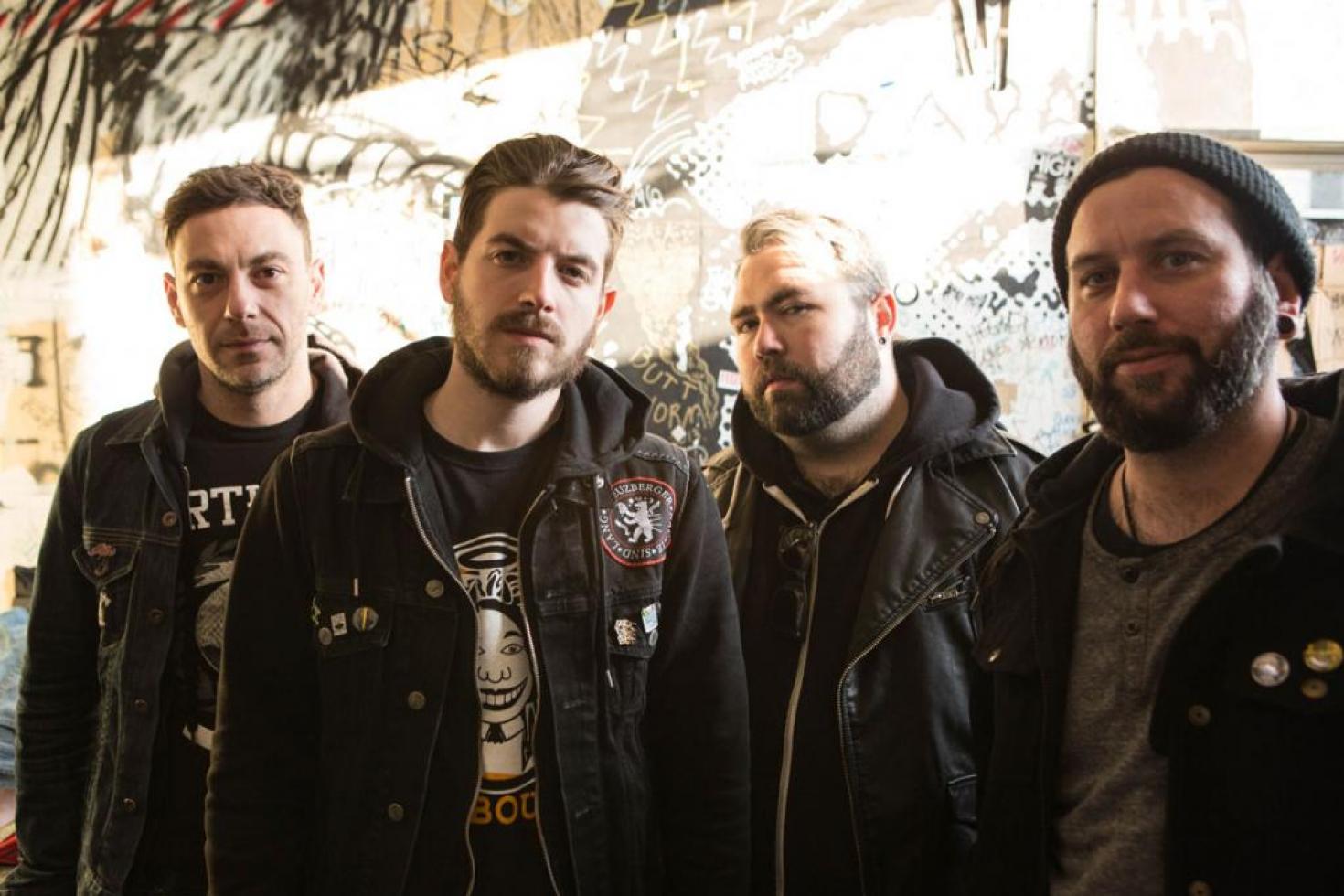 New Jersey punks The Scandals will be releasing their new EP "Lucky Sevens" on April 28 via Panic State Records / Say-10 Records. Recorded at Red Bull Studios, NYC and produced by Brian Fallon of The Gaslight Anthem, The Scandals pulled out all the stops for this one. We caught up with frontman Jared Hart to talk about the band's hometown.
PRT: What made you first fall in love with the city?
Jared: This is where I grew up. It's where I played live for the first time, saw my first punk shows, and made my first real friends. When I was in high school there was something special going on in Bayonne that was indescribable. Kids were throwing their own shows at the VFW and Knights of Columbus halls, and the bands were all GOOD. The only reason I started playing was because I saw that these kids grew up down the block from me and were doing these things themselves. It made me want to do it, so I did.
PRT: If you had to come up with a marketing slogan for the city, what would it be?
Jared: That's a tough one. Probably, "At least the pizza's good!"
PRT: Best place to play?
Jared: North Jersey has taken a massive hit on venues over the last few years. We used to have a house spot in Bayonne that (begrudgingly) hosted some of my favorite shows of all time. We've tried to find a solid place in Jersey City to play, but over the years we've all seemed to migrate down to areas like New Brunswick and Asbury Park. Now even our favorite places there have been closing. In my opinion Crossroads in Garwood, NJ is the best place to play at the moment. It's in a weird area but it's the perfect size and they treat you like family. Andy and Lee book shows there that you won't see anywhere else.  I think that's been the toughest part about where I live now; we always have to find a home away from home.
PRT: Best place to go for a late night drink after the show?
Jared: We usually get back to town super late after the shows and all the bars that used to lock the doors and shut the blinds have all been closed. (I wonder why?) So usually if we have a touring band with us, we'll load up a backpack and take a trip to the docks behind our favorite vacant supermarket. Nothing like watching shipping containers get loaded onto boats when you can't stand up straight.
PRT: Best place to go for a late night snack after the drink after the show?
Jared: There are only two options in Bayonne: Broadway Diner and Joe's Pizza. One boasts "The World's Best Pancakes" while the other will load up a Buffalo Chicken Pizza for you as fast as you can take a picture of your friend passed out in the booth.  White Castle might have to be the late night spot in Jersey City. Full of so many regrets.
PRT: Best touristy thing to do in the city?
Jared: I'm not sure any tourists come to Bayonne. I'd say in Jersey City you can go down to Liberty State park and get a pretty great view of the NYC skyline and the Statue of Liberty.  While you're downtown, does paying too much for a drink count?
PRT: Best hidden spot in the city?
Jared: I think I'd have to vote Massa's. You feel like you're walking into someone's living room when you open the door.  Ask the bartender about when he tried to beat up a robber with a wiffle ball bat…
PRT: One thing you would like to see changed in the city?
Jared: It would be great to see someone open a reliable, consistent, no gimmicks venue in Bayonne or Jersey City. There are enough people here that want to play and enough that want to see it. Someone just has to do it and needs to have the patience to see it through.
PRT: What's your best memory about the city? 
Jared: I'd say most of my memories growing up in Bayonne were good ones. There was lots of controlled recklessness.  198 Orient St. probably holds most of those memories somewhere inside the walls, at least what's left of them. I learned how to play and write music here. I learned how to play that music in front of people, at that time quite poorly. We learned how to take all of that and load it into the car and drive out of town. That was probably my favorite memory. When we left for our first real tour to California and came back with nothing but our cabinets. Everything started here. There's a story with a pickle jar though that I'll have to save for another time.
If we're talking about Jersey City, I do miss driving out there as a young boy and buying a 40oz or two and paying for it in quarters. That guy was not thrilled.
PRT: Where in the city did you get your heart broken?
Jared: Bayonne Medical Center
PRT: Is there a historical fact about your city that makes you chuckle?
Jared: You may or may not know that Chuck Wepner (aka the Bayonne Bleeder) was the influence of all the Rocky movies. It's based on him fighting Ali and so on. A couple of years ago they decided to put a mural on the side of a building on Broadway to commemorate him. The committee went in and asked the person running the shop on the first floor if they'd mind if they put this mural on their wall. He said, "I don't care." A few months later after all is said and done, the owner shows up and sees this huge mural of a boxer on the side of his building that no one ever told him about. That about sums it all up.
PRT: Favorite song about your city you'd like to share, either yours or someone else's? 
Jared: The Scandals - Avalanche