Features
Little Teeth: 10 albums you should love as much as they do
on
Wednesday, September 25, 2019 - 12:28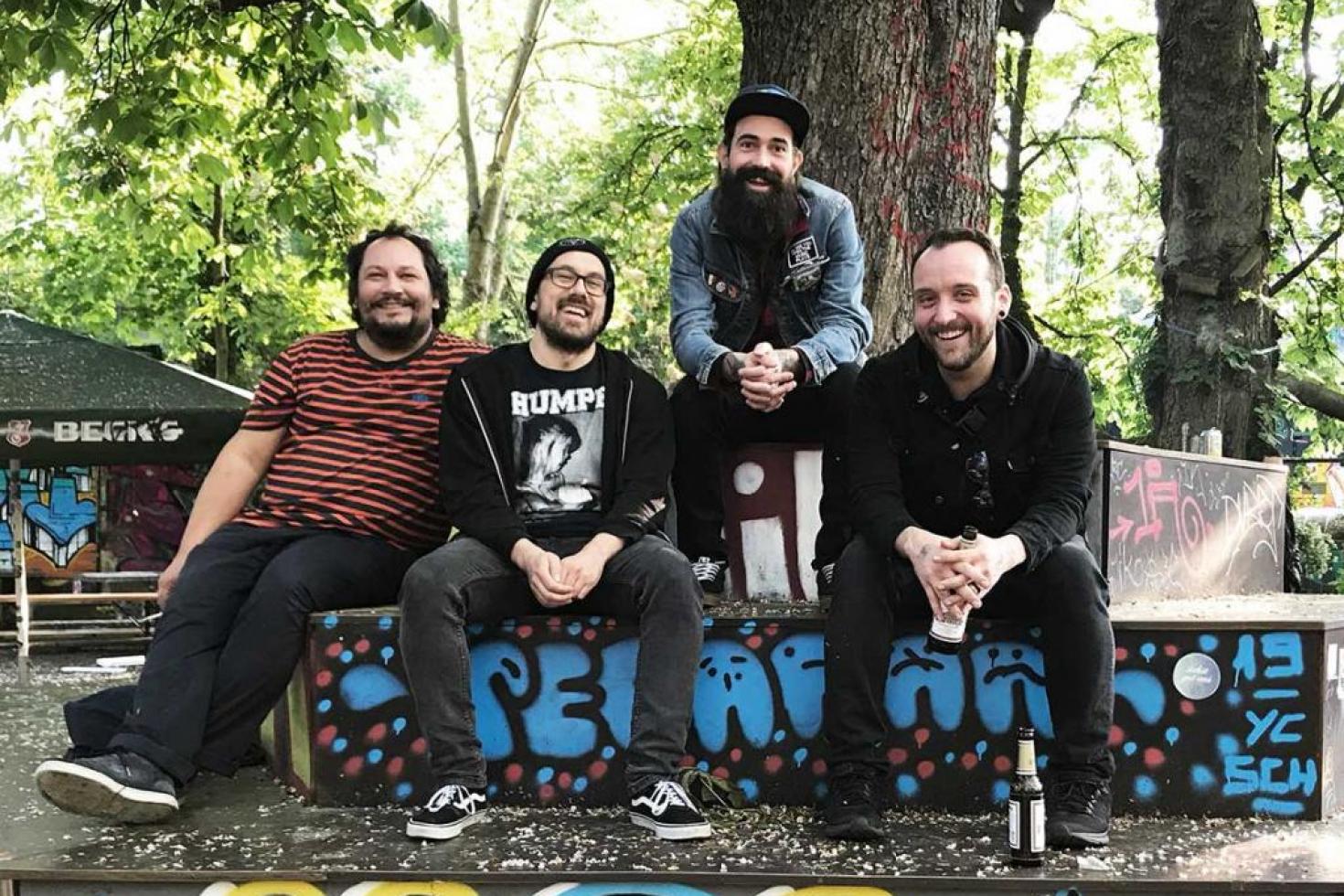 - by Tom Dumarey
Sometimes things just have a way of working out. So when Arliss Nancy's Cory Call traded in Colorado for Germany and ran into Jason S. Thompson from Chicago's The Sky We Scrape in Munich, it seemed like a logical move to start a new band together. With Bastian Wegner (Matze Rossi and Bad Drugs) and Max Philipp (Captain Asshole) rounding out the line-up, it didn't take long for Little Teeth to hit the ground running. We caught up with Cory and Jason to get schooled on some of the albums that influenced them as songwriters.
'Redefining Home,' the band's debut album, will be out this Friday via Gunner Records and Say-10 Records.
The Hold Steady - Boys and Girls in America
Cory: Rocks anthems about partys and loss and growth and discovery. Packed with dorky literary  references  and  an  almost  spoken  word  delivery.  They've  done  a  lot  since. But this album is perfect. Speaks to the teenage punk in me, and the again nerd.
Foo Fighters - The Colour And The Shape
Jason: Foo Fighters seem to get a lot of flack in certain circles, but for my money - they're one of the best rock bands around. This album really made a massive imprint on me as a young kid from the Chicago suburbs. If they ever do one of those "I Love The 90's" shows again and they're looking for a dirtbag with a passion for bands like Foo Fighters, Silverchair, Stone Temple Pilots, Everclear... sign me up. Move over, Andy Dick.
Banner Pilot - Collapser
Cory: This  is  poetry  set  to  pop  punk.  Lyrically  I  don't  think  there  is  a  better  band.  He's  a goddamn  poet.  Songs  are  catch  and  amazing.  But  the  lyrics.  Constantly  blown away.
The Get Up Kids - Something to Write Home About
Jason: Top to bottom one of the most solid indie/emo albums of all time. Bonkers songs and vocal  layering  and  hooks  that  helped  form  how  I  view  the  importance  of  backing vocal arrangement. I listen to this record more that just about any other album on a regular basis.
American Steel - Destroy Their Future
Cory: What's  there  to  say  about  the  best  punk  album  ever  written.  Pop  sensibilities.Catchy  melodies.  Insanely  important  political  messages.  This  is  my  most  played album  ever.  And  these  dorks  are  so  cool  they  don't  even  know  how  important  it  is. Nothing but respect.
Small Brown Bike - The River Bed
Jason: SBB is a band that succeeded in building complex and heavy anthematic songs that were incredibly satisfying to sing straight back in their faces. The guitar work in this album shows how you have have a really heavy song and still have "pretty" elements layered  in  to  brighten  it  up  and  really  let  the  individual  parts  shine  while  not overtaking the other instrumentation.
Against Me! - White Crosses
Cory: I've seen this band in the beginning, playing to five people and they played with the same  energy  then  as  they  play  with  now.  All  albums  are  amazing.  But  this  is  rock and roll with a message and a purpose. Taught me what can be done with a song. From the politics of 'High Pressure Low' to the sentiment of 'Because of the Shame'. It's flawless.
Thrice - The Artist in the Ambulance
Jason: This album came out when I worked at a record store in Batavia, IL called Kiss The Sky  (they're  still  there  and  it's  an  amazing  shop)  and  I'm  pretty  sure  I  annoyed  my co-workers with how ofter I played this record in the store. Yet another band who has an almost perfect catalog, but this album was and is a big influence on how I try to write and layer lead guitars in a way that aren't overpowering, but rather one part of the  whole.  Finding  that  balance  is  really  important  and  this  album  shows  how  it's done in a way that makes me want to throw my guitar in a river.
Centro-Matic - Love You Just The Same
Cory: This  band  has  pushed  the  envelope  for  me  on  what  can  be  accomplished  in  just  a few minutes. The vocals alone paint both desperation and hope. Lyrically it's a mix of technology  used  as  metaphors  of  love.  And  musically  it's  my  favorite  band  ever. Been my favorite band since the late 90's and twenty years later I can't say anything has changed.
Jimmy Eat World - Clarity
Jason: I've had "Blister" stuck in my head for 20 years straight.