Features
on
Wednesday, May 11, 2016 - 21:11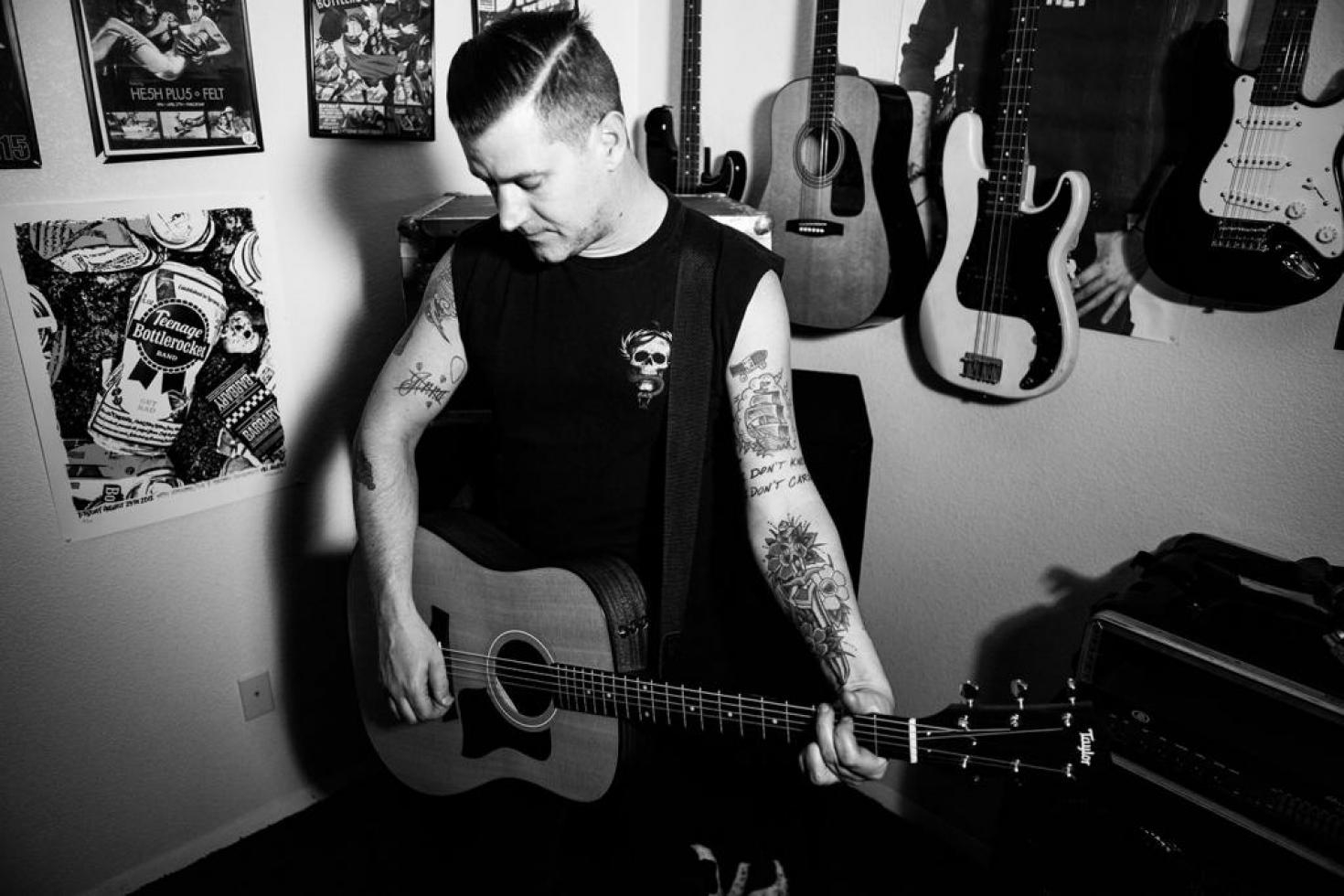 Just days after Teenage Bottlerocket's Ray Carlisle finished recording his debut solo album, tragedy struck when his brother and bandmate Brandon passed away all too soon. Brandon was the only one in the band who was a bit skeptical about Ray's solo plans, worrying they might reflect poorly on Teenage Bottlerocket if the album... well, wasn't any good. Luckily, Ray got the chance to reassure Brandon, which is the reason we now get to enjoy some classic Teenage Bottlerocket tunes in a new leather jacket on "Do You Wanna Go To Tijuana?". Here's an interview we did with Ray about his first solo endeavour.
PRT: Was there a specific moment when you decided you wanted to put out an acoustic album or did the idea evolve naturally?
Ray: I write most of my songs on an acoustic guitar so I'd say the idea evolved naturally. A lot of the Teenage Bottlerocket songs transfer over nicely to acoustic guitar and I wanted to showcase that with a record and some shows.
PRT: I have the impression that most songwriters put out an acoustic album when they have a bunch of songs that aren't a good fit for the band they're in. But for the most part you went with acoustic versions of existing songs. What made you go in that direction?
Ray: I wanted to the shows to be a party. The more people singing along, the more fun the show is going to be. The best way to get my foot in the door with the whole solo acoustic thing was to record TBR songs so everyone could hear right out of the gate what I'm going for. So far it's been a blast playing acoustic. The response has been very positive.
PRT: When you're writing for Teenage Bottlerocket, do those songs start out with you playing acoustic as well? Meaning, did you already have an acoustic frame to fall back on or was it more of a back to the drawing board kinda thing?
Ray: Yes. For the most part, I didn't write "Fatso Goes Nutzoid" on an acoustic.
PRT: What was the biggest challenge for you when it came to arranging these songs?
Ray: The biggest challenge was figuring out which tunes to tackle. I wanted to record at least one song from each record. Somehow I left out "Warning Device" which sorta bums me out. "She's Not The One" sounds pretty cool acoustic style.
PRT: How did you go about selecting the songs? Did you revisit the Teenage Bottlerocket albums to see which ones would work best or did you know right away which ones you wanted to record?
Ray: I've played here and there with just me and my acoustic guitar and I had a pretty good idea which songs worked well with the stripped down format. I decided to record "Without You" in the studio because I always thought it was cool Chris did a Brendan song on the first Sundowner record and I wanted to do the same with a Kody song. That song in particular was spur of the moment. But yeah, like I said before, I wanted to grab one or two songs off of each record.
PRT: Was the rest of the band on board with the idea right away or was there any hesitation on their end?
Ray: Everyone was supportive. Everyone except for Brandon. He thought the record might suck and it would make us all look like a bunch of assholes. I really went out of my way to try and impress him and in the end he really liked the record. I finished recording on October 27th and Brandon passed away on November 7th. I'm really happy I got the chance to show him what Andrew and I did in the studio with these songs.
PRT: Of all the songs that exist, you chose the Ramones' Pet Sematary as the sole cover on the album. Why that song?
Ray: I've always covered that song and I thought it would help break up the album. Andrew and I wanted to put an eerie feel to the song so we threw in the creepy footsteps and the wolf howling. The tubular bells gave it the scary church feel, church is scary, you know?
PRT: Which movie is the quote from at the beginning of "Rebound"? And why did you choose it?
Ray: It's from the movie Hoosiers and I chose it because the song and the movie are both about Basketball. Friends of ours from Denmark called Volbeat covered "Rebound" on their new album. I think that's pretty cool!
PRT: There's a line in the title track about Mr. Miyagi… which made me wonder, who would win in a fight? Ralph Macchio or Jaden Smith?
Ray: Ralph looks a little older now, but the older dudes really know how to throw a punch, or a freaking crane kick! I'd put my money on the original Karate Kid, Ralph Macchio.
PRT: You will be on the Warped Tour this summer. What are three things you absolutely need on a long tour like that?
Ray: Sun Screen, Sun Glasses, and water.