Features
10 reasons why you should go to Brakrock Ecofest
on
Thursday, June 22, 2017 - 11:39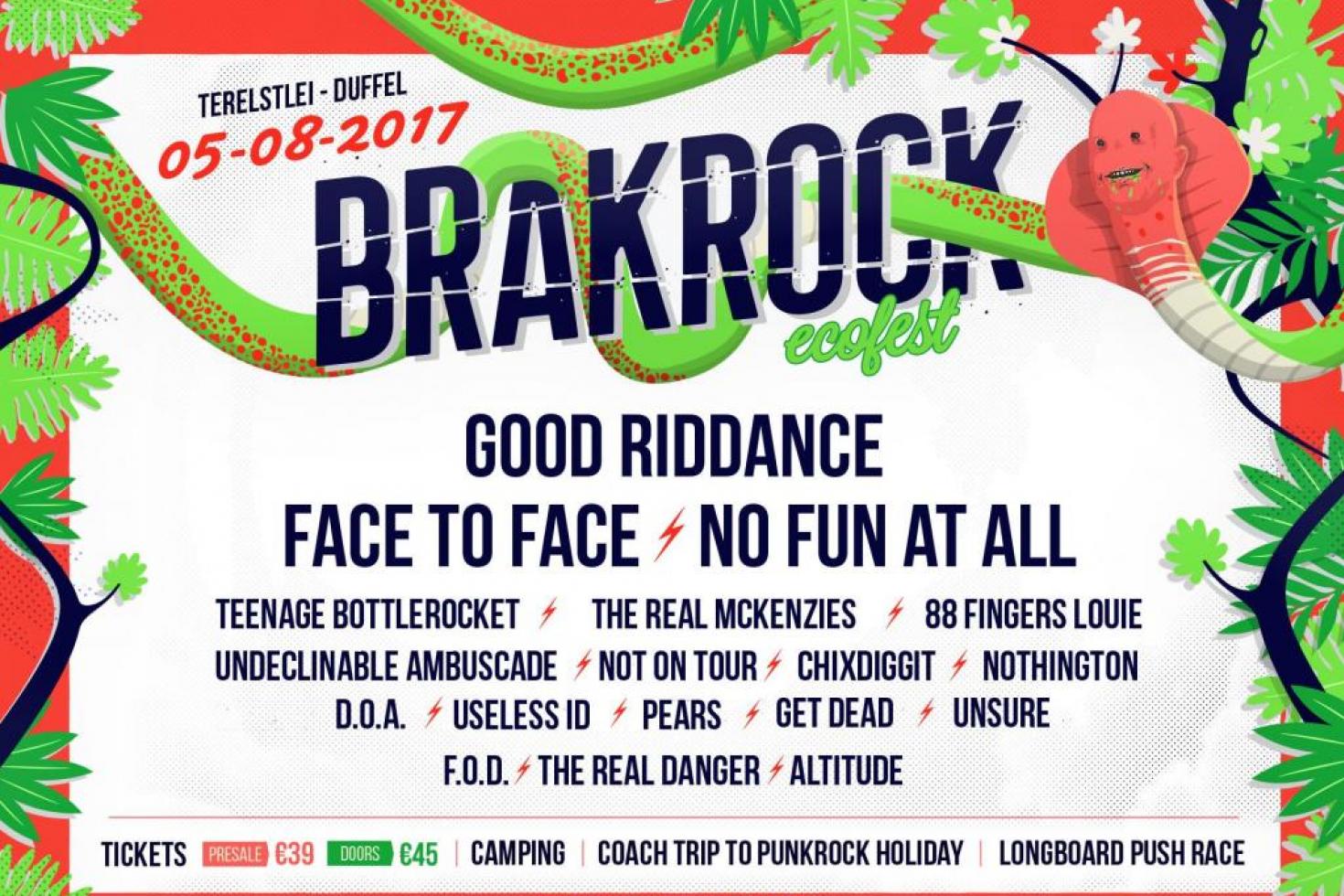 - by Christophe Vanheygen
Here are 10 reasons why you should go to Brakrock Ecofest… and 1 reason why you probably can't.
As you might have read in our feature about Sjock, we love our festivals here in Belgium. And we love previews. So here's one about the coolest one-day punk rock festival you'll get to attend this summer. Or not. The one reason you maybe can't go is: Brackrock Ecofest is very close to selling out … in a good way. So read this preview and order your tickets immediately. Capisce?
1. Location, location, location
Somewhere between Antwerp and Brussels (those are two big cities in Belgium) lies a small town called Duffel. Apparently, this is the place where the material for duffel coats was invented. How crazy is that?
Anyway: at about 5 minutes from the railway station, there's a small park and castle ruins on the banks of the river Nete. And that's where you can find Brackrock.
The main stage is literally next to the banks of the river. So you get a pretty view on one side, and a small crowd of ugly punk rockers and loud music on the other. Best of both worlds, you might say.
2. Something for the 30-somethings
Do you still remember the days when all punk rockers wore baggy pants and bleached their spiky hair? When Airwalks were a thing, as were wallet-chains? Ah, well then imagine the punk rock kid you were back then, and you just saw a poster for a show that features FACE TO FACE, GOOD RIDDANCE, NO FUN AT ALL and 88 FINGERS LOUIE. I believe the words you're looking are: "holy" and "shit". 
3. Something for the 40-somethings
Unfortunately, 7 Seconds cancelled their tour. But even the (even) older generation has a reason to show up: D.O.A. is playing. Those are the guys who actually coined the term "hardcore" with their album 'Hardcore 81' back in, well, 1981.
If you weren't born yet when all of the above happened, don't miss out on these legends!
4. Something for everyone
The Big Cheese of Punkrocktheory himself wrote a review of NOTHINGTON's last record 'In The End'. Spoiler alert: the album is ridiculously excellent. Of course, you've already seen 'em play Europe a couple of times this year. But somehow you people still don't love this band enough. Everyone should give them big hugs and kisses whenever they're around. 'Cobblestones' should already be one of your favorite punk rock songs of the year.
5. Chicks dig it
Hah! You probably thought I'd write something about CHIXDIGGIT here, didn't you? Well, I could, because really: how cool is Chixdiggit? Indeed, very cool. Anyway, moving on: I wish there were more girls in bands. Then we'd have more bands like NOT ON TOUR. They're fast, melodic, energetic and probably Israel's best export product since … Ehm … USELESS I.D.?
6. The early bird catches the best punk rock band from Holland
With a line-up like this years', time schedules are a mother*cker.  It means I will have to get up at the crack (hah!) of dawn to see THE REAL DANGER. Not really, I only live 10 minutes away, but I'm super-serious here: do yourself a favor and be there in time. Of course there's UNDECLINABLE AMBUSCADE playing as well, and they're good but not Real Danger-good. Have you ever heard 'Someday soon'?
7. Ecofest means eco-friendly
The people behind Brakrock take pride in being a very, very, very eco-friendly festival. They have actually won awards for this. We Belgians give awards for many reasons, but being called the greenest event in Belgium is something to be proud of.
Brakrock uses as many biological, vegetarian and local products as possible in the catering department. The festival serves a biological beer. The drink cups are re-usable. Posters and flyers are printed on recycled paper.
8. Support the locals
Brakrock has always booked a whole bunch of Belgian bands. Even my old band played there once. Don't worry, it's not self-promotion if we don't exist anymore and when I don't mention the name, right?
Anyway … Punk rockers F.O.D. are basically playing a hometown show. They toured Japan earlier this year and their new album is killer. ALTITUDE may or may not be the best pop punk band in Belgium. That's for you to find out, though we already know the answer. (Hint: it's a "yes"). Also, UNSURE was quite the legendary band back in the mid to late 90s, in the good old Lintfabriek-days. They got back together last year for half a set at Brakrock, but now they've reunited for realzies. Ain't that cool?
9. … and I still didn't mention every band!
So here we go: GET DEAD and TEENAGE BOTTLEROCKET, PEARS and THE REAL McKENZIES are the only bands that didn't come up yet. Now they have and if you need any introduction or reasons to go see 'em, you haven't been paying attention.
10. Pre-party? PRE-PARTY!
Lastly, there is one helluva pre-party the day before the festival. It'll take place in the nearby city of Mechelen and features none other than NO FUN AT ALL. You really, really don't want to miss out on this one, because when was the last time you got to see the Swedish punk rock legends in a 150-capacity venue? Never, that's when. After the Fall, One Hidden Frame, March, If I May and LineOut are also playing. Get yer tickets now because, well, there aren't many to get anyway.
What are you waiting for? Buy tickets and meet me at the bar!