Features
No Fun At All rides Seventh Wave
on
Friday, November 25, 2022 - 10:43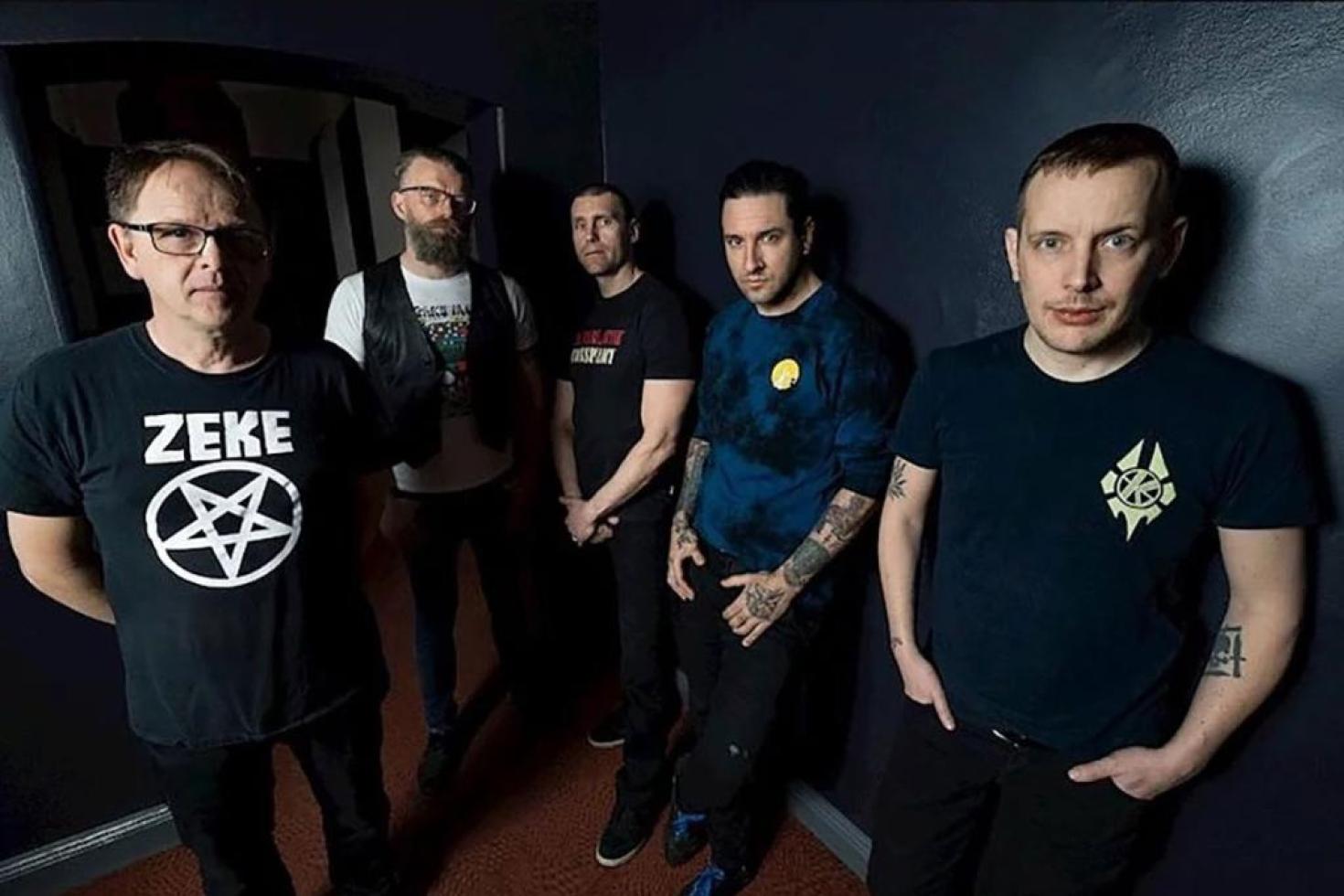 Swedish skate punk vets No Fun At All recently released their first new album in four years, Seventh Wave, out now on SBÄM Records. It finds No Fun At All still doing what they do best: staying true to the kind of fast-paced, melodic punk rock that they have been churning out since the '90s. Read on to find out what vocalist Ingemar Jansson had to tell us about the new album
PRT: When you have been a band as long as No Fun At All has been, does it get easier to write new songs? Or has it become harder to get inspired?
Ingemar: I can only speak of how it is writing lyrics, and I would say both. It's easier because you've done it a few times now and learned techniques how to do it, but also harder because you set the standards higher as you evolve as a writer. Inspiration is always there, so much strange stuff happening in the world and in my life all the time.
PRT: What is it that keeps you guys going after all these years?
Ingemar: I suppose we're still around because it is a lot of fun doing it, the shows, the travelling, meeting interesting people. Also it has become such a big part of our lives so it would be weird not to have it in there.
PRT: What do you still get out of being in No Fun At All?
Ingemar: The satisfaction of being on stage, big or small is just fantastic and quite addictive. The same with creating a new album, it's just such an inspiring thing.
PRT: How has the importance of No Fun At All in your life changed throughout the years?
Ingemar: Back in the 90s when we were doing it full-time I don't really think we understood what we were doing, we just went along with the flow, the band was everything and controlled our lives totally, in a good way. Then after the reunion it was definitely more of a hobby for about 15 years, a fantastic hobby that took us all around the globe. Then with Grit we're got into some kind of hybrid, now it's almost a full time thing again, at least for some of us. The band has been the most important thing in my life!
PRT: With you guys, Millencolin, Satanic Surfers and Venerea, there was definitely something going on in Sweden in the 90s. Is it just a coincidence that the biggest Euro skate punk bands all come from Sweden or do you have an explanation?
Ingemar: I think there are many factors to count in about the Swedish skate punk wonder of the 90s. There were no doubt a lot of talented young people in Sweden, musical/instrument education had been pretty much free for a long time, there were record companies that were not afraid to release new and interesting music, all this together with the Swedish mainstream music export wonder became a snowball effect.
PRT: The new album is called 'Seventh Wave'. Simply because it's the seventh album? Or were you inspired by the Sting song 'Love Is The Seventh Wave'?
Ingemar: It has absolutely nothing to do with Sting, it is the seventh album. See the film 'Papillon' to get more info. Also if you understan Swedish listen to the song 'Venuspassagen' by the brilliant band 'Reeperbahn'.
PRT: To be honest, I never got into either Sting or most of The Police's other songs. Is there an artist that you never got into?
Ingemar: I never got into 'Europe'!
PRT: Did the pandemic help in terms of having the time to write? Or did you spend the downtime focusing on other things instead of music?
Ingemar: First year of the pandemic we didn't even see each other! I think we were caught in a band depression. Things had been going so well the years before, ending with a tour in Australia with Pennywise and Strung Out in February 2020. We had a tour of Sweden lined up and a fantastic festival summer. Then nothing!!! So yes we focused on other stuff the first half of the pandemic. In the summer of 2021 Micke started to send us demos of new songs, and soon he had a full album written, just for me to start with the lyrics. We did a few shows in the summer/fall of 2021 (Covid safe Brakrock!) so we had to rehearse the old stuff a bit, but also started to rehearse the new material.
PRT: The new album is out on SBÄM Records. With all the digital tools you have at hand today to get your music out there yourself, why is it still a good idea to have a label?
Ingemar: It's good to have someone to do promotion, marketing, deal with pressing factories, do all the shipping etc etc, it's a lot of work and SBÄM will take care of all that.
PRT: With SBÄM, it feels like we finally have a label in Europe again that is really doing something for punk rock at the level of Burning Heart or Bad Taste. Is that something you felt was missing as well?
Ingemar: Absolutely! It feels really good to have a proper punk rock label in Europe again.
PRT: What's up next for No Fun At All once the new album is out... will you be making up for lost time and tour a lot more than on previous albums?
Ingemar: That is the plan. We will lay a bit low during the winter but tour pretty much all of Europe in the spring and hopefully a lot of festivals next summer