Features
J. Robbins, Face To Face's Trever Keith and The Bollweevils' Daryl Wilson pay tribute to Naked Raygun
on
Friday, September 8, 2023 - 13:28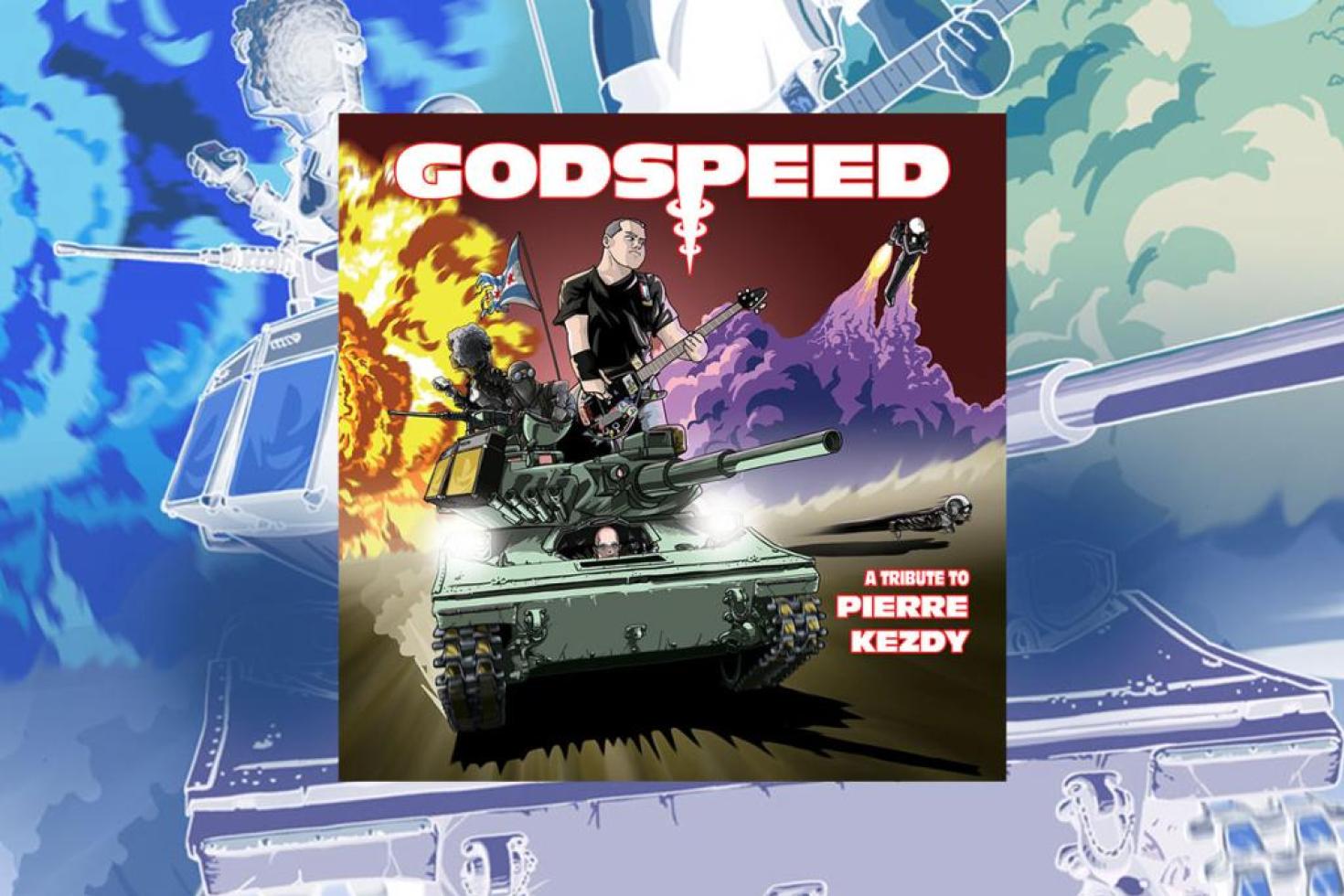 Massively influential Chicago punks Naked Raygun and their late bassist Pierre Kezdy are celebrated  on the recently released tribute album, 'Godspeed… A Tribute to Pierre Kezdy,' out now via Put It Here Productions and Big Minnow Records. The album features Naked Raygun covers by Hot Water Music, Face To Face, Swingin' Utters, J. Robbins (Jawbox), Josh Caterer (Smoking Popes), The Bollweevils, The Methadones, The Brokedowns, Pegboy (the last of which Pierre was also a member of), and many more.
We caught up with Face To Face's Trever Keith, J. Robbins and The Bollweevils' singer Daryl Wilson to find out just what makes Naked Raygun such a powerhouse of a band and how they approached their take on the band's classic songs.
PRT: How did you first discover Naked Raygun's music, and what was your initial reaction?
Trever Keith (Face To Face): Back in 1991, our bass player at the time, Matt [Riddle], played the Naked Raygun record Raygun...Naked Raygun for me and I loved it.
J. Robbins: A friend had the Surf Combat 7" and we wore it out! Loved the graphics, loved the manic energy, loved the lyrics and the sound ... and at around the same time, I bought the Big Black "Racer X" EP, which I loved. Jeff Pezzati played bass on that record, and that connection was intriguing.
Daryl Wilson (The Bollweevils): When I moved to Illinois in 1987, a few of the kids I went to high school with turned me on to Naked Raygun.  JETTISON had just come out and they played the record for me as we were discussing different punk bands.  When I heard the opening riff for "Soldiers Requiem" I was hooked!  You know that thing that happens to your face when you have this uncontrollable smile that appears as you hear a song?  That feeling of utter elation and boost of energy?  That's what I was feeling when I heard Raygun for the first time.  Funny thing, Raygun was playing at the Metro soon after I had listened to that album and I went to the show.  Seeing them live solidified my love for Chicago's finest band.  I found my new home in the Chicago punk scene and Raygun was the music that fueled everything.
PRT: Why did you pick this particular song to cover?
Daryl: We have done a bevy of covers of Raygun songs throughout our time as The Bollweevils.  In fact, we actually played a couple shows as a Raygun cover band called Rat Patrol.  We didn't want to do any of the songs we had done on previous releases so we picked something different.  "I Remember" is such a great song!  It's got a great sing along chorus and it has everything Raygun about it, with the way Jeff holds notes, the bass tone, the snappy drums, and the buzzsaw guitar.  It feels so Chicago.  It was always great to hear it love and sing along with the crowd.  We all love that song so we had to do it for the record.
Trever: I really like the 1/2 time breakdown at the end and I wanted to play and record that part in particular.
J: Naked Raygun is one of "those" bands for me - a real formative influence in my musical conception of punk rock. I didn't think I should do a straight-up cover version, since their versions of their own songs are definitive. But I also didn't want to fuck with the formula either (though I think Breaking Circus' cover of Home of the Brave was amazing: https://www.youtube.com/watch?v=H5XO_xBtltY). I really love the Basement Screams EP - the earliest, weirdest era of Naked Raygun - Got Hurt was a song that never got a proper release - in fact it doesn't seem like the band ever really finished it, since there are two wildly different versions out there, one of which sounds like a live recording or practice tape, and the other a 4-track demo that's really crazy sounding. That made me feel like there was room to do something with it rather than do an "almost as good" version of a song everyone already loves. And it still has some of my favorite NR hallmarks: wiry guitar lines, high energy, deadpan lyrics ...
PRT: How did you go about adapting the song to your own style?
J: I wanted to find a way to combine the two versions I had heard, so I did a demo that was pretty close to where we ended up. But then Darren brought that insane beat and we all got really psyched.
Daryl: Well it's funny because Pete Mittler claimed there was no way I could sing the song and do it justice.  He was proven so wrong!  The one thing we always do is play everything at a faster pace.  I will never be Jeff when I sing and my voice has its own unique register so that makes it sound a bit different.  Pete Mumford's drum hits are pretty spot on.  Ken's guitar tone is a little different but I think overall it sounds close to the original but with a little Bollweevil embellishments.
Trever: It really wasn't our approach to adapt it. I would say it was more of a re-creation. I wanted to stay true to the original.
PRT: What makes Naked Raygun such an influential band?
Trever: I think because although they have a pop-punk thing (which is what drew me in), they also had this cool, '80s-ish heavy thing like a hard rock thing going on as well and this cool vocal that lies between hardcore and pop-punk.
J: For a lot of people I think it's their sheer catchiness and energy. And Jeff's voice. And on the older records, John Haggerty's guitar. That guy can still make power chords sound you never heard them before, and like he's the one who invented them. For me, discovering NR in the 80s, when Chicago and my home town of DC seemed really remote from each other (everywhere seemed really remote from everywhere else!) and all you could do to discover new music was read zines and take a chance on buying some weird record because your friend said it was good, or you liked the cover ... their songs somehow combined almost everything I loved in punk music, they had a perfect blend of the satisfying and the unexpected, they were a little dark and also funny. I mean, I can't be really objective, that's how much of a fan I am.
Daryl: Naked Raygun epitomizes what it means to be a punk band from Chicago.  They did things their own way.  They took chances with their sounds and in how they structured songs.  They told stories that we all wanted to hear.  They showed us that heroes walk among us and we could be them as well.  They way they commanded attention on stage and made shows grand events, they made us all want to be them.  They were and are approachable and they guided us all in the way of being a Chicago band.


PRT: How much of an impact has the band had on your own artistic vision and approach to creating music?
J: Obviously a lot!
Trever: They were definitely influential and inspirational, how much is hard to quantify.
Daryl: They are the gold standard in my opinion.  Going to their shows made me want to play music.  Jeff showed me how to be a charismatic front man.  Raygun's song writing shows how to write a narrative that makes you think, inspires you to act, and can show the folly of our actions.  They write huge choruses that invite everyone to sing along in unison.  Anthems!  Gotta write sing along anthems!
PRT: What's your favorite Naked Raygun story/anecdote?
J: I remember being blown away when I found out that they were fans of Government Issue, the band I played bass in from 85-88. We had a real mutual appreciation society going. I was stunned when I saw them cover our song "Where You Live," with a beer bottle standing in for the cowbell part. Maybe it's a "you had to be there" moment, but ... I was there.
Daryl: There are so many stories but the one that sticks out and was so defining for me was having one of my first shows as the singer for The Bollweevils opening for Naked Raygun at The Metro's 9th anniversary gala.  Pierre came back stage after our set and wanted our first release, our Red Tape.  He was gushing about how much he loved our band!  This still gives me chills reminiscing about this memory.  To have our heroes, the gold standard, the gods that walked among us, come back stage to ask us for a record and tell us how much they loved us was validation that we belonged and could breath the rarified air that Naked Raygun breathes.  It made me feel that we could be the next Chicago band to inspire other bands.  That fuel made it possible for us to keep playing and holding up the banner of Chicago punk rock!  Without Naked Raygun, there is no The Bollweevils.  I am forever grateful for them existing and being my mentors and friends.  I love those guys and their families.  They make us all proud to be Chicago punk rock bands.