Album Reviews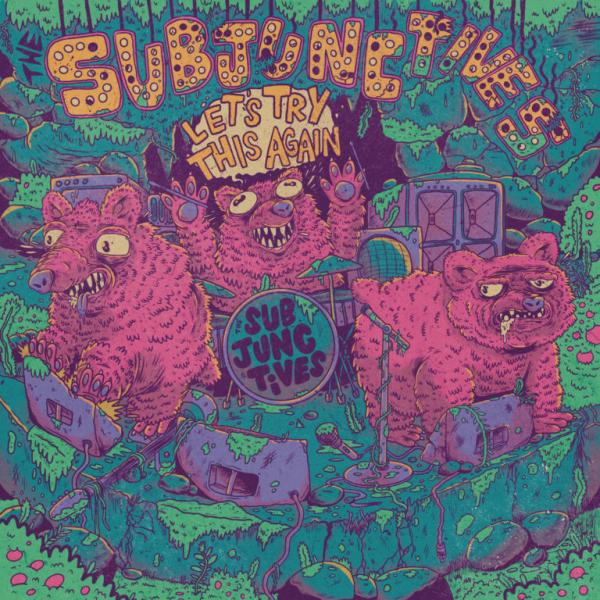 on
Saturday, September 23, 2023 - 12:31
Seattle-based pop-punk trio The Subjunctives - Ean Hernandez (Sicko), Jeff Mangalin (Four Lights) and Wendell Howell - are back with the aptly titled 'Let's Try This Again'. The band's sophomore album comes with a whopping 16 tracks worth of bouncy, highly melodic pop punk tunes that are a true pleasure to listen to for fans of the Lookout! Records catalog.
Clocking in under 30 minutes, the band wastes no time and barrels straight into 'We're Not Friends Anymore'. From there on, there's no stopping them as they bang out hit after hit, keeping sure the songs stay short and snappy. There's tons of melodies, vocal harmonies, surprising chord changes and great hooks to be found across this album. Standouts, you ask? The early Green Day/ Mr T Experience-like pop appeal of 'I Don't Have The Time', the Descendents-esque 'Don't Want To Be A Leader, Don't Want To Be Led', 'Smart Punks' ('punk rock doesn't have to be dumb') and the moving 'It's a Shame We Didn't Get More Time, Lance," a tribute to J Church's Lance Hahn who tragically passed away too soon
Even more standouts, you ask? Sheesh, talk about demanding. But okay… how about the melancholy-drenched ' A Ghost Across My Bow', the humorous 'The Henry Rollins School Of Menacing', the Sicko cover of 'Believe'or the poppy and endearing 'So Glad You're Here'?
A truly fun, strong and quite simply fantastic pop-punk album that doesn't wear out its welcome.