Features
PREMIERE: The Subjunctives share video for new single 'It's A Shame We Didn't Get More Time, Lance'
on
Thursday, August 17, 2023 - 07:36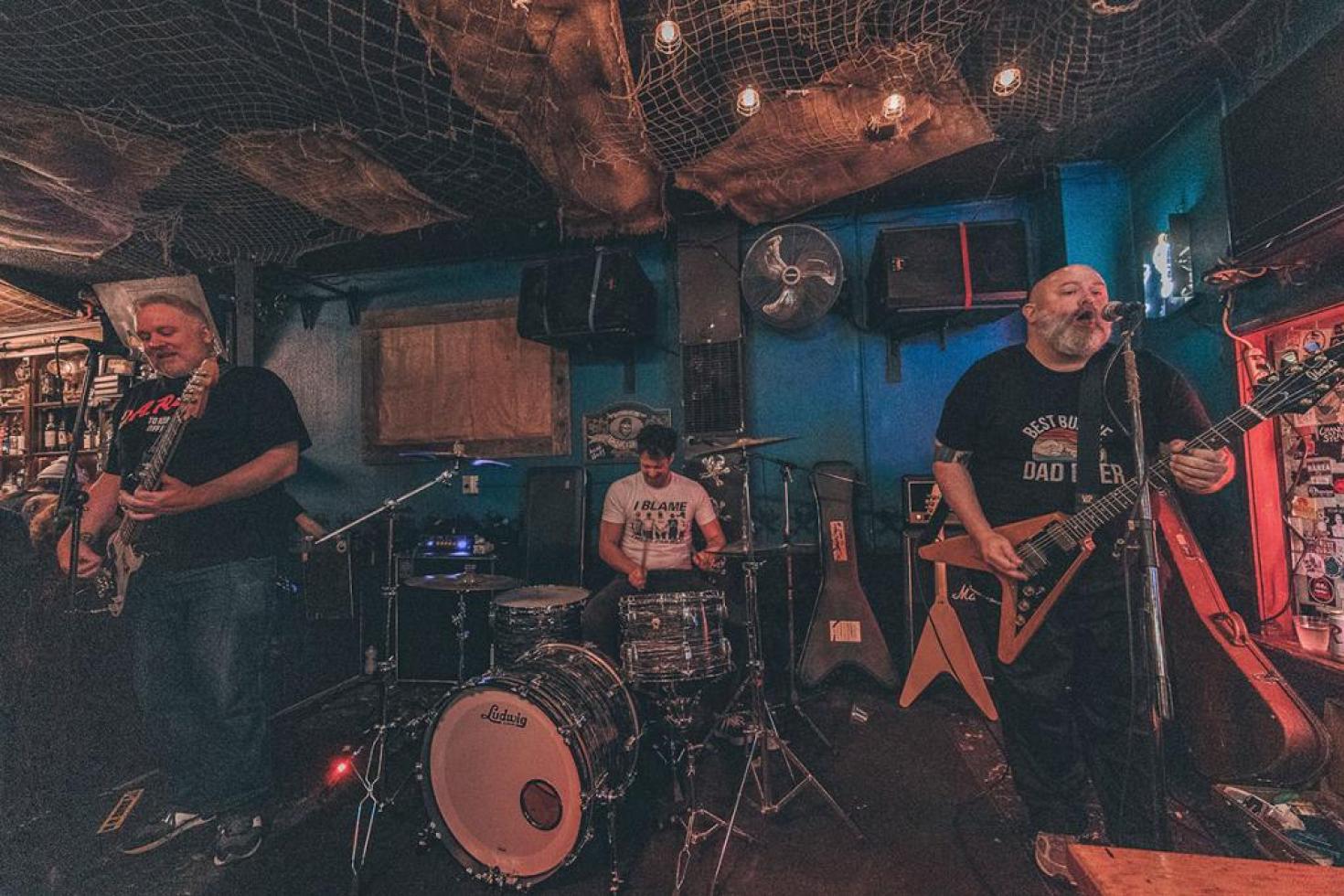 Hailing from Seattle, pop punk veterans The Subjunctives blast through thoughts on everything from decades old punk discourse to workplace feuds on their sophomore record 'Let's Try This Again'. Following up on their 2019 debut 'Sunshine and Rainbows' guitarist Ean Hernandez (Sicko, Tales from the Birdbath, Date Night with Brian) and bassist Jeff Mangalin (Four Lights) along with the band's new drummer Wendell Howell (Desolate Coast) pick up where they left off four years and a life-halting pandemic ago. Sharing vocal duties, the three form a singular unit through 29 minutes of brash but bouncy pop-punk. Along with this interview with Ean Hernandez, we are happy to premiere the video for the band's latest single, 'It's A Shame We Didn't Get More Time, Lance,' a moving tribute to Lance Hahn from J-Church who passed away too soon.
'Let's Try This Again' will be out Sep 15th on Top Drawer Records (pre-order).
PRT: 16 Songs in just under 29 minutes… when you are writing songs, do they just come out as these short punk rock bursts? Or do you consciously try to keep 'em short and sweet?
Ean: It's the result of a conscious effort to keep things brief.  One aspect of pop punk that I enjoy is that the idea is presented, tested, and quickly dispatched.  There is little space for elaborate warm ups or side roads, a punk song comes at you fast and you either like it or not.  This fits neatly with my own attention span and mood swings, as well as my lack of illusion regarding the relative importance of what we do.  Get it over with quickly and leave them wanting more, at best.
PRT: The new album is the band's first with new drummer Wendell Howell. How did that come about? And how come 9 times out of 10 it seems to be the drummer that is replaced?
Ean: In short, Matt lost interest and Wendell answered the craigslist ad.  In a bit more detail… Wendell is the 5th gigging member of this 3 piece band, we've had 2 different drummers and 2 different bass players, and others before that who didn't stick around long enough to play a gig.  Each has been talented and special in their own way, and it's been my privilege to play with each of them.  That said, to be honest we are very lucky to have Wendell.  He's a powerhouse drummer that knows the genre, and is a pleasure to hang out with.  I'm taking full advantage of that on this LP by playing some fast tunes including covering one of Sicko's old double time numbers, "Believe".  Somehow the Craigslist gods smiled upon us.
With regard to the impermanence of drummers it may be due to the ravages of age endemic to such a physical endeavor, the relative scarcity of good drummers leading to extraband seductions, or simply that Spinal Tap has placed this idea in our minds.  This seems as good an opportunity as any to share my own academic model on the subject: The Hernandez Economic Theory of Rock Band Breakups, aka The Rock and Roll Patience Surplus.  Anyone with an Econ 101 under their belts will recognize the notion of a finite Surplus running out of room as supply/demand/etc. curves cross.  This model tries to show why and when people quit bands, the intuition being that bands are annoying by their nature and it's your own eroding excitement level that dulls the pain, up to a point.  My sense is that the Excitement curve has a bit of a steeper slope for drummers, considering the physicality of their craft.
PRT: You have been playing pop-punk songs since the 90s when pop-punk was one thing, whereas now even Machine Gun Kelly is labeled as pop-punk. What is your personal definition of pop-punk?
Ean: I listened to MGK the other day, it's not half bad.  I personally have two definitions of Pop Punk.
1) anything with energy, grit, and hooks… punk and pop, if you will.  That's why Seattle Pop Punk Festival 2024 bands like Rat Paws, Night Court, and Ol' Doris fit in perfectly with The Copyrights, Dirt Bike Annie, and The Hextalls.  It's a big tent, and if you've got the 3 aspects, you're welcome inside.
2) bands that sound *exactly* like Cringer, which for me is the most perfect and pure form of pop punk.  
PRT: What place does playing in a band these days take up in your life these days now that you have a job and a family?
Ean: Given the normal commitments of a middle aged dad with a demanding job, the band takes up most of my spare time.  I wear a number of Subjunctives hats.  The first I think of as an indie musician hat: I write a lot of these songs, I run the (multi band) practice space, book the shows and the festival, and act as an unofficial band-dad.  The second I think of as a small business owner hat: I also run the record label, manage the marketing, hand-wring over chartmetric, and try to flog our merch everywhere I can.  It's an interesting duality: the indie musician role is both cerebral and physical, in that close-to-the-ground sense that inhabiting a punk band typically entails: writing music and lyrics, arranging songs, thinking up artwork, are cerebral; but dealing with bookers, loading gear, sweating through a high speed 30 minute set, and sitting at a merch table are rather more physical. 
The business owner is purely cerebral but in a very different sense: he uses my MBA and CS degrees, keeping up with the new social media marketing, streaming services, online sales, etc.  The two hats ebb and flow with the recording and release cycle, but these days I often wrap up work at 6, have dinner, and work on the business side until midnight.  I enjoy it very much, and make absolutely no money from it, so it's sort of the perfect hobby.  My wife and daughters are very patient, and to an extent just see this as "what dad does".  I think they get some bragging rights from it, but they would never admit as much.
PRT: You have two kids… if one of them wants to start playing in a punk band, what would be the one piece of advice you'd dispense?
Ean: No matter what happens, keep at it.  No one is good at anything from day one, and over time you will improve, as will peoples' response to you.  Keep at it!  And I do have one daughter who has started a band: "Poptart Explosion".  They have about 2 songs, one of which is a sort of Sonic Youthy atonal guitar part with a riot-girl scream vocal part, titled "YOU LIE", which makes me very very happy.  They're looking for a drummer.
PRT: Both with The Subjunctives and your former band Sicko, there has always been a balance between serious and silly lyrics. Do you write lyrics the same way you'd go about having a conversation with a friend where you can talk about life's problems one second and then a joke the next?
Ean: The tone of each song tends to vary with the specific chords we are working with, and the way Jeff or I are feeling at the moment.  So in that sense it's reflective of various moods over time: bits of joy, humor, absurdity, sadness, grief, fear, optimism, romanticism.  There is a lot of humor between us in the practice space, at gigs, etc. and it is certainly tempting to write material that we find funny at the time.  "What's Up Fuckers" and "The Henry Rollins School of Menacing" are good examples of that.  We were really cracking ourselves up writing those lyrics.  With Sicko, we had a lot of in-jokes and humor as well, but any songs with too much humor got a bit of scrutiny.  "Too Silly" would often result in a song getting booted.  This calls to mind a song I once wrote called "Drinking, Fighting, and Eating…. Tacos!" which was a song about a bar where my brother was a bouncer.  The material was entirely biographical: that was definitely a drinking, fighting, and eating tacos (on Taco Tuesday) kind of bar.  I distinctly remember Josh saying "I don't want to play a song called Drinking Fighting and Eating Tacos", and that was the end of that.  In the same way, with the Subjs I think there is a risk that we could easily make too much of a jokey album, and I'm grateful for the balance we found here.
PRT: The songs on the new album deal with everything from decades old punk discourse to workplace feuds and everything in between. Are there subjects where you're like 'phew, not touching that!'?
Ean:  The punk discourse element is probably most present in the song "Smart Punks" which was a lot of fun to research.  I have written elsewhere about how I was drawn to Punk intellectuals like Lance Hahn, Dr Frank, Greg Graffin, and Milo Aukerman.  In the 1990's Larry Livermore wrote about the idea of Smart Punks, people who were engaged in the Punk movement but rejected the anti-intellectualism and nihilism favored by some 70's and 80's punk songwriters.  Larry's idea was right up my alley!  Following the debate from afar, I had it in my mind that San Francisco was filled with Punk philosophers citing essays and debating fine points of literature, history, and philosophy.  I remember being very nervous the first time I met Dr Frank and Aaron Rubin from MTX, and had even prepared a few subjects that I imagined would be elevated enough to meet their expectations regarding intellectual discourse.  Of course, they turned out to be nice guys who happened to also be bright, but not particularly interested in academic debate with new people.  Whatever subjects I had at the ready are lost to history, thankfully I never got a chance to try them out.  In writing the song, I reached out to Larry for some quotes on Smart Punk, which he was kind enough to provide.  I also read a ton of old issues of MRR, Lookout, and Punk Planet researching the debate and players, which was a fun excursion.  I'm interested to see the reaction from the Lookout crowd, and cautiously optimistic that my analysis will live up to Mr Livermore's standards! 
Regarding songwriting subjects, we do try to "not be too on the nose" about certain things, especially politics and current events.  For example, the song "If We Ever Get Out of This Mess, I'm Going to Do Something with My Life" is about being trapped at home during COVID, and the title of the LP "Let's Try This Again" is about wanting to have another go at this band since we barely got the last LP out before the COVID shutdowns canceled all our plans.  But, they're both a little vague about it.  I don't think we'd have a song titled "All These Peoples' Bad Behavior During COVID is Breaking My Heart" about those irresponsible family members we all seem to have one or two of, or "I Hate You, You Orange Fat Fuck" about Donald Trump, even though it has a nice ring to it.  Also off limits would be anything broadly offensive or having to do with sex.  We are many things, but a "sexy" band we are not.
PRT: We are premiering the new song and video for "It's A Shame We Didn't Get More Time, Lance". Can you tell me a bit more about that one?
Ean: This song is about my cut-short relationship with Lance Hahn from J-Church.  I wanted it to be a melancholic hooky song in a happy key, a musical and lyrical tribute to the seminal East Bay pop punk songwriter.  Sicko shared many stages and tours with Lance and J-Church in the 90s, and each vignette in this song relates a true experience.  I wanted to document my journey from fan to comrade to friend to mourner, and make a bit of a tribute to someone who had an outsized impact on my musical development.  I also thought that the song and video would be a nice way for other enthusiasts to remember and honor him.  For the video, I got photos from past band members, and Lance's partner of many years (thanks Gardner, Adam, David, Ben, and Liberty).
PRT: The Kraken recently closed, one of the most important venues in Seattle. Not the first smaller venue to close, probably not the last either. How much of an impact do you think the closing of that kind of venue has on a city's music scene and starting bands?
Ean: One music bar more or less doesn't really change too much, but the Kraken is perhaps a special case.  Tactically, the Kraken really was the punk rock Mecca of Seattle, and without it many of us lost our home base as well as a favorite venue.  More broadly, the loss of the Kraken came in the context of several local punk-friendly small bars closing.  We lost Tim's, The Victory, and the Kraken all within a short time span, to an extent hamstringing the local punk community.  There are still bars that accept punk bands, but none left that are "our space" in the way the Kraken was.  Extending to a long-term perspective while maintaining the maritime theme, we can view little punk bars as the shipwrecks and reefs of the musical ecosystem, spaces that nurture and protect the small bands that may someday grow into the big fishes of the musical world.  Without spaces like these for bands to get started in, big bands like Soundgarden, Nirvana, Alice in Chains, MxPx, Presidents of the USA, etc. would never have gotten a chance to get off the ground.  You can't start a new band by playing your first gig at the local Arena.  This is particularly ironic in a place like Seattle where people have been coming for decades because of the excellent local culture, including the music culture.  The good news is that the Kraken is owned and operated by the Colleys, a couple who are nearly indestructible and certainly indefatigable.  They are at this moment in the process of resurrecting a derelict building to become the new Kraken, less than a mile from the original space.  The building was gutted down to the copper wire being ripped from the walls by scrap thieves, so it's been a long journey and they are close to re-opening.  The Kraken gofundme has accumulated $34k, and there have been contributions from neighborhood associations as well.  The Kraken will rise again this October!
PRT: You'll go out on a small tour once the album is out. What's up next after that?
Ean: As you may have read, the tour is postponed due to the tragic death of Joey Jonas the drummer of Bad Year.  This news came as a terrible shock to us in the Subjunctives, and our hearts are with the members of Bad Year. 
Beyond that, our plans are to play a record release party in Seattle at Cottontails on 9/15 with The Drolls and Trash Sound Conglomerate, gig monthly on the new material, do some fly-in shows to fun locations, and then get back to work woodshedding and writing for a new album.  I have a little less than 40 new songs that are roughed out, and can't wait to get chiseling at them with the Subjs.  This is what I want to do with my life, and I'm determined to keep at it.
PRT: If you allow yourself to dream for a second, what is one thing you would still like to achieve with The Subjunctives?
Ean: I'd like to sell out a 300 person club, and have everyone singing along with Jeff, Wendell and I.  Maybe at a pirate themed punk rock dive bar somewhere in Seattle.  <3