Album Reviews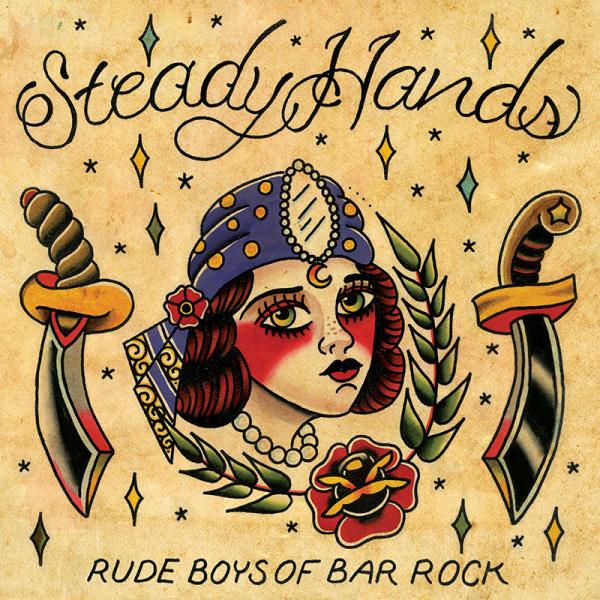 on
Tuesday, December 27, 2016 - 15:53
Inspired by the likes of Billy Bragg and Frank Turner, Sean Huber started playing solo shows in Philadelphia's bars and basements under the Steady Hands moniker whenever he had some time off from Modern Baseball.
From there, Steady Hands evolved into a 7-piece that expertly blasts out some seriously good folk-punk. The line-up includes W.C. Lindsay's William Lindsay on lead guitar, George Legatos on bass and Richie Straub on drums, along with Modern Baseball's Jacob Ewald on rhythm guitar and hometown friend Andrew Kiman on keys.
So far they recorded three EP's, which have now been released on vinyl for the first time ever on this double LP. Also included on "Rude Boys Of Bar Rock" are a Nebraska-esque re-recording of the songs from the "Not Many Of Us Left" EP and a brand new song called "Under The Rug."
These guys aren't reinventing the wheel here, but if you are looking for some solid tuneage that goes from rebel-rousing to thoughtful in the time it takes to drink a beer, then "Rude Boys Of Bar Rock" might be just the album you are looking for.
Track listing:
Under The Rug
I Swear Like A Sailor
Footsteps
The Libertines
Song For Rosemar
Brandy Of The Damned
Pretty Good Year
Fragile Heart
Southern Dream
We Will Rise
Skin And Bones
Tropical Depression
Grace
Won't Let You Go
You Won't Know
House Show
Warren
Michael Jordan
Basements
Perfect Teeth