Album Reviews
Sparrow and Friends Start a Band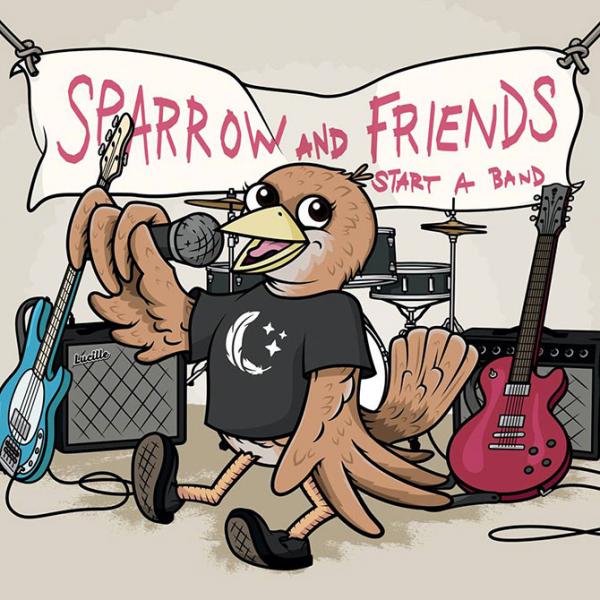 on
Thursday, November 10, 2016 - 10:40
- by Nate Hennon
One of the toughest aspects of being a parent is trying to occupy your child when you are about to stick your hand into a hot oven. You can't hold them while you do this because they may fall in, and that is bad. You can't just leave them on the floor of the kitchen for they are conveniently sized at the right height of the 425 degree Inferno, which is also bad. My solution has been to play some music off my phone in the opposite side of the kitchen and egg my son to dance or play drums on unused pots and pans. The problem with this approach is most kids songs are terrible.
However, as the punk population ages into adulthood and began to have children of their own, they discover they may have the talent to remedy this problem. Just write kids songs that they would enjoy playing or listening to over and over and over again. This is exactly what the kid-friendly pop punk album, "Sparrow and Friends Start a Band!", from Sparrow Sleeps aims to do.
"Sparrow and Friends Start a Band!" is a self-described 'tunes for toddlers' album with guest vocals from the likes of Will Pugh of Cartel, Matt Pryor of The Get Up Kids, Ryan Key of Yellowcard and Mike Herrera of MxPx. For the most part, this album serves its purpose; it is fun to listen to, and the artists all do a good job of not being boring. Not every song is easy to hear on a constant loop, which is something my son likes to do, but I will listen to Matt Pryor and Mike Herrera sing about numbers and burps any day. Another standout track on this album is "The Sugar Song" featuring Kailynn West of Tiny Stills and Tony Thaxton of Motion City Soundtrack. There is nothing but chemistry from these two and I think they would have a lot of fun putting together a Play Date type of group if they wanted to continue down this road.
Track listing:
We're The Sparrow Sleeps Band (ft. Will Pugh of Cartel)
I Want To Play! (ft. Will Pugh of Cartel)
Shoe Tying Machine (ft. Nick Diener of The Swellers)
Let's Sing About Letters! (ft. Ace Ender of The Early November)
Sharing is Cool (ft. Dan Lambton of Real Friends and Joe Taylor of Knuckle Puck)
Holding Hands (ft. Zech Pluister of Sleep On It)
Make Some Noise (ft. Matt Pryor of The Get Up Kids)
Air Guitar (ft. Ryan Key of Yellowcard)
The Sugar Song (ft. Kailynn West of Tiny Stills and Tony Thaxton of Motion City Soundtrack)
10 (ft. Mike Herrera of MXPX)
Two Minutes (ft. Nick Thompson of Hit The Lights)
While The Sparrows Nest (ft. Aaron Marsh of Copeland)