Album Reviews
The Awful Disclosures Of Screeching Weasel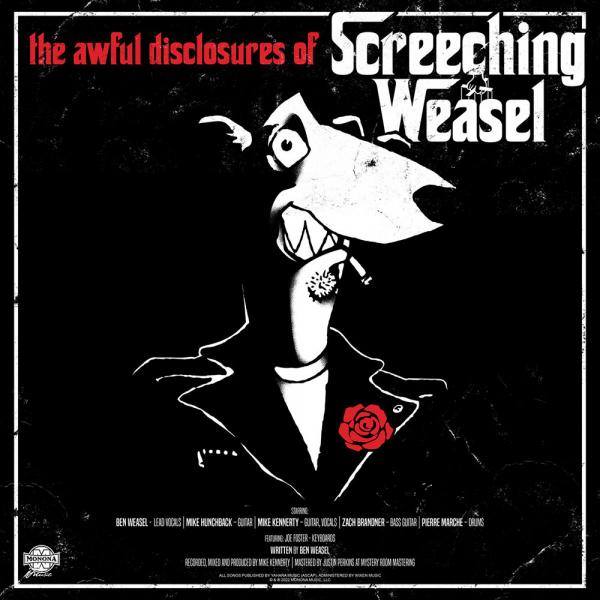 on
Tuesday, July 19, 2022 - 15:21
Regardless of how you feel about Ben Weasel's antics, there's no denying the man knows how to write a catchy pop-punk song. Ever since the release of Screeching Weasel's debut album back in 1987, the band has spent time on pretty much every punk rock label out there, influenced countless other bands with their snotty punk rock anthems and kept on releasing quality albums time and time again in spite of a revolving cast of band members.
On Screeching Weasel's new album, 'The Awful Disclosures of Screeching Weasel,' the follow-up to 2020's 'Some Freaks of Atavism' and their fourteenth (!) overall, we are treated 14 new slices of melodic punk rock chock-full of buzzing guitars and snotty vocals. Or were you expecting anything else from a Screeching Weasel album?
Written during the pandemic, these songs deal with uplifting themes such as death, the apocalypse and madness, which could be depressing if it weren't for the super-charged guitars and slick melodies. Album highlights come in the form of the soaring 'Any Minute Now', the Alkaline Trio-ish 'Just Another Fool' and the short but ever so sweet 'All Stitched Up'.
Even after all these years, the power of punk rock is still strong in this one.
The Awful Disclosures Of Screeching Weasel track list:
Six Ways To Sunday
Any Minute Now
In La Quinta Del Sordo
My Favorite Nightmare
Just Another Fool
In The Castle
Kill To Cure
All Stitched Up
Pandora's Eyes
Dead Alive
Gates Lift High Your Heads
Hey Diana
How Art Thou Fallen
Tell Me Your Lies