Album Reviews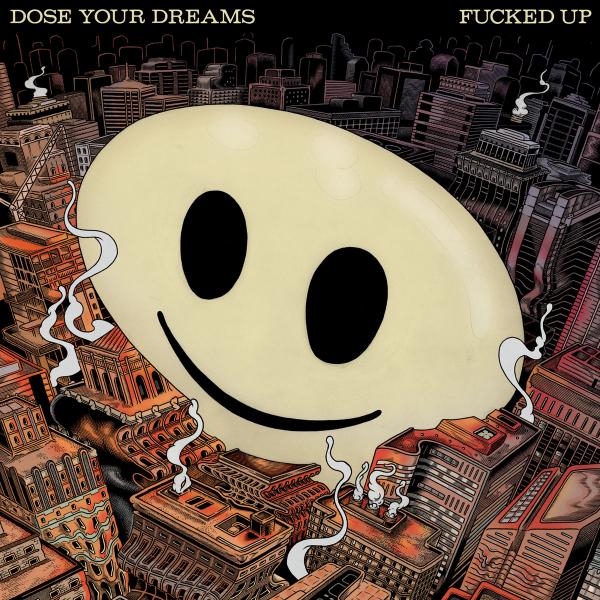 on
Saturday, October 6, 2018 - 15:25
- by Tom Dumarey
Four years after the release of their last album, Toronto's Fucked Up are back. And how. 'Dose Your Dreams' comes with a whopping 18 songs that clock in at around 90 minutes. It's something of a rock opera that tells the story of a man named David who meets a woman named Joyce and then goes off on a psychedelic trip though time, space and different dimensions. Which is exactly what this album sounds like. With varying results.
At this point in time, it's pretty much impossible to tell whether Fucked Up wants to be a hardcore punk band or an AOR band. HardcAORe maybe? Fact is that most hardcore bands don't make albums that are loaded on flutes and bongos. Fucked Up on the other hand did that on 2008's 'The Chemistry Of Modern Life', the album that placed them on the map, and they haven't looked back since.
That's how come nobody should be surprised that throughout 'Dose Your Dreams' you will find sax action, doo-wop, ska-punk, Beach Boys-styled harmonies, disco and electronic sounds all set alongside or juxtaposed against loud guitars and Damien Abraham's trademark abrasive growls. Athough to be honest, Abraham only handles about two thirds of the vocals here, taking something of a backseat on this album. He said all that he had to say on 'Glass Boys', making 'Dose Your Dreams' very much guitarist Mike Haliechuk and drummer Jonah Falco's album.
They definitely want to be more than just another hardcore punk band, and well… that's kinda exactly what they end up sounding like. There's the slow-burning psychedelia of 'Torch To Light', the disco groove of the title track, the krautrock-ing 'Joy Stops Time' and the abrasive 'Living In A Simulation'. Unfortunately you also have to sit through some less successful experiments like 'Talking Pictures' and the NIN leftover that is 'Mechanical Bull'. And as different as they try to be, it still all ends up sounding – dare I say it - kinda the same. Like different variations on the same theme. And honestly, I'll never be the biggest fan of Abraham's barking. But hey, maybe the me in another dimension thinks this album is the shit. Who knows!
Track listing:
None of Your Business Man
Raise Your Voice Joyce    
Tell Me What You See
Normal People
Torch to Light
Talking Pictures
House of Keys
Dose Your Dreams
Living in a Simulation
I Don't Wanna Live in This World Anymore
How to Die Happy
Two I's Closed
The One I Want Will Come for Me
Mechanical Bull
Accelerate
Came Down Wrong
Love Is an Island in the Sea
Joy Stops Time