Album Reviews
This Machine Still Kills Fascists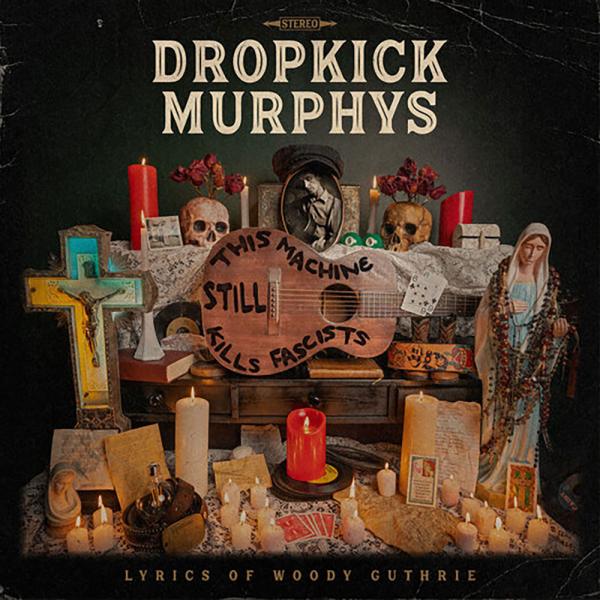 on
Tuesday, November 29, 2022 - 12:20
With 'this machine kills fascists' painted on his guitar, folk pioneer Woody Guthrie was the original punk rocker who made a name for himself in the middle of the last century. And seeing as we are still struggling with the same problems today that he was already raging against, his lyrics - unfortunately - are as current now as they were back then. Why I'm writing about Guthrie in the review of a Dropkick Murphys album? Because all of the songs that make up 'This Machine Still Kills Fascists' are based on mostly unpublished lyrics by Guthrie, curated for the band by Woody's daughter Nora Guthrie.
The Dropkick Murphys have a long-standing relationship with Guthrie. There was the cover of 'Gonna Be A Blackout Tonight' off their 2003 album as well as 'I'm Shipping Up To Boston,' which was based on a scrap of a poem by the Oklahoma protest singer. And now there's 'This Machine Still Kills Fascists,' an album that finds the Boston powerhouse at their most stripped down to help bring Guthrie's words to life.
'This Machine Still Kills Fascists' is not a tribute album or a collection of covers. Rather, it should be seen as a collaboration between the Murphys and Guthrie, artists chasing the same ideals decades apart. Recorded with longtime producer Ted Hutt at The Church Studio in Tulsa, Oklahoma, Dropkick Murphys even made it a point to visit Guthrie's hometown of Okemah and walk the same streets Woody walked. And it isn't just Guthrie's spirit that echoes through the album, you can also hear him join in on the album's final track, 'Dig A Hole.'
But before we get to the haunting closing track, we are first treated to the Johnny Cash-reminiscent strum of 'Two 6's Upside Down' and 'Talking Jukebox,' built around a simple yet highly memorable reverb-drenched riff. Then there is the footstomping union rallying cry of 'Ten Times More'and the piano-enhanced 'Waters Are A'risin'. Elsewhere on the album, alt-country artist Nikki Lane joins the band for the Pogues-like swagger of 'Never Git Drunk No More' and Turnpike Troubadours' Evan Felker joins in on 'The Last One'.
'This Machine Still Kills Fascists' is not just a beautiful collaboration between kindred spirits, it is also a solid album that shows the Murphys exploring their acoustic side, which is something they have only done sporadically up until now. And they must have liked it, because they recorded not one, but two albums, with Vol. 2 scheduled for release in 2023.
This Machine Still Kills Fascists track listing:
Two 6's Upside Down
Talking Jukebox
All You Fonies
Never Git Drunk No More (featuring Nikki Lane)
Ten Times More
The Last One (featuring Evan Felker of Turnpike Troubadours)
Cadillac, Cadillac
Waters Are A'risin
Where Trouble Is At
Dig A Hole (featuring Woody Guthrie)