Album Reviews
11 Short Stories Of Pain & Glory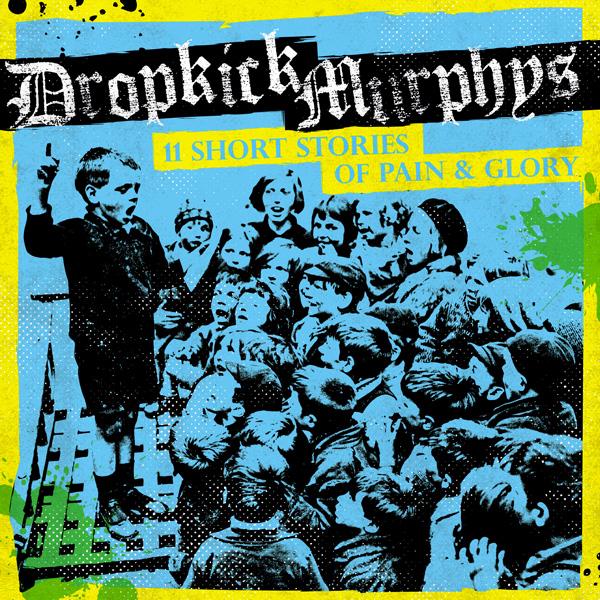 on
Friday, January 6, 2017 - 12:46
For twenty years, Dropkick Murphys have been whipping up audiences around the world into a frenzy with their mix of punk rock and Celtic folk. At the same time, they became local fixtures in Boston, like that guy that sits at the bar in your local watering hole night after night, only with way cooler stories to tell. And judging from "11 Short Stories Of Pain & Glory", these hometown heroes are still nowhere near the final chapter in the band's book.
Sure, they may no longer play with the same urgency as they once did. "11 Short Stories Of Pain & Glory" won't be the soundtrack to your Trump protest (although "First Class Loser" sounds fitting). But that's not a bad thing. This new batch of songs has a sort of ease to it that makes it… well, easy to just sit back and enjoy the tunes. Preferably with a cold beer in your hand. Or at one of their live shows where that beer would be even more welcome after all the singing along.
Is it really necessary to get into the songs here? I mean, it's a Dropkick Murphys album. You know what you are going to get. Opening track "The Lonesome Boatman" opens with an Irish whistle, before bursting open in a massive sing-along that is sure to get the party started at all of their future shows. "You Got Heart" sounds like The Clash with a big, fat Boston accent. Both the previously released single "Blood", complete with bagpipes, and "First Class Loser" are more tracks that seem to be written with live shows in mind. "Paying My Way" on the other hand, sees Queen's "We Will Rock You" stomp and raises it with lyrics about overcoming the odds that seem to be torn from Springsteen's songbook.
It's not all awesomeness though. Both "I Had A Hat" and "Kicked To The Curb" are not bad songs, but they are somewhat superfluous and sound like something the Murphys can write on automatic pilot. And to be honest, a bagpipe-enhanced version of "You'll Never Walk Alone" doesn't really float my boat either. No, then I much prefer "4-15-13", the band's moving tribute to the Boston Marathon bombing victims that sees them capturing the sense of unity that overtook the city following the terrible events. The upbeat, Madness-like "Until The Next Time" will make for one hell of a fun last song at shows and rounds out the band's ninth album on a high note.
So yeah, "11 Short Stories Of Pain & Glory" is an album without any surprises. But it is an extremely well-crafted new addition to the band's discography that finds them sounding more confident than ever before.
Track listing:
The Lonesome Boatman
Rebels with a cause
Blood
Sandlot
First Class Loser
Paying My Way
I Had A Hat
Kicked To The Curb
You'll Never Walk Alone
4-15-13
Until The Next Time