Album Reviews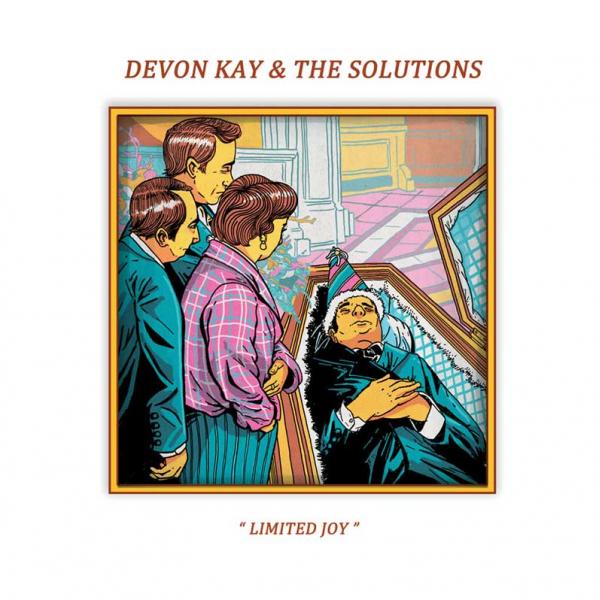 on
Friday, September 18, 2020 - 09:42
You may know Devon Kay from Direct Hit!, a band not opposed to mercilessly mixing slick pop-punk with furious hardcore. But since 2011, Kay has also been releasing music that is even more all over the place with his Solutions. Punk, pop, ska, new wave, power pop... it is all present and accounted for on 'Limited Joy,' the band's latest release out now on A-F Records.
Devon Kay & The Solutions started out as a three-piece but has since grown into quite the endeavour with the addition of Jacob Horn (trombone), Jake Levinson (bass), Ian Terry (trumpet) and Joram Zbichorski (keyboards). The downside is probably that there has to be a lot more planning involved to get something done. The upside however is that more people means more ideas. And on 'Limited Joy,' there are so many ideas being fired at you that it will make your head spin.
Think Jeff Rosenstock, Less Than Jake and Atom & His Package all rolled into one. Take opener 'Oh Glorious Nothing' for instance. The song bounces off the walls and isn't content to just come at you with slick hooks, pounding drums and solid guitar leads. Nope, they also sprinkle layers of keyboard and horns over the whole thing, making it so fun-filled and action-packed that it would even leave Andrew W.K. wondering how the hell they managed to cram all of this in just over 200 seconds. Elsewhere on the album, they show off a more restrained yet equally enticing side of the band on 'Evermore', made me think of Less Than Jake, Van Halen and ZZ Top in the same song ('In A Prairie State') and wonder aloud if it is possible to have life without love on the toned down 'Risk Reward'.
The least you can say about 'Limited Joy' is that there is a whole lot going throughout these eleven songs. Luckily, pretty much all of it is good. I think the only downside could be that at first the music is so overwhelming, that it kinda overshadows the thoughtful lyrics in which Kay addresses his fears and anxiety. Things for which 'Limited Joy' is the perfect medicine. I mean, if this album doesn't put a smile on your face, I don't know what will.  
Track listing:
Oh Glorious Nothing
Anything At All
One Horse
In A Prairie State
Evermore
His & Hearse
252 Brighton Ave
Keep Dreamin'
Risk/Reward
My Neck Is Tired From Holding My Head Up
Less Talk, Less Rock