Album Reviews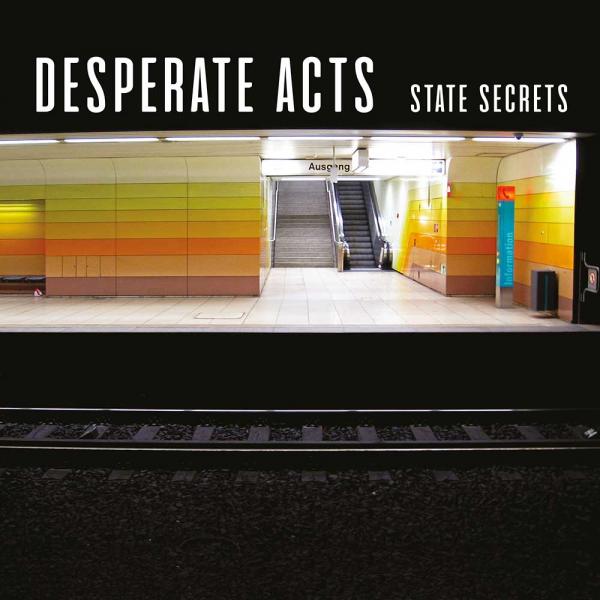 on
Saturday, September 11, 2021 - 11:16
Normally when you have former members of bands starting a new project, it's an easy reference so people already have an idea of what to expect right off the bat. But the songs that make up 'State Secrets' don't sound anything like what these guys have been up to in the past with the likes of Comeback Kid, Holding On or Martyr AD. Instead, Desperate Acts treat us to 10 songs worth of Midwest punk rock with a twist.
Hailing from Minneapolis, Desperate Acts start things off strong with opener 'Drying Out' sounding not unlike the missing link between The Lawrence Arms and Leatherface. Gravelly-voiced, melodic punk rock with a sad, melancholy-laced undercurrent that trickles through like dark thoughts after an alcohol-fueled night. That's in no small part thanks to vocalist Matt Keil sounding like a hybrid between Brendan Kelly and Blake Schwarzenbach. Throw in some short solos and lead flourishes in all the right places over a very tight rhythm section and you have all your bases covered for a pretty much flawless punk rock album.
Work your way down the track listing and you will find Desperate Acts channeling their inner Jawbreaker on 'Paid In Full', while other cuts will make you think of Avail, Hot Water Music, Banner Pilot and even a bit of Alkaline Trio. Which means that over the course of 10 songs, these guys somehow managed to make me think of all my favorite bands while also making sure to take those influences and turn them into something all their own.
'State Secrets' was originally meant to be tracked in Boston with producer Jay Maas (Citizen, Title Fight, Bane, Defeater) at Getaway Recording. But the 2020 lockdowns messed up those plans and so the album was instead tracked with Brian Herb at Mother of All Music in St. Paul, Minnesota after pre-production was done virtually with Jay over a few months. Can't have been the easiest or most comfortable way of doing things, but with 'State Secrets' Desperate Acts have released one hell of a debut album.  
State Secrets track list:
Drying Out
Jeff Crisp     
Brian     
Humble Lights     
I am Trying to Impress You     
East Hill
Paid in Full     
State Secrets     
FM    
Veil