Album Reviews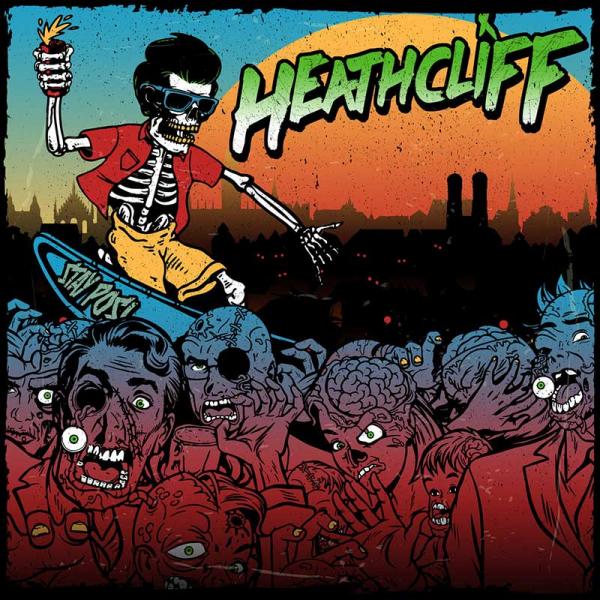 on
Sunday, January 24, 2021 - 09:47
If you found yourself yearning for some German 90s-influenced skatepunk with plenty of metallic shredding and even some ska/reggae flavour worked in... well, yearn no longer. While that is a very particular thing to long for, Heathclifff has got you covered. On their new album 'Stay Posi,' these Munich-based skatepunks burn through a dozen songs with not a second to spare.
Just check out opener 'Me, Myself & I Are Two Sometimes', which starts off gently enough with a slick guitar leads and some reggae vibes before transitioning into lightning-fast punkrock that's as technical as it is melodic. Actually, saying it's lightning-fast is not doing it justice. Let's just call it Heathcliff-fast from now on. Throw in some solid shredding and a soaring chorus and you've got yourself quite the song.
From there on, they keep things moving with 'BFF (ˈbɪtʃɪ * ˈfeɪk * ˈfrɛndz),' which has a Satanic Surfers thing going on, the slightly more poppy 'Don't Give Up (Sainou)' and previously released single 'Stay Posi - Not Zombi'. 'Captain's Call' starts off with a techno-ish intro that got me worried they'd let their inner Eskimo Callboy shine, but luckily it quickly turned into another rager complete with hardcore breakdowns. And as if that isn't enough yet, just know there is also a ska version of Iron Maiden's 'The Trooper' on here along with the band's skatepunk-ified version of Pendulum's 'Witchcraft'. Admit it, that alone makes you at least kind of curious. And while those covers are a nice touch, Heathcliff don't need any novelties to stand out.
Track listing:
Me, Myself & I Are Two Sometimes    
BFF (ˈbɪtʃɪ * ˈfeɪk * ˈfrɛndz)    
Same Old Tunes    
Don't give up (Sainou)    
Rainbow Skin - My Life In Ink    
Captain's Call    
The Trooper    
Beyond Water Wars    
Witchcraft    
Stay Posi - Not Zombi    
Outro    
Who Told You (Acoustic)