Features
Track-by-track: No Fun At All's Mikael Danielsson talks 'EP's Going Steady'
on
Tuesday, January 11, 2022 - 19:29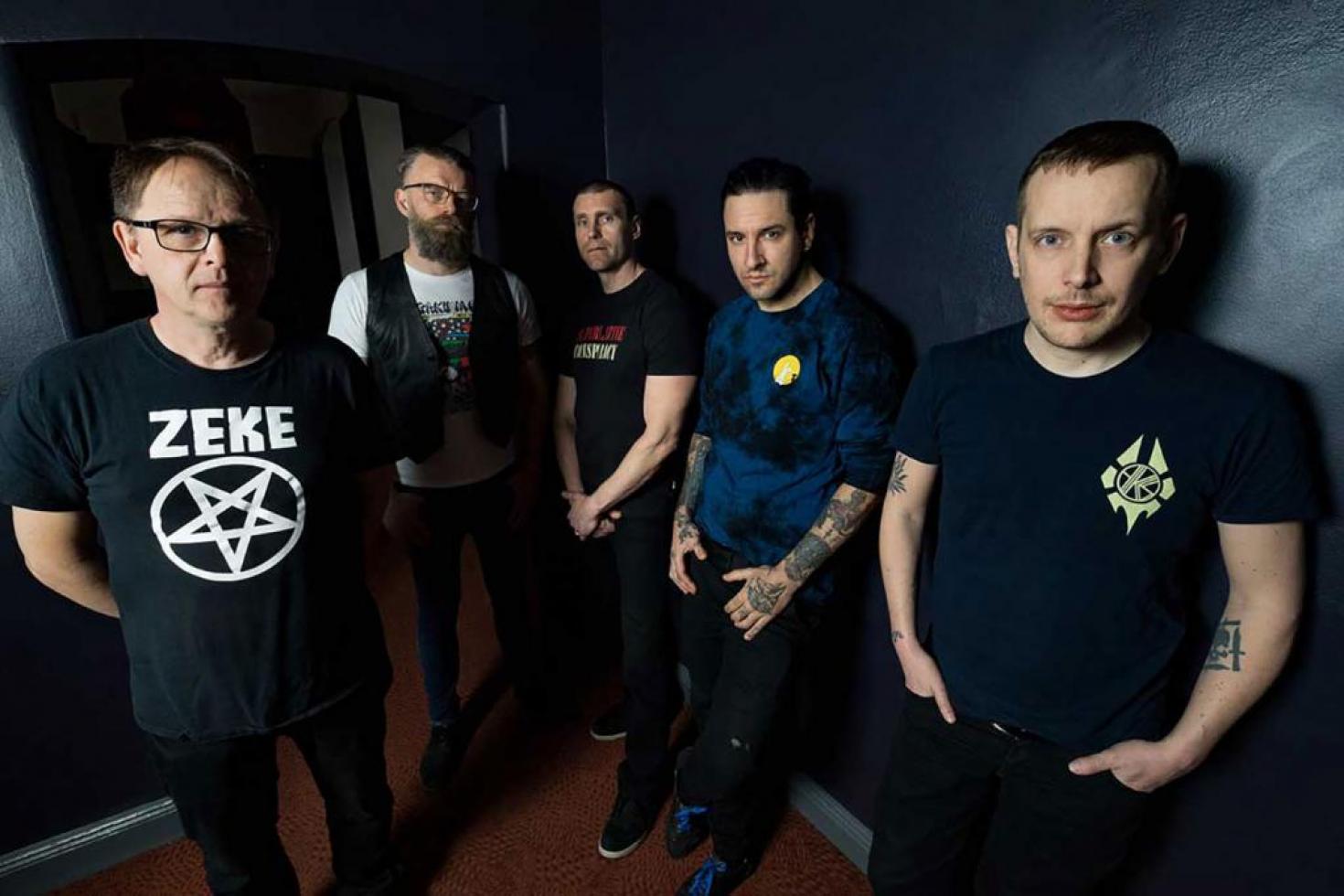 SBÄM Records was kind enough to recently re-release No Fun At All's compilation album, ' EP's Going Steady' (buy here). Unfortunately, the vinyl has been delayed because all the vinyl plants in the world are still busy pressing a zillion copies of the new Adele album. So while you are waiting for your order to be shipped, we caught up with guitarist Mikael Danielsson to walk us through the album's whopping 25 tracks, including the nine tracks from the skatepunk legends' first EP "Vision" along with a couple of outtakes from different recording sessions as well as covers from Gang Green, Elvis Costello, Misfits, Magazine and more.
Vision CD-single (1-9)
The songs were initially meant for a second demo tape after the first one, "Touchdown". Then Burning Heart got in contact and wanted to release a CD-single. Back then we were 3 piece band with me on guitar, Henrik Suvisson on bass and Jimmie Olsson on drums. I used to sing during the rehearsal cause Jimmie had problems to sing while he was drumming. But I wanted Jimmie to sing on the recording cause he was a much better singer than me. So when we went into the studio Jimmie had never sang the songs before. But it turned out really good anyway.
Everything was done very quickly during 3 days back in 1993. The songs are fast and raw. Haha, like half of the songs got "whoooaaah"-choruses. Guess Misfits was a big influence back then. The album cover was put together very quickly by Peter Ahlqvist cause he wanted it to be out before the festival Bergslagsrocken, so we could promote it. It has loads of misspellings and some wrong information on it. It think most of it was corrceted on the DeNihil vinyl version.
Stranded CD-single (10-14)
Haha, our only "hit single", it went up to 23 on the swedish single chart before it disappeared. The front cover is made by famous swedish cartoonist Ulf Lindqvist. The name of the surfing sausage is Assar and the words "I was so heavy man I lived on the strand" is taken from the Black Flag/Circle Jerks song "Wasted", which we covered on the single. Pretty awful cover of the Dead Kennedys- In Sight, Jello Biafra is not that easy to interpret. Decent version of Coffin Break-Wiser. For some strange reason we got some more "ska-guitar" in "Don ́t Know Nothing" after the horribly try in "Evil Worms". Guess we were hanging out too much with Millencolin.   
And Now For Something Completly Different CD-single (15-18)
Actually I don ́t remember why we did this single. The plan was to choose one cover song each, but as you notice there is only 4 songs and there were 5 of us. The reason was that we recorded a dreadful reggae-like version of The Beatles- "Eight Days a Week". Hope it will never see the light of day. My favourite is the Magazine song, but the Costello one is pretty cool too. Ingemar played the acoustic guitar on "Where Eagles Dare". I like the verses very much, but the chorus is a little bit too joyful. We used to play the punk version of the song live for a very long time.
The recording was done in the metal studio The Abyss together with Peter Tägtgren (Hypocrisy, Pain among others). It was our first time using Mesa Boogie Rectifier and we were really impressed by the heavy sound and brought it along to The Big Knockover.
Don ́t Be A Pansy (19)
The first time we went into Studio Underground and we were really happy with the result. Ingemar was new in the band together with Kjell and Christer. We recorded Don ́t Be a Pansy and Growing Old Growing Cold for two different complitations. We recorded a new version of GOGC during the No Straight Angles session but it did ́t turn out any good so we used this one instead.
Can ́t Go Far (20)
Leftover from the No Straight Angles session. Re-recorded version together with "Days In The Sun" from the Touchdown demo. Brought it back in the live set for a while not that long ago but

now it ́s gone.    
Alcohol (21)
Our anthem during the 90 ́s! Gang Green classic that we used to finish off our sets with, in wild manner. Haha, can ́t quite relate to the message nowadays.
Leaving (22)
Leftover from the Out Of Bound session. A hidden gem in the NFAA catalouge! Awesome riffage and some nice melodies
On My Way (23)
Leftover from the The Big Knockover session. Actually the first song we started to rehearse for that album but it didn ́t really turn out the way I wanted it to.
Dying Everyday (24)
NFAA tries to go action-rock. Seemed funny the first time.
Walk A Mile For You (25)
Another shot at the rock-thing but I like this one much better. Guess I was into Motörhead around that time. Ingemar sings about his urge for cigarettes.