Features
on
Wednesday, May 7, 2014 - 21:16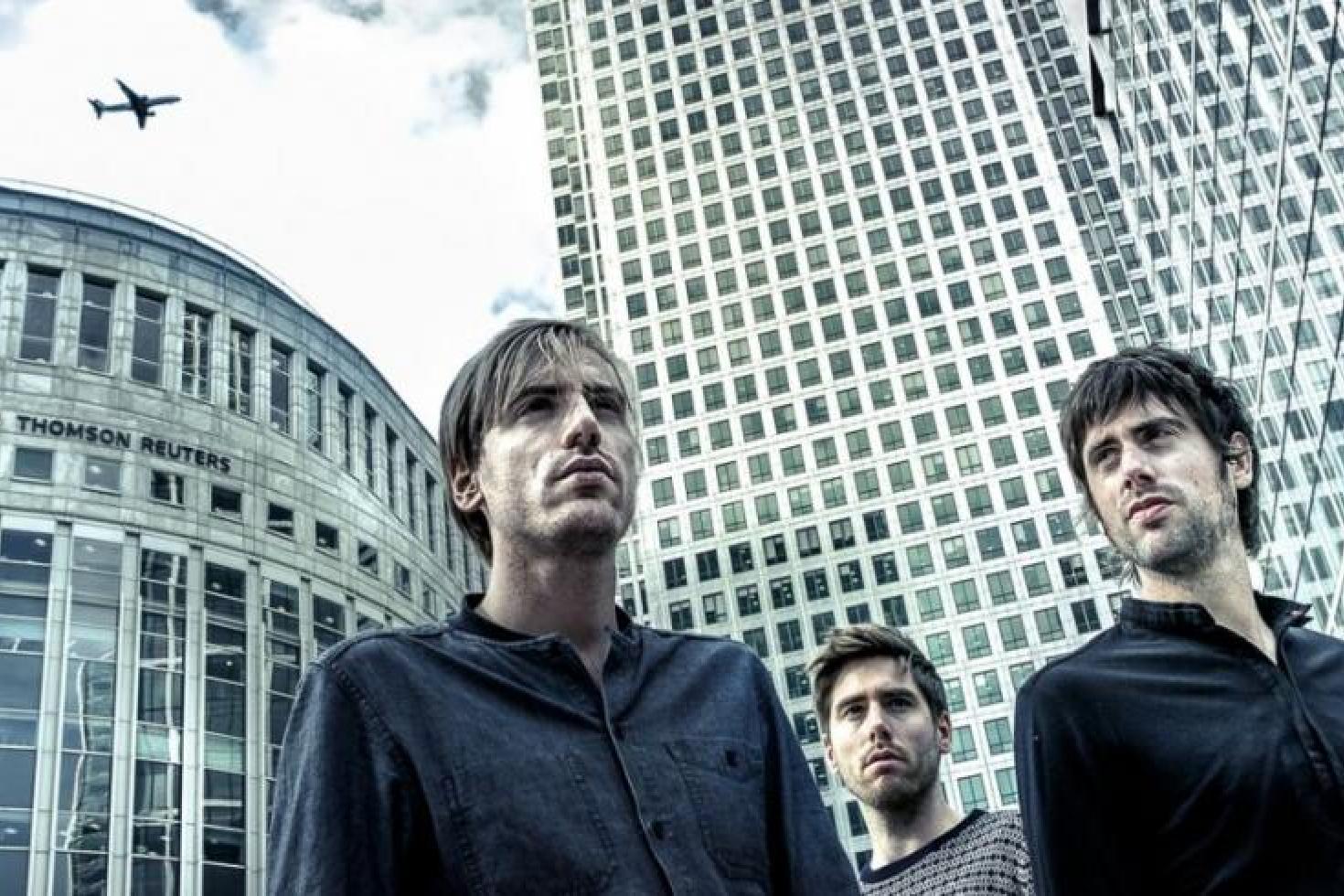 The Sedan Vault is back! Now reduced to a trio, they have (finally) released the follow-up to "Vanguard. "Minutes To Midnight" is produced by Richard Woodcraft (Arctic Monkeys, Radiohead,...) and sounds friggin' amazing. If you haven't heard it yet, do yourself a favor and go pick up a copy tomorrow. But not before you've read the interview that we did with these guys!
PRT: I read that the name The Sedan Vault comes from the countless car crash scenes in the A-Team. Which A-Team character (would you say) corresponds to which member of the band?
TSV: To be honest we had major fights over this when we were around the age of 10. Because Rutger a.k.a. Murdock was the oldest, he got to choose first. Murdock was that funny guy everybody wanted to be. Marius did not have a choice. From day one it was obvious he had to be B.A. Baracus. As a kid he was quite - let us not use the word aggressive – 'energetic'. From time to time he behaved like a savage. Great bodyguard and the perfect man to play B.A.! Because of his interest in girls Frederik wanted to be Face.
PRT: For the people out there who haven't heard you guys yet… if The Sedan Vault was the lovechild of two other bands, which bands would have had sex and which position were you conceived in?
TSV: Don't be such an orthodox! It would take an all-male-threesome to get knocked up with a TSV-baby.  The centerpiece would be Gorilla Damon Albarn, flat on his back with his head resting on a Korg MS20. The cock of Dead Weather Jack White would be in Damon's hand and Battles/Helmet-drummer John Stanier up his *ss. Sexy time tempo at 140 Beats Per Minute.  That would make an interesting gene pool!
PRT: The three of you are brothers. Do you think that makes working with each other easier because you can say whatever you think or does it make things harder?
TSV: Due to a background of heavily beating each other up day after day, words don't hurt that much. It feels like we can say anything without having to be politically correct all the time. That's a good thing when writing music. Gives us the possibility to focus on the song only. You should ask the Van Connor-brothers of Screaming Trees! 
PRT: You have a new album coming out in two weeks called "Minutes To Midnight", your first in six years. I've heard of taking it easy but this is stretching the concept a little. What took you so long?
TSV: It didn't feel like a long time because we never stopped working: in the summer of 2009 we played our album Vanguard on Pukkelpop (BE) and Lowlands (NL). The year after, we rewrote the lyrics in an electronic short-story (www.thesedanvault.com/vanguard) and wrote a soundtrack for that.  We got to screen it in the University of Leuven, after a reading of David Mitchell, writer of Cloud Atlas – a big honor for geeks like us. In 2011 we toured Germany, Switzerland and Austria and got an album release in Greece. By that time we started writing new songs. In 2012 Richard Woodcraft finetuned them and in 2013 recorded them. In the summer of 2013 we premiered our new songs on Pukkelpop and were asked to arrange a song about the city of Leuven in WWI.
We are a DIY-band to the letter! And that takes time: we own the label San Khapaw and do everything from contacting producers, t-shirt-designers and photographers, to writing to magazines for interviews etc. We pay every cent and that makes us both our own boss and slave. Maybe the nicest thing about being DIY is that many people try to support you any way they can. A hotshot Grammy owner like Richard Woodcraft is a bit out of our money league but because he believes in our project, he makes things work out. There's also a London label guy and a Belgian blogger who went out of their way to send our music to their contacts, resulting in some international attention. All very much appreciated. We couldn't do it without their support!
PRT: Compared to your previous releases (which were concept albums), the new album seems to be more about bringing across a certain atmosphere rather than telling a story. The songs on it are poppier and more straight-forward as well. Was it a conscious decision to make a more accessible album this time around?
TSV: It seems pointless for us to make a second Vanguard. On the new record, we have let tunes go their own way. If a track didn't want to go 'off road', like Chase and Run for example, that was okay for us. Our songs have grown up, just like we have: nothing is mandatory, everything is optional!
PRT: The title of the album suits the atmosphere of the songs well. Does it also mean that you guys are no fun in the morning?
TSV: On the contrary, 'sunshine' is our middle name!  We use music to express our darker side but that does not mean it is music for the grumpy generation.  We'd rather get on their nerves with our energetic, loud & dark music!
PRT: "Minutes To Midnight" was produced, recorded and mixed by Richard Woodcraft, who has previously worked with the likes of the Arctic Monkeys, Radiohead,… How did you get in touch with him?
TSV: We are big fans of Richard's work. One day we decided to send him an email with some of our preproduction recordings. A couple of hours later he contacted us about the songs. He liked our ideas and already had an image of how it should end up sounding. We kept on sending him new songs, did a couple of Skype sessions, he came over to our place in Leuven and one year later we were at RAK Studios recording the lot.
PRT: What was it like working with him in the RAK Studios in London?
TSV: For us it was the first time we recorded abroad. We felt like schoolboys! RAK is an inspiring place to work at. It was founded by British producer Mickie Most in the late seventies. Over the past RAK operated as a record company, publisher, management and studio working with artists like David Bowie, Pink Floyd, Michael Jackson and more recently Adele, Placebo and Editors. Perfect place for The Vault to be at! We had the times of our lives. They've got several studios with a lot of old gear. We played Star Trek behind those '70's mixing desks. No spilling no orange juice anywhere!  And no crumbling cookies either! We swear!
PRT: What are some of the most important things you learned from him?
TSV: I remember sitting at the attic listening to 'Streetwalkers' with Richard.  The first chorus was a classic Sedan Vault chorus (played in a different way than the second chorus).  Richard said: "Why don't you just play the first chorus the same way as the second one? It's a strong chorus!". While we tend to look for the most adventurous way of playing a song, Richard stated out that we should repeat the best parts of the song. Less confusion for listeners.
PRT: My favorite song has to be "Drunk Dialing"… can you tell me a bit more about that one?
TSV: Ever gotten a phone call where you wonder: is the other person half asleep or just plain drunk? Talking trash and blurting out stuff they wouldn't normally dare to say. That's what Rudi sings about. The music underneath it translates what the sedan vault is about: energy, drive, hooks and good melodies. And a fat *ss upbeat drum groove!
PRT: Do you have a personal favorite on the album? If so, why?
TSV: One of our favorite songs on the album is "From Mick to Jagger".  It was the last song we wrote and wasn't entirely finished when we hit the studio.  In the studio, all of the pieces came together. It's a melancholic song; an open letter to Mick Jagger. We love the open bridge at the end of the song. We used two drumkits to give it extra room. It is not a classic TSV-song. Instead of adrenaline, energy and uptempo drumbeats From Mick to Jagger has this underlying groove. We love it! 
PRT: You started out playing Guns N Roses covers. What do people have to do at a show to convince you to rip into "Sweet Child Of Mine"?
TSV: Have you even listened to our album? Every song is a reversed Guns N' Roses chorus. Sweet Child O' Mine was on our first record. We are in the Use Your Illusion era now. Catch up will you?!
PRT: What's up next for The Sedan Vault?
TSV: Can't wait to play the new album live! It's always fun to see first impressions on concerts. Good ones, bad ones. Bring it on!  We will also remix a song for Stoomboot, an upcoming talent from Leuven. Can't wait to let him hear our fuck up version!