Features
on
Thursday, December 15, 2016 - 11:00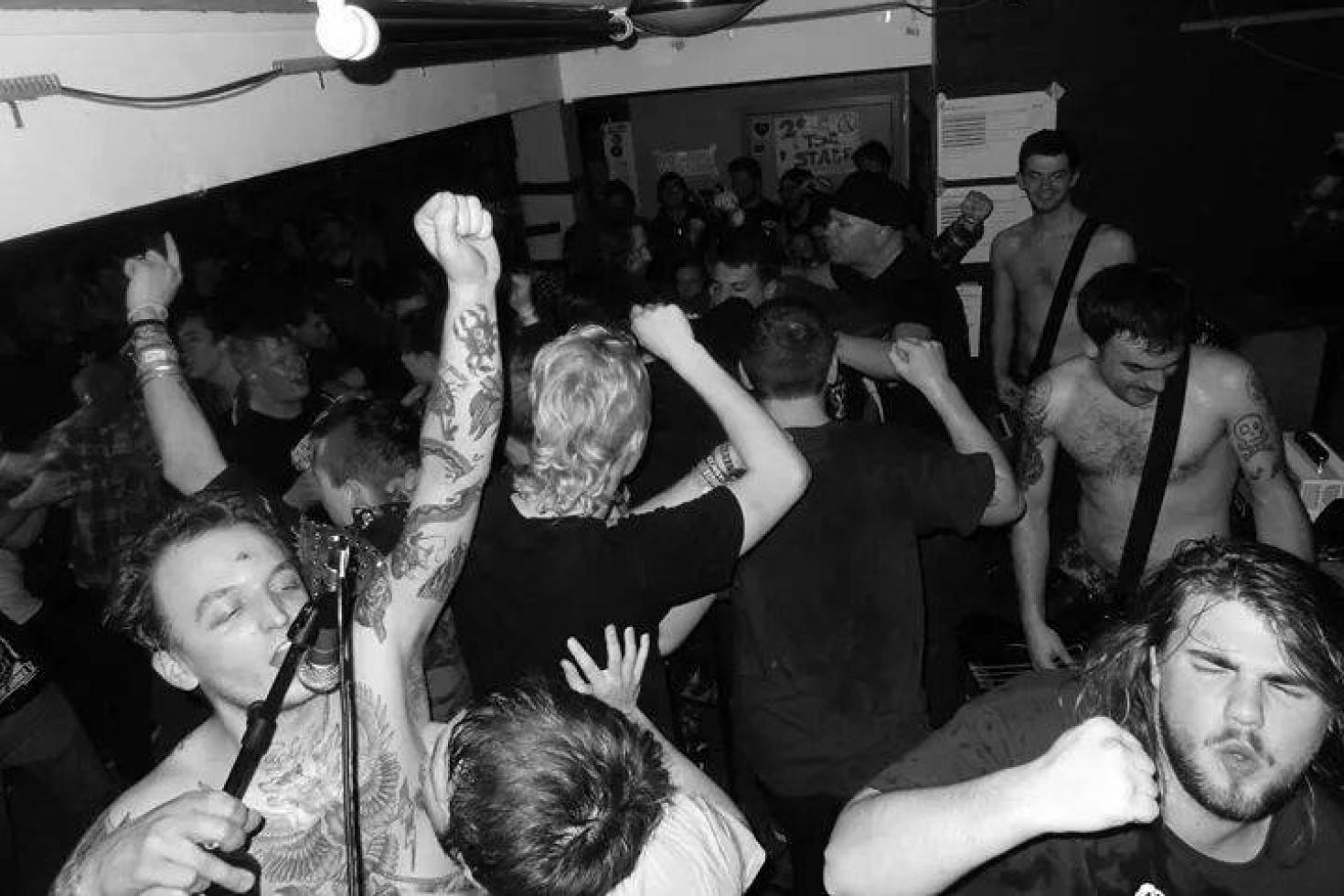 Did you know that pigeon racing was an event at the Olympics in 1900? It's true. Anyway, this noble sport inspired a Belgian four-piece to name themselves The Priceduifkes. Roughly translated: the prize pigeons. This was about 10 years ago. And they've been flying high ever since. Now, finally, loyal fans and bird enthusiasts can rejoice over "Goathorse", the band's brand new record (out Feb 25 via Monster Zero Records, Bearded Punk Records and Rad Girlfriend Records. And while we are talking about February 25th, make sure to go the band's release show at JH Kroenkel in Nijlen (BE) with The Accelerators, The Dutch Rudders, Coma Commander and New Trash. We sat down with bassist/vocalist Ricky D to talk about pigeons. Oh, and make sure to check out the premiere of their video for the song "Full Clown", directed by Jordi Ostir!
PRT: So, finally there is a new Priceduifkes record. What's been going on since you last released the "Why Not" EP?
Ricky D: Like every time after we release something, we just stop making new music. Just one of our many bad habits ... We did go on some really cool tours though and released a split with Direct Hit! on Red Scare Records.
PRT: Why the name "Goathorse"?
Ricky D: At first the record was gonna be called 'Merry Goat', but when Siebe (Le Duc) sent us his first idea for the cover we came up with Goathorse. It makes no sense, but there's a pun. Exactly the way we like it.
PRT: What should random punk rock fans expect when they first spin the new record? If they haven't heard the Priceduifkes before, of course… 
Ricky D: A lot of energy and a good mix of Ramones-style pop punk with fast and edgy punk rock 'n' roll … Something like that?
PRT: What should an unassuming punk rock band like you expect when they release an album like "Goathorse"? Fame, fortune, cheap prostitutes and bath salts in a sleazy motel, …?
Ricky D: I just hope our fans like the new album, and that we can continue to play cool shows and festivals all over the world. Of course it would be perfect if we get some new people siked for our band with the new tunes.
PRT: News about the new album was a bit of a surprise with the sudden announcement of a release show. Why did you guys keep it a secret, instead of exploiting social media and teasing the bejeezes out of it to hype things up?
Ricky D: There's actually a song about our absence on social media on this record. Also, we're just very lazy and we're playing shows all the time, so we just take it as it comes. At some point we were like "DANG BRO! It's been so fucking long since we released something!" so we worked out all of the ideas we had lying around, some of which were even from before "Can't Lose", I think. Next, we booked some studio time and spent another year goofing around before finally finishing it and releasing it.
PRT: If you had to name your three favorite songs on the record, which ones would you pick and why?
Ricky D: I always thought 'Miracle Man' and 'Full Clown' were the best songs we ever wrote. But after spending so much time listening to all of the songs and hearing them become what they are, I think I pick 'Bad Dreams Pt. 2', 'Greetings From Angerville' and 'It's Raining Shit (Hallelujah)'. Tough choice, though. Maybe still 'Full Clown' after all?
PRT: How come you never released anything with more than 10 songs on it before this one?
Ricky D: Actually, only 10 songs are "previously unreleased". It's because it takes us ages to write a song really. If we had to write 5 more, you'd have to wait another year at least!
PRT: Memory lane time: your first release, the 'Demo Sessions' EP, dates back to 2006. Play it now … and tell us what you think.
Ricky D: Alright! First of all I found out my copy has "THE PRICEDUIFKES - YOUNG AND HEARTLESS" written on it. I was a bit surprised about the sound, it doesn't sound too bad, knowing that we recorded and mixed all 7 songs in two days. Also, it was the first time Mambo was in a studio and my first time recording vocals. The songs aren't too bad, but they were the first ones I ever wrote, so they sound unfinished. I kinda hate my vocals on it, but I was never meant to be the singer in the first place and still getting into it. Fun demo by three 18 year-old punk rock enthusiasts! Not half as good as the Crackups demo, though.
PRT: It's rather safe to say that bands like Nobodys, The Queers, Ramones and Screeching Weasel all played a major part in The Priceduifkes' sound and history, right? Are there any more – possibly more surprising – influences?
Ricky D: I really wanted to sound like all of those bands you mention for a really long period. Me being the major songwriter back then, I guess that's probably obvious, even though we never nailed it 100%. One of the reasons for that is that Senne used to be  - and probably still is - a big fan of Metallica, Iron Maiden, Motörhead and Manowar. And Mambo to this day is a huge Blink 182 fanboy. Apart from that we grew up with oldschool hardcore, Minor Threat for example is a band we all adore. When Tony joined us, bands like the Copyrights and Dillinger 4 were added to the list of influences.
PRT: On one hand, you never really got a lot of credit from 'bigger' punk festivals, one early slot at Groezrock aside. On the other hand, you seem to have developed a certain cult status in certain parts of the world. How can you explain that?
Ricky D: I don't know, we've just never played a very popular style of punk rock/pop-punk. I still think we don't fit in one subgenre, it's a bit of everything, but somehow a select crowd really loves what we do.
PRT: Isn't it weird to headline a festival in Austria in front of a few hundred kids going insane, and play a show the next week for … well … maybe one tenth of that crowd in your own home country?
Ricky D: The fest in Austria is called the Monster Zero Mash, after the label that's hosting it. It's mostly people from all over Europe we met over the years and who don't see us that often. Plus there's always a bunch of Belgians supporting the hell out of us. It's awesome but not nearly as crazy as certain Belgian shows. Crossbonefest for example. For every insane show we play, there's like 10 quiet ones. That's also cause we play all the time I think.
PRT: Gigging all the time, what's the weirdest gig-moment in Priceduifkes history?
Ricky D: There's been a lot of weird ones. One time we played an outdoor stage in Italy. Terrible turnout and a GOA/rave/druggie after party. No sleeping place so we had to sleep on the stage (outdoor!) with thousands of mosquitos eating us alive. Or that time we played in a school gym in a tiny town in Scotland. Private parties always rule too, when the family of the birthday boy is checking you from their seats and it's clearly not what they'd expected the band to be.
PRT: Belgium, being a small country, doesn't offer a whole lot of gigging-opportunities. Not to be derogatory, but don't you feel like you've played every shithole in the country at least twice by now? Do you get tired of it, sometimes? Or how do you cope?
Ricky D: There's still a lot of shitholes to go! Every gig, every venue, every festival has a story to it and we're still writing new stories every week. I'm super thankful for that.
PRT: What's your greatest achievement in Priceduifkes history?
Ricky D: You know, we've toured a lot and saw the world with this band which is obviously great. But I know we have meant a lot in a bunch of people's lives, and that's something I'm way more proud of than any tour or record we did. It's hard to explain, but when I see people getting our logo as their first tattoo, or when this kid tells me how one of my dumb lyrics helped him get through a specific phase in his life... You never get used to that shit!
PRT: Last year, you played The Fest in Gainesville. How was that experience for a band from Belgium?
Ricky D: Fest is no doubt the best musical event I've ever visited, and it was surreal to be a part of it as a band for sure. It's hard to stand out though, since there are so many amazing bands playing all the time, in so many different venues. Playing on Sunday, day 5 of the best party in your life, wasn't the best timing either, but we had a great time and a good show nonetheless!
PRT: It wasn't your first rodeo in the US, having toured with Direct Hit! and Masked Intruder in 2014. Did anything come from that tour, except for some good gigs and better memories?
Ricky D: Good friends, massive hangovers and rocketing merch sales!
PRT: Any plans to do that again, with a new release coming out?
Ricky D: We still have to decide where to tour next year, but the US is definitely an option. Maybe around Fest, we'll see! Rad Girlfriend Records is releasing the album in the States so I guess it would only make sense to go back soon.
PRT: Again, not to be derogatory, and you've probably been asked this before … but do you think your name has held you back in some parts of the world? If you were to change it now, what would it be?
Ricky D: We've thought about changing it so many times. Only last week I heard someone say he didn't check us out for years because of the dumb name. It's only after walking in during our set at Crossbonefest, he realized we were actually a pretty cool band. For non-Dutch speakers it's even worse, of course. On the other hand people might remember that Belgian band with the weird name? As for a new name, ehm, no idea. We named our other band Prince Beastly. That could've been it?
PRT: If we'd actually release all of you "prize pigeons" in Barcelona now, which one of you would make his way back first and why?
Ricky D: Senne is a marathon runner, travels all the time and is supercompetitive so it would be hard to beat him, I guess. Mambo has surprised us before though, and Tony will not let anyone else win without a fight. I might just hang out in Barcelona for a little while, no rush there.