Features
on
Friday, June 26, 2015 - 19:49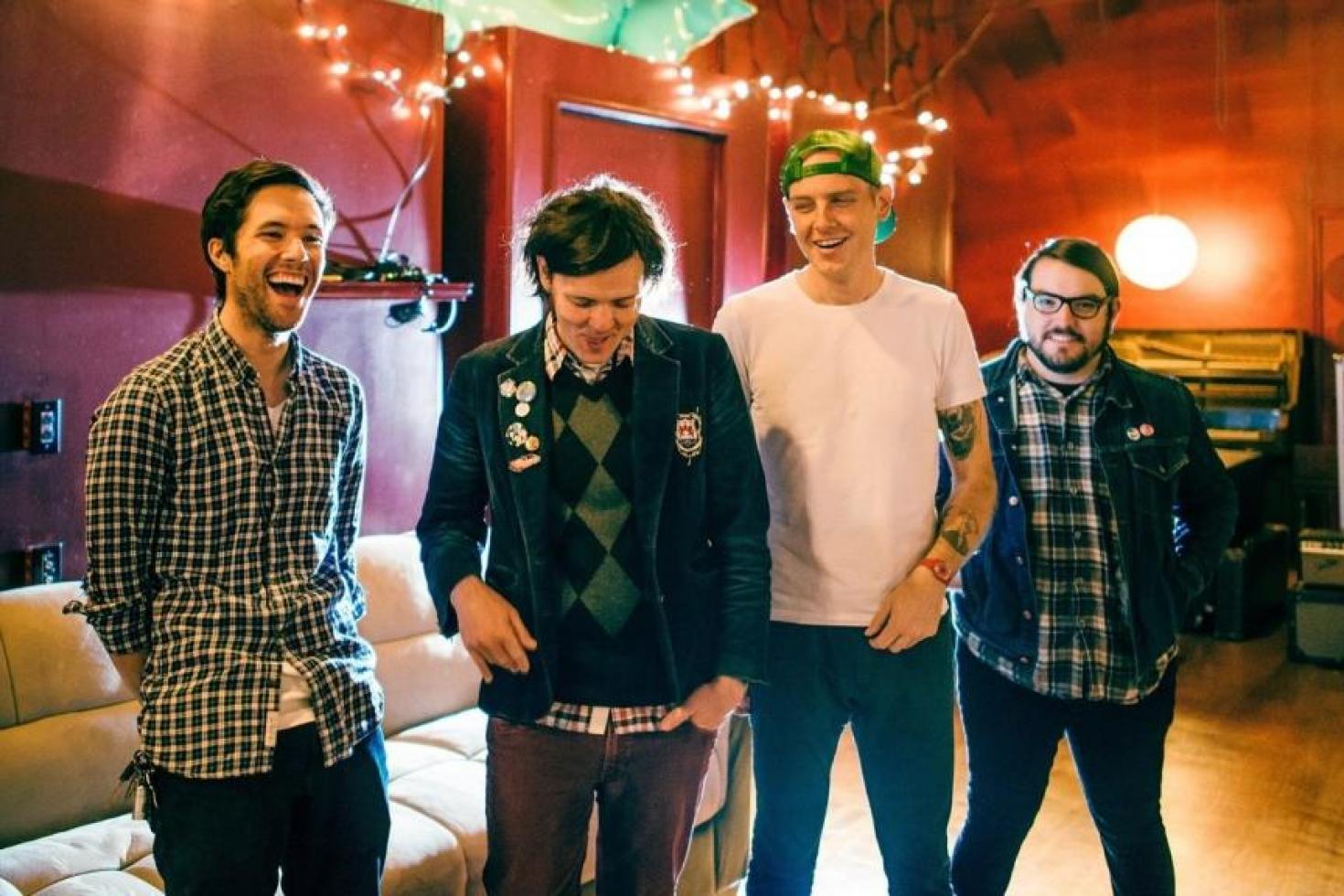 In case you haven't heard Beach Slang's EPs yet, you are missing out on the best new band around. Not one of the best. The best. They are now working on their full-length debut, which will come out on Polyvinyl Records. But before they went in the studio, they came over for their first European tour during which we had a chance to catch up with them at this year's Groezrock.
PRT: Hi guys! You've already taken the stage here today at Groezrock 2015. How was it?
It was fantastic, it was a fucking blast!
PRT: And how has the European response been in general?
Euh… Well… We're speechless as you can see! We've been battling it out to see who can describe it the best and we're failing miserably. Because it so exceeded what we thought it would be. We genuinely thought we'd be playing for our tour manager and the people who helped us load our gear onto the stage. And it wasn't that at all. It was totally surreal.
Like today, we sound checked and maybe five people came in. Then we stepped off, came back on and there was literally an ocean of people there!
PRT: Well, that's Groezrock for you! First of all, I want to congratulate you on both the EP's that you've released.
Thanks!
PRT: A lot of copies have been sold in a relatively short period of time. How have you experienced that rather quick 'rise to fame'?
We never expected any of it to happen. We all just got together and played music because we enjoyed each other's company and had similar interests in that direction. I guess when something like that catches on, you just hang on for the ride and enjoy it.
Yeah, it's was trippy, right? When we started the band, we just got in a room and we just wanted to make songs, 'cause we were like what else can we do in life, right? And then I moved to California for a little bit, because then we were still figuring out what we were doing,… And then people started to actually care about the thing we were doing. And I was like: "Wow, guys! I'm moving back home!" (laughs) "We're gonna be a real band!" And we haven't stopped since then.
We have this thing where humility guides the whole Beach Slang ship. I don't want to say we never expect much, but we're sincere in where we keep our expectations. We constantly keep being knocked off our block by the things that are happening to us. And that's cool. Every day to us is kind of like Christmas morning. We don't see it coming. It's like rock 'n roll ninjitsu or something. We're just hoping it keeps going this way.
PRT: That actually leads up to my following question. We saw the video made from the Tiny Desk Concert you (James) did for NPR. They described you as being somewhat euphoric, a little bit nervous… And you all come across so happy. Is that a good description of who you are as a band?
Yeah, I think we all teared up and cried at that. (laughs)
(James) Yeah, which honestly meant the world to me. That's the thing right. Everybody plays an instrument, but the question is can you find the four guys that are on the same plane? We're all just sort of sappy romantics. Whatever it is, these four stars are aligned really perfectly. Everything we write and say and do… there's a true sincerity to it. We're not trying to say things like: "This'll help sell more records." This is who we are and if you want to come along on this trip, you're very welcome! And if we're not your thing, just go and find the thing that is your thing. You live once, so enjoy the hell out of it! So, if we're not your thing? Cool. But if we are, well then we're going to make this fucking amazing.
PRT: Cool! That's a rare thing to find. Now, you sound and look very happy, but when you look at the titles of the EP's (Who would ever want anything so broken & Cheap thrills on a dead end street), they sound rather dark, but the message itself isn't that dark, right? What's the message you're trying to convey?
Yeah, well the place I write from is that I want to acknowledge the knock-down, but I also want to celebrate the get-up. I don't want us to forget or be embarrassed that bad junk happens to human beings, but there's a real beauty and bravery in washing that away. We should be able to say: "Okay, this happened. Now I'm gonna learn from it and I'm gonna be better for it." If we wrap this sadness up in a kind of euphoric, even cathartic thing that can't be denied, all of a sudden that sadness doesn't even seem so bad.
PRT: Too late to die young is on a compilation called Strength in weakness and it's on there with a number of cool bands and it even serves a good cause. Could you tell us about that?
So, Eric and Emily, the two people who run Lame-O Records wanted to do a charity benefit. And found that cause (the battle against cerebral palsy) to be the most worthy. And they picked bands that they liked personally, so it was kind of like friends doing a thing together and trying to affect some positive change. And I think it worked. They sold all of them! They eventually turned out like a fourteen thousand dollar check to the organization. They didn't even know that they were getting this check so when they showed up with the money those people were completely surprised.
Yeah, and JP kept calling Jake Jeff the entire time.
(JP): I did! I'm not the best with names. I'm great with faces though.
(James): Yeah, but he loves you even more for it now.
(JP): I know! I still call him Jeff from time to time… (laughs)
PRT: Okay, well… At the end of the day I'll come and ask you what my name is. And then we'll see…
(JP): Helen, right?!
PRT: No!!! It's Hanne! Well, let's just presume you pronounced it wrong…
(JP): Yeah, that's it! No, I'm sorry. But I'll never forget your face!
PRT: Well, we'll see about that, haha! Maybe, to avoid any more awkwardness, we should go back to the music… you've just signed with Polyvinyl Records through which you're planning on releasing a full album. What should we expect from that?
I think it's going to feel like the next thing you'd expect from us after these two EP's. Those were short little messages, some short stories and now we get to write our novel. The messaging and the approach are going to be the same, same engineer, same studio, same way we always do it, in no more than two takes. We just want it to be sloppy. No that's not the right word, but honest.
And you know, if people would've been like: "Those first two EP's were garbage." Then we'd say okay guys, let's completely retool the formula. But something seems to be working for us so we don't want to create a rock opera or anything. No, we just want to do the Beach Slang thing. I hope people are going to say; "Ah, this is really what I wanted them to make."
PRT: Well, I for one certainly hope so!
Ahh, shit… We're gonna blow it now… (laughs)
PRT: Haha, no, I'm sure it'll be awesome! Thanks so much for doing this interview with us!
Thank you!