Features
Luca Brasi vs. Apologies, I Have None
on
Thursday, March 24, 2016 - 09:11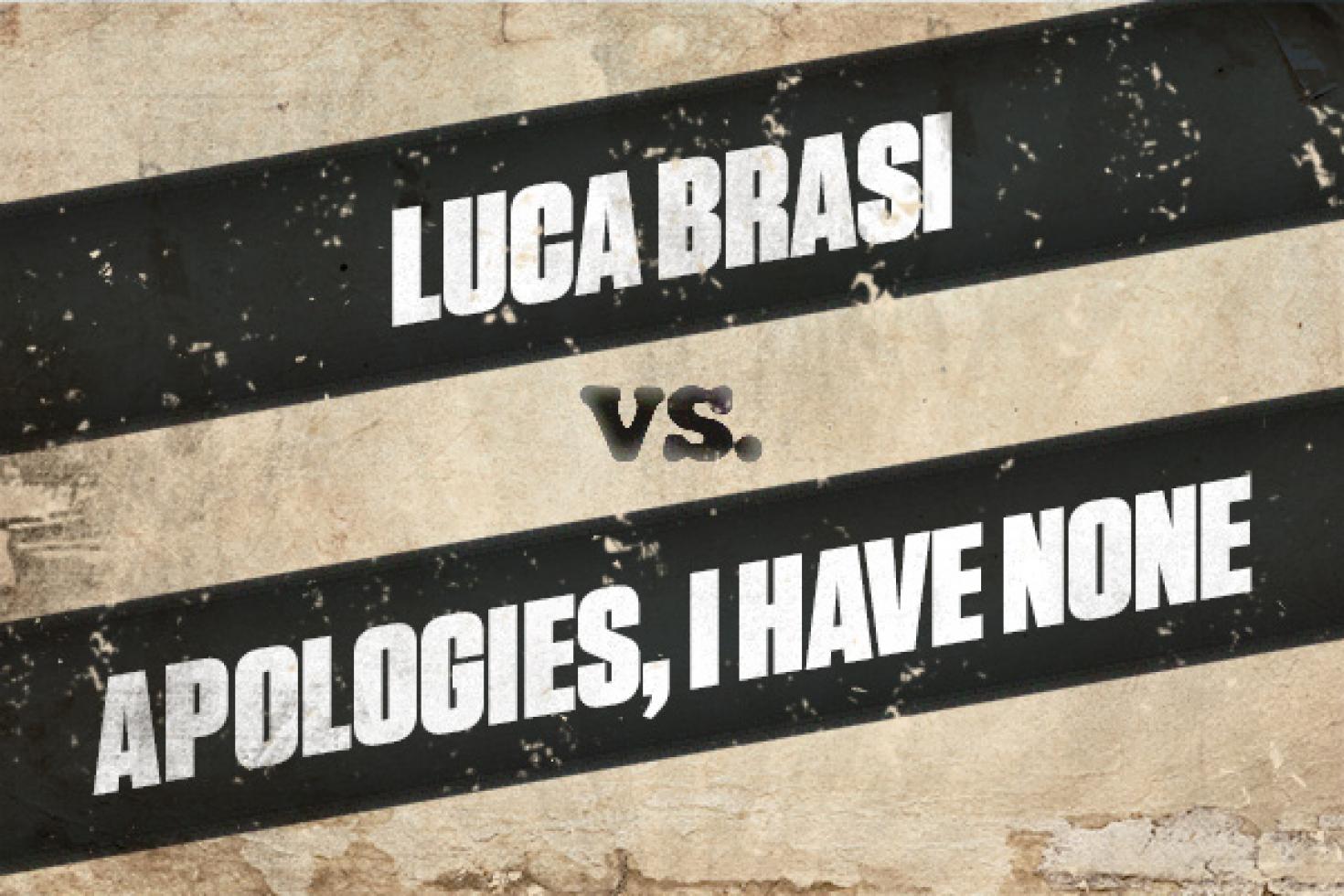 You might have already heard that UK's Apologies, I Have None and Australia's Luca Brasi are teaming up for a split? Both bands contributed two brand spankin' new songs and the split will come out via Uncle-M and Holy Roar Records on April 22nd. We figured this would be the perfect time to ask both bands a couple of questions. Well, actually we were so lazy we even let them come up with the questions for each other. Enjoy! (photo credit : Apologies, I Have None - Per Schorn / Luca Brasi - Ali Davis)
ROUND 1 : Luca Brasi vs. Apologies, I Have None
LUCA BRASI: Where the bloody hell have you boys been? It's been a while between drinks, from social media it seems as though you've been flat out cooking this new stuff up for quite a while now?
APOLOGIES, I HAVE NONE: That is exactly what we have been doing. Stuck in the kitchen for the past two years baking up a sticky treat! It's been pretty grueling as we have been constantly re-recording things and changing tack every so often but I think we've finished up with a stronger record because of it.
LB: What can we expect sonically with the record? A mix of old and new? Or something else entirely
AIHN: It is kind of a mix between old and new. I think it is somewhere between 'London' and 'Black Everything' in terms of the overall tone of the record but pushing the range of banging/heavy to soft and melodic a bit more in both directions than either of those previous releases (if that makes sense?). There's definitely stuff with the vocals and also guitar effects wise that we haven't ever done before.
LB: How do you guys feel about the scene in the UK for punk bands in today's climate?
AIHN: There's definitely some rad bands killing it out of there right now. I think it's a pretty exciting time for punk bands in the UK. There has always been a swathe of good bands and I think there always will but in the last few years there seems to be quite a growth in the number of really really great bands. Bands like Gnarwolves, Great Cynics, Muncie Girls, Creeper and too many more to list that just seem to get better with each release.
LB: Do you think it's time Chris Cowburn (The Smith St Band) cut his hair? or long and strong all the way?
AIHN: ABSOLUTELY NOT! Definitely long and strong all the way. I believe a big part of TSSB's success is tied to the length of Chris' hair. It would be foolish for him to cut it.
LB: We're super stoked to be putting this split out with you legends through Holy Roar and Uncle M. What's your favorite band (past or present on both labels?
AIHN: Favorite bands would be Muncie Girls on Uncle M and Svalbard on Holy Roar. Muncies have only just released their debut album and it's amazing. We've been playing with them for a few years and they just get better each time. Svalbard are pretty heavy with aggressive, desperate vocals and brilliant huge sounding ambient lead type stuff. Vast sounding.
LB: When we get to the UK what's one thing we gotta make sure we sample? Hearing good things about White Lightning
AIHN: Yeah, White Lightning is a good place to start if you want to get into the swing of things in the UK. I would recommend a slight variation on that using another beloved white cider called White Ace. Mine and former Apologies dude Dan's own concoction which consists of White Ace, white wine and pineapple juice. We call it Wineapple Pace. The pineapple juice for fun and the wine adds a touch of class.
ROUND 2 : Apologies, I Have None vs. Luca Brasi
APOLOGIES, I HAVE NONE: You've recently finished up a sold out headline tour, this is amazing and shows that people are obviously pretty stoked right now about the band. Have you felt this momentum growing slowly over the past few years or has it ramped up quickly with the release of the first few songs from your new record? If the latter, why do you think this is?
LUCA BRASI: Man we're so stoked, it definitely feels like it began to grow over the past few years but reached a higher point with the release of aeroplane in particular. Support from the radio here was a big thing for us too, for this record in particular things are definitely heating up in terms of excitement from people (us too).
AIHN: The video for 'Aeroplanes' was filmed at a festival organised by yourselves. The intro mentions it's the 2nd time you've held the event. Do you see yourselves continuing to do it each year and growing the festival?
LB: I think that we will keep doing it. The year before was basically our close mates bands and us, just a crack at making something happen and we were blown away by the support it received. So with the latest one we went up about 5 levels in terms of bands. The response was unreal, more than we could have hoped for, we're stoked to make something happen and stoked by the support it received.
AIHN: Something I always wonder about other bands is what their process is for writing new music. Do you have a general practice you follow? Is it mostly lead by a single person in the band? Do you struggle writing lyrics you're happy with? Do you ever feel any external pressure when writing songs? Etc.
LB: Nowadays there is mainly two driving forces musically, Tom probably still writes the bulk of material, but it is now a collaborative practice to get it happening. Tyler is still 100% of lyrics but once again it now comes to big demoing process where we mainly collaborate. Everything else is jammed out at rehearsal. We try not to follow a practice, little ideas are shared and often become bigger ones, then full songs.
AIHN: Your new record was mixed by Brian McTernan. He's worked with loads of bands on so many great albums. Is there one specific band or album that he's produced that has particularly influenced you as a band?
LB: I think basically everything he has done with Hot Water Music would be our collaborative influence. Those records are just killer, totally captured them in exactly the right way for those particular records, just so good.
AIHN: Are we going to tour together sometime?!
LB: YES PLEASE, IMMEDIATELY.
AIHN: Under what (if any) circumstances would an Australian give a Castlemaine XXXX for something else?
LB: If it's a beer trade it would have to be for one of those beer with lime and salt things that are the rage here currently, so bad. If it was a trade for something else, it might be dog turd? To be honest they actually aren't too bad, super plain and boring, they're mid strength, Pat calls them driving beers haha.
AIHN: Obviously, us boys in Apologies are very wise to other cultures and their traditions, but for our less learned UK and European sisters and brothers, could you please explain what a shoey is?
LB: You boys would have learnt pretty quick when you were down here I reckon, being around the Smith St lot. A shoey is where you pour whatever beverage you are currently drinking into your footwear and skoll it!