Features
on
Tuesday, May 17, 2016 - 22:12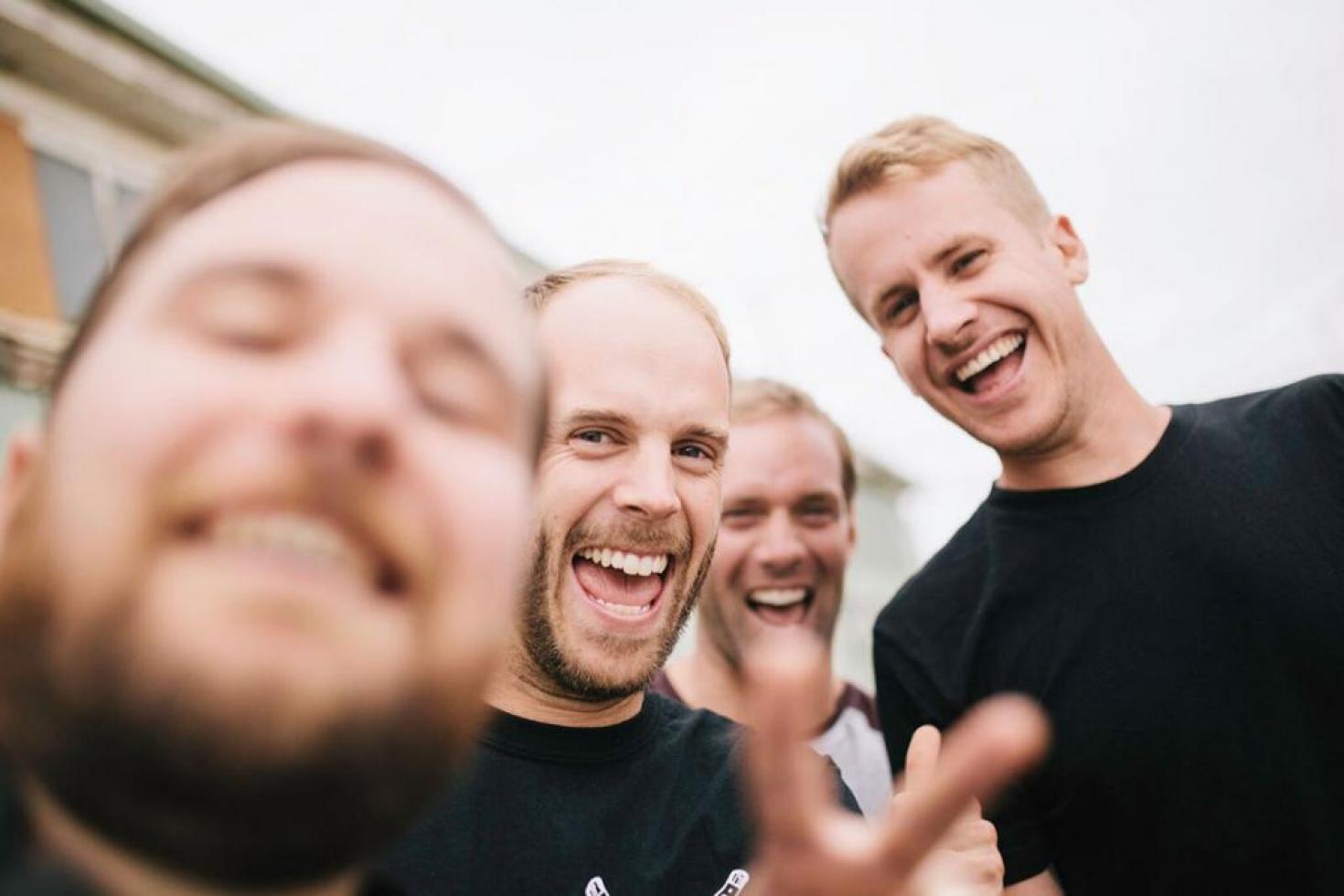 Luca Brasi is an Australian punk rock band who describe themselves with the words 'empty bottles, full hearts and no regrets'. They have just released "If This Is All We're Going To Be" via Poison City Records, their third and most accomplished album to date. Here's an interview we did with bassist/vocalist Tyler Richardson about the new album, Joseph Heller and being from Australia.
PRT: First things first… when Apologies, I Have None recently asked you some questions for my site, you explained what a shoey is. Why the hell would you want to pour a perfectly good drink in your footwear and then go back to wearing said footwear afterwards?
Tyler: Haha, mate the shoey has become a phenomenon in Australia, our mate showed us them before we were a band. They kind of took off when mainland bands would come to Tassie, ie Smith Street boys whom I reckon showed Apologies, and they got pretty popular throughout Australia. We're all retired from shoeys these days, it was a good ride while it lasted.
PRT: Congrats on the new album! Compared to your other releases, I feel "If This Is All We're Going To Be" really captures who you are as a band. You can tell a lot of attention has been paid to all the details, everything sounds great and the album as a whole is very cohesive. Did it all go smoothly or was there a lot of blood, sweat and tears involved?
Tyler: Thanks so much mate! We're pretty stoked with the result, as you said we definitely focused on picking this one apart and putting it back together exactly how we wanted. It was a pretty big process to be honest, some of it was smooth and went kinda easily but other parts were a total bastard to put together. We got there in the end and we're so blown away by the response it has received.
PRT: If you would have to complete the album title, what would come next? If This Is All We're Going To Be, then…?
Tyler: I have developed a taste for defeat, that's the line that comes next in the last track. But now I'd probably say "well it doesn't look like it is the end so much now!".
PRT: I read somewhere the album was at some point going to be a concept album around Joseph Heller's Catch 22. At which point did you decide that probably wasn't the best idea you ever had?
Tyler: Man, I honestly thought it'd be such a sick idea to do that! I am completely obsessed with the book and Heller. I got through maybe half a song and pulled my bloody hair out and decided it'd be a disastrous path to go along, if I wanted to stay sane anyway. That half song was enough for me to realize I'm not Ben Nichols.
PRT: Have you ever found yourself in a catch 22 with Luca Brasi?
Tyler: There's been a bunch of moments that have kinda been hard to navigate, not exactly a catch 22 but definitely hard to figure out what to do. A lot of that comes to the age old band/work issue, holding a job and touring and working this much on a band is a total disaster. Toeing the line of touring a lot and still working/studying is something we've managed up until now, but it's so hard.
PRT: It seems to me like the last couple of years there has been a rise in the amount of solid Australian punk and hardcore bands. Are there really a lot more bands or are they just getting more attention outside of Australia?
Tyler: I think there's definitely a lot more attention, the internet is a good thing at times, and that's definitely one of them. We're lucky enough that when bands break outside of Aus they usually rep Aussie bands pretty hard overseas!
PRT: As for you, you're not just from Australia. You're from Tasmania, which even for Australian journalists seems to be something out of the ordinary as it is being mentioned in pretty much every article ever written about you. Why is that?
Tyler: I think because there's not as strong a developed scene as the other states such as Melbourne and Sydney. This state is literally a tiny island near Antarctica and it's not as common for bands to come out of here, especially on the international scene. It is a great place to play though, on the rare occasions we play here now, and it has a rep for being wild and remote.
PRT: Do you think Australian bands start at a disadvantage? I can imagine that touring in a country that big with not a lot of stops along the way can be difficult. And going on tour in Europe or the US must cost you a shitload of money.
Tyler: In that way I definitely do think so, this country is so big that it's not really feasible to pack up and drive it to play shows and have worthwhile shows along the way, as in the manner of Europe for example. In saying that though, we are really lucky to have cities like Melbourne where the music scene is literally a part of the cities culture. The other point is the distance and cost to go anywhere outside of here, it's pretty gnarly and our dollar sucks at the moment.
PRT: Speaking of touring Europe, are there any plans? Or what's up next for Luca Brasi?
Tyler: I wish I could spill the beans, we'll be there later this year! Other than that, we leave for tour in two weeks with The Smith Street Band, then back out on our album tour with Moose Blood, then we head to Europe and the UK. It's kind of like our year is starting now, the response to this record has just been mind-blowing and we're still trying to deal with the fallout!