Album Reviews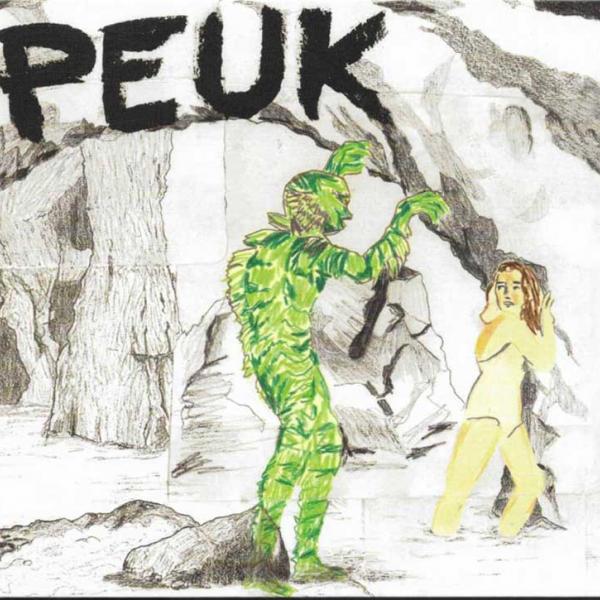 on
Wednesday, January 30, 2019 - 20:12
- by Tom Dumarey
Peuk likes to keep things simple. Which is why there's just three of them. Why need more when you can make plenty of noise between the three of you. There's vocalist/guitarist Nele Janssen, bassist Jacques Willems (Heisa) and rounding out the line-up is drummer Dave Schroyen. Who you might know from Fence. Or Birds That Change Colour. Or Millionaire. Or Creature With The Atom Brain. Or any other of the million bands he has played in.
This new Belgian band just released their debut album and it comes with enough glorious noise to take you right back to the nineties. Sludgepop is what they call it and who am I to argue. They go from soft to full-blown hurricane in the blink of an eye and the way they speed up and slow down will remind you of being stuck in a traffic jam. Blast cuts like opener 'Gargamel' and the headbutt that is 'Drunk'n Caravan' loud enough though and you will find they are a great way to get rid off all that pent up frustration. Just remember to play 'Faceless Doll In Voodoo' equally loud. Not only to convince the person in the next car over that you are in fact not a crazy person but one of impeccable taste. And also because it's one of the album's absolute highlights.
If you ever had a soft spot for Babes In Toyland, Sonic Youth, Nirvana, Bikini Kill or The Breeders, you will find there is a helluva lot to enjoy on Peuk's self-titled debut. Yes, it has been done before. But when it's done in a way as jagged, dirty and slightly unhinged as here, you can hardly see that as a bad thing.
Track listing:
Gargamel
Magpie
Cave Person
Skin It
Endless Spark
Faceless Doll In Voodoo
Drunk'n Caravan
Manipulated Rats
Koppijn
Dieduwa
Hangman