Album Reviews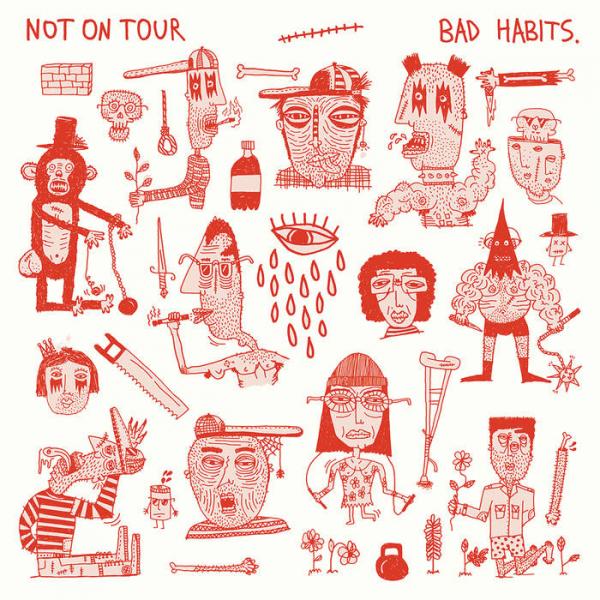 on
Sunday, June 21, 2015 - 14:53
Not On Tour is a 4-piece female fronted band which plays straightforward melodic punkrock.  And that's damned cool, they bring a breath of fresh air  in the punkrock landscape nowadays, and it's coming from the East (Tel Aviv, Israel). Not On Tour's third full  album "Bad Habits" contains (again) 16 short but intensive songs and was released in June 2015.
Not on Tour set the  bar high. Their previous album "All this time" (2012) was a masterpiece. I remember, listening to it for the first time felt like someone grabbed me by the balls, and did not let go for a few minutes. Did it hurt? No way, you just stop breathing  for a while and then you let go and feel this warm glow overwhelm your body. And the mind starts screaming, "More, more, more " and the album went on endless repeat for a few months.
Listening to "Bad Habits"  gives you a  slightly different feeling. The 16  outstanding songs on the album  take a bit more time to discover.  It was like taking a ride on a big endless roller coaster, not knowing if it would go upside down, when it would stop or if I could ever get out. But the more I listened to ... the more I liked "Bad Habits". I discovered new loopings, smart turns and fantastic views. And this how good albums  should be: grabbing you by the balls at once or getting better and better each time you listen. 
It wouldn't make sense to discuss all 16 songs on the album. Each one of them is worth being on this album. The lyrics are  about criticism and self-criticism, about love and politics, about life and society. Guitars and drums fit together in an excellent way and are  led by the strong voice of Sima.
Those who saw their excellent performance at Groezrock this year experienced their "no nonsense attitude". Not On Tour is not a band which puts gimmicks in their shows, neither do they in their albums. And you know what, they don't need it. Just buy that new album, open your heart and let them in. They will be touring Europe this summer. If you missed them on Groezrock, don't miss it this time. It would be a bad habit.