Album Reviews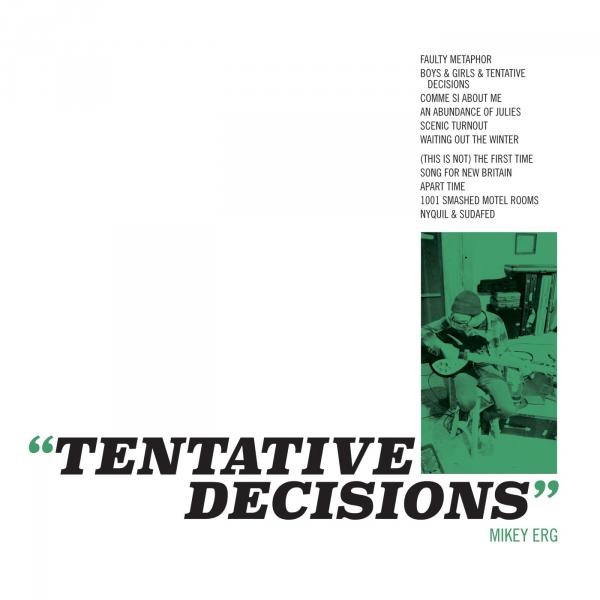 on
Friday, June 24, 2016 - 18:05
After experiencing a serious case of writer's block, Mikey Erg got challenged by Chumped's Anika to write a song a week. Didn't matter if the songs were good or bad, he just had to finish one every single week. Seeing as they pretty much all ended up on "Tentative Decisions", I don't think any of them were bad. Which shouldn't really come as a surprise if you've ever heard an album by The Ergs. Dude's got skills.
"Tentative Decisions", his first solo full-length, finds Mikey stepping up his game and digging deeper than ever before. Sure, these songs are still punky, bouncy and melodic as hell, but labeling them as pop-punk just doesn't feel right. There's more of a straight-forward rock vibe happening on songs like "Boys & Girls & Tentative Decisions" and "Song For New Britain", while opening track "Faulty Metaphors" and "An Abundance Of Julies" have a serious Elvis Costello vibe going on. "Scenic Turnout" is the album's grittiest track and stands in juxtaposition with "Waiting Out The Winter", a slow-burning strings-enhanced tune that marks the album's halfway point. Yet they both blend in perfectly with the rest of the album.
I'm not the biggest fan of the slightly experimental and grunge-y "Nyquil & Sudafed", but that's okay. By then I already had my fix thanks to the sarcastic "Comme Si About Me" (with the great line 'I wish that you loved me and blah blah blah blah') and "1001 Smashed Hotel Rooms". "Tentative Decisions" has everything on offer that you liked about the Ergs, while at the same time allowing Mikey to take his songwriting skills to the next level.