Album Reviews
We Are The Champions Of The World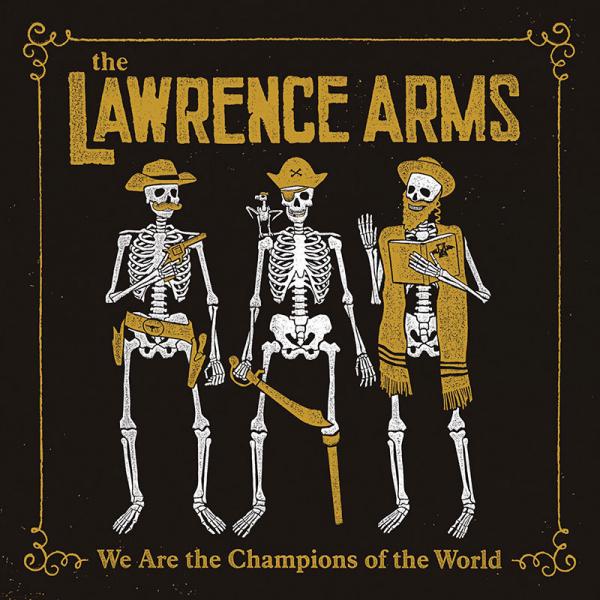 on
Monday, March 26, 2018 - 12:32
Not really a review because… well, it's right there in the title. The Lawrence Arms are the champions of the world. There's really not a lot more to add after that.
In honor of the band's 20th anniversary, Fat Wreck decided it would be a good idea to release a best-of album. And with every single release by these guys being nothing less than awesome, it explains why there are a whoppin' 29 songs on here. And not just from their Fat Wreck years. The band's earlier Asian Man releases are represented alongside cuts from 2014's 'Metronome,' the band's sole Epitaph release to date. And as an extra special bonus, this album comes with five previously unreleased cuts, taken from recording sessions from 2006's 'Oh! Calcutta!'.
If you aren't too familiar with The Lawrence Arms, this is a great place to start falling in love with one of Chicago's finest bands. Already own all their albums? Well, there are five new songs on here. That's almost one song for every year that has passed since their last release. No wait. That doesn't sound right. I suck as much at math as these guys excel at writing catchy, energetic punk rock songs peppered with literary references.
Track listing:
On with the Show
Great Lakes/Great Escapes
Alert the Audience!
100 Resolutions
The Devil's Takin' Names
Beautiful Things
Quincentuple Your Money
The Slowest Drink at the Saddest Bar on the Snowiest Day in the Greatest City
Are You There Margaret? It's Me, God.
Right as Rain Part 2
Seventeener (17th and 37th)
Chapter 13: The Hero Appears
The Ramblin' Boys of Pleasure
Light Breathing (Me and Martha Plimpton in a Fancy Elevator)
Like a Record Player
You are Here
Boatless Booze Cruise Part 1
Brick Wall Views
Sixteen Hours
Turnstiles
An Evening of Extraordinary Circumstance
The Northside, the L&L and Any Number of Crappy Apartments
Porno & Snuff Films
Demons
The Rabbit and the Rooster
Catalog *
Black Snow *
Laugh Out Loud *
Warped Summer Extravaganza (Turbo Excellent) *