Album Reviews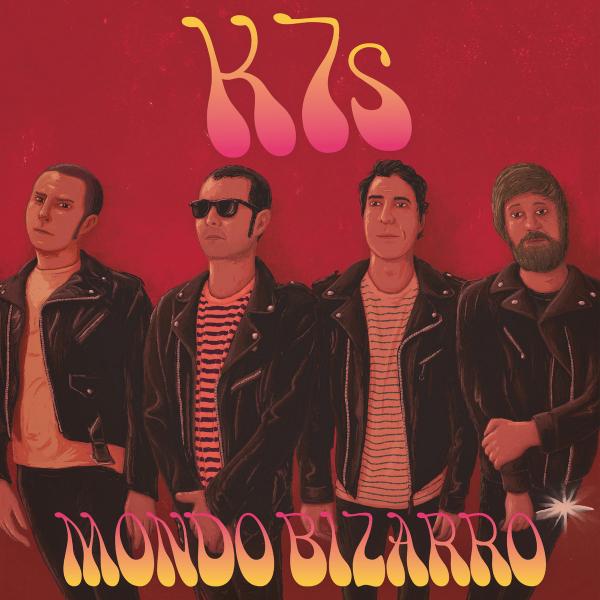 on
Sunday, March 14, 2021 - 10:41
K7s - the Spanish 'supergroup' featuring Jose Andres Albertos of Airbag, Luis Sanchez of Depressing Claim, Heatwaves and Los Reactivos, Raul Artana, as well as the recently relocated Kurt Baker - are back. Not with a sequel to 2018's 'Take 1' full of pop-punk originals, but rather with a cover of the entire Ramones album 'Mondo Bizarro,' out now on Stardumb Records. It sees them following in the footsteps of Screeching Weasel (who covered the Ramones' debut album in 1993), as well as The Queers ('Rocket To Russia') and Mr. T Experience ('Road To Ruin') and more recently, Brad Marino ('Subterranean Jungle').
Probably best remembered for the single 'Poison Heart' and not a whole lot else, 'Mondo Bizarro' is not the Ramones' best album out there. I mean, have you heard 'Cabbies On Crack'? In 1992, Ramones were definitely not their best selves.
So it speaks to K7s' skills that they nonetheless ended up with an album as enjoyable as this one. Whether it's opener 'Censorshit', 'Strength To Endure' or 'Main Man', K7s manage to take the original, not really change it yet somehow manage to give it a little more oomph. Not sure whether it's the way Baker lets his vocals blend with the riffs, the incredibly tight rhythm section or just the sheer sense of fun that is hard not to pick up on, but K7s managed to take what has to be the Ramones most ramshackle collection of songs and turn it into something decidedly less forgetful.
Track listing:
Censorshit    
The job that ate my brain    
Poison heart    
Anxiety    
Strength to endure    
It's gonna be alright    
Take it as it comes    
Main man    
Tomorrow she goes away    
I won't let it happen    
Cabbies on crack    
Heidi is a headcase    
Touring