Album Reviews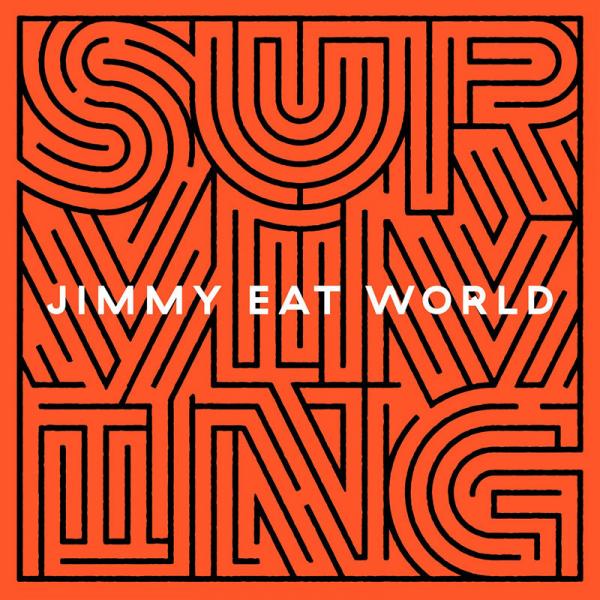 on
Wednesday, October 16, 2019 - 17:24
- by Tom Dumarey
When you first look at the artwork of Jimmy Eat World's new album, all you see is a maze. Until you realize that maze is actually the album title hiding in plain sight. Is that the band hinting at how their trademark sound we collectively fell in love with 'Clarity' and/or 'Bleed American', is kind of hidden in the new songs as well?
The answer to that question would be no. It's mostly business as usual on 'Surviving'. And if that sounds like a swipe at Jimmy Eat World, well… it's not. In Jimmy Eat World's universe, business is always good. These guys probably couldn't release a bad album even if they tried. And I'm still thinking they tried with 2013's 'Damage'.
Cuts like opener and title track 'Surviving', the mellow 'Delivery' and 'One Mil' wouldn't have looked out of place on any of the band's past releases that came out following 'Bleed American'. 'All The Way (Stay)' even sounds so instantly familiar that it wasn't until the saxophone kicked in, that I realized this was a Jimmy Eat World song I hadn't heard before. Which brings us to the fact that yes, there is an actual saxophone solo happening on Jimmy Eat World's new album. And it's badass.
'555' is something else though. They stripped things all the way down to an electronic beat and some shimmering synths. At first you might feel like it's not supposed to work, but that's only until you realize that yes, it does work. Also, the way Jim Adkins delivers the chorus gave me a Peter Gabriel flashback for some reason. Never a bad thing.
Unfortunately, 'Diamond', 'Recommit' and 6-minute closer 'Congratulations' fall just short of having what it takes. Nothing too dramatic, they just kinda drift by without making much of a lasting impression, which makes for a bit of a lackluster ending. But that's okay, that still leaves more than enough to like on 'Surviving,' a warm and heartfelt albeit unsurprising addition to the band's discography.
Track listing:
Surviving
Criminal Energy
Delivery
555
One Mil
All The Way (Stay)
Diamond
Love Never
Recommit
Congratulations