Album Reviews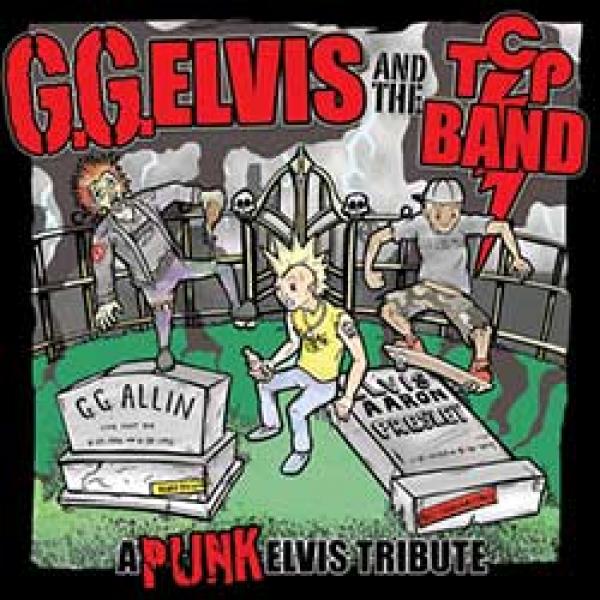 on
Monday, May 12, 2008 - 00:00
Oh boy, members of Ill Repute, Bad Samaritans, NOFX, Jughead's Revenge, Dr. Know, Stalag 13 and Aggression started a band with one mission. To bring Elvis back from the dead. Assuming of course he is really dead. To lure the man out of his grave (or his hiding place), they anally rape a couple of Elvis classics such as "Viva Las Vegas", "Blue Suede Shoes" and "Love Me Tender" and mash them up with old punk classics. Yup, it's GG Allin meets Elvis… hence the band name.
The band originally started out as Punk Rawk Elvis but after several member changes they switched to G.G. Elvis and the T.C.P. Band and consists of G.G. Elvis aka Eric Lara of the Bad Samaritans on lead vocals, Elvis of Nazareth aka Tony Cortez of Ill repute on guitar, "Has-Been" Elvis aka Larry White of Aggression on drums, Elvis Vicious aka Dave Casillas of NOFX on lead guitar, Elvis '56 aka Gearge Snow of Bad Samaritans on bass and Little Sister aka Sara Jo Merin on backing vocals.
"Back From The Dead" is a gritty and raw yet incredibly fun album that will most likely be considered pure blasphemy by Elvis purists but fuck it, it's funny. To top it all off they all dress up as Elvis (from different periods in his life) and put on an incredible live show.
The limited edition comes with a scratch & sniff sticker which I haven't dared scratch yet and a 'controversial' DVD that as a highlight has a music video without the music. This because of copyright issues. The band works around the problem nicely though by providing humorous scrolling monolog at the bottom of the screen. Yup, these guys are keeping it punk!