Album Reviews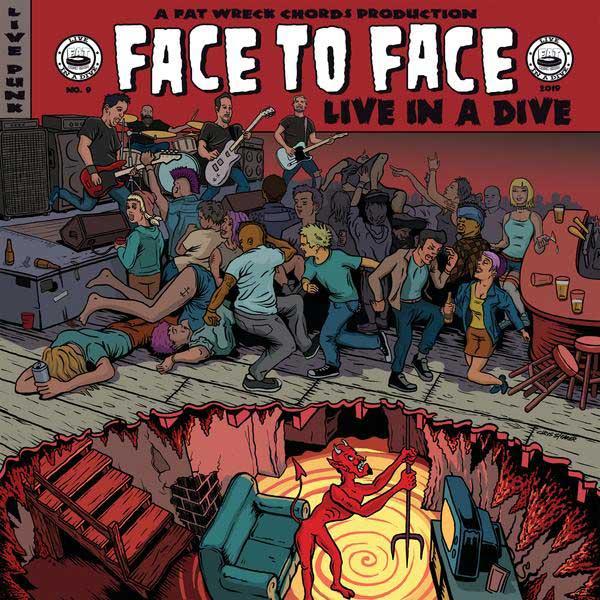 on
Friday, October 25, 2019 - 13:06
It's probably just me but I have never really understood the appeal of live albums. Going to shows? Sure thing! Listening to albums? Hell yeah! But I feel like most live albums never quite manages to capture the energy of a live show and well, never sound quite as good as a studio album. So yeah, guess I was a bit biased going into Fat Wreck's latest addition to the Live In A Dive series.
Recorded over a three-night stint at Brooklyn's St. Vitus Bar, 'Live In A Dive' sees Face To Face focusing on their recent material with a couple of songs from 2016's 'Protection' along with one or two songs from every other album they have released. Well, except for 2013's 'Three Chords And Half A Truth' which isn't featured at all. Bummed out that there aren't more old songs on here? Check out the band's 1998 live album for more of those. Even though they weren't considered old songs at the time. Back then, they were just songs.
Anyway, the band is on point on the one-two opening combo that is 'Resignation' and 'Bent But Not Broken' and then burn through cuts like 'No Authority', 'I Won't Say I'm Sorry' and 'You Could've Had Everything' before building up to 'Disconnected'. With just twelve songs, this one feels a bit short though. It's not like they have a shortage of solid songs. But overall, this one is pretty enjoyable. Well, for a live album.
Track listing:
Resignation
Bent but Not Broken
Bill of Goods
Double Crossed
What's in a Name
No Authority
I Won't Say I'm Sorry
You Could've Had Everything
Should Anything Go Wrong
All for Nothing
Disappointed
Disconnected